Q] Glance, when it launched, was seen as a very novel idea, which tapped into an otherwise dormant part of the phone. How does it really work, and was it the first ever lock screen platform in India?
When we started Glance in 2019, it was the first lock screen platform coming out of India. It enables seamless discovery of content for users. We've basically partnered with all the large Android smartphone players. Glance sits as a software on the device, and every time a user unlocks a phone, he or she can see different types of content, be it a piece of news, a sporting event, a game, or something related to interesting apps. Essentially, we bring three to four propositions on the lock screen. One is around live news sports and entertainment, another is gaming, and then we have live commerce. If you select a particular section within Glance, let's say gaming, you will find all the different games that a user can play even without having to download them. Similarly, you have a shop tab.

With a single click, a user can actually discover different kinds of content, you don't even have to go into an app. There is also the live proposition, where you can see how many active users are currently on a section. Here you also have live shopping events, live music shows, and even live concerts, all of which run on the screen.
Q] Can you tell me how many users does Glance have today in India? Also, could you give me the breakup of those who've installed Glance on their own, and those who are using Glance because it's already there on their phones?
We are present on more than 200 million devices in India across all the major manufacturers that you can think of in Android. We are seeing users spending almost 25 minutes a day on Glance across these different kinds of content categories and genres. In 2021, we saw almost 75% growth in engaging users. On an average, a user may be unlocking a phone 70 times, and so the kind of variety of content that you can bring in for a single user is just enormous.
Q] Tell us how does the lock screen become the next big brand destination; how does it help garner data on changing content choices?
It's very interesting as a brand destination, because brands ultimately want to go where users are spending time. Brands are trying to capture user time spent. The other aspect for brands, which I think is enormously critical in the whole ecosystem today is, doing something different, which will get the brand recognized. Right now, there are so many options in terms of where the user is spending time, and if a brand really wants to make its presence felt, Glance is the platform where that can be done. Glance allows you to break the clutter, do something very new and different right on the lock screen. I think that's where success for us has been in terms of working with different brands, whether, we are trying to launch a new product, or trying to drive new user acquisition, and even if it is just brands trying to do something novel and different from a content marketing lens.
Q] People generally go to their phones to send out a message or make a call, and at that time if a brand messaging comes up on the screen, it runs the risk of being incomplete, considering the customer focus is on getting the job done on his phone by getting past the lock screen. How do you tackle that?
There are two parts to this. First, a lot of users obviously have a clear purpose and intent when they're picking up their phones. But our data also tells us that when a user is on an average unlocking their phones about 70 times a day, not every time do they have an intent or purpose in mind. Many a times during the day they're also going to their phones to just browse or to kill time. We see that there are people who are playing games during the day during a five-minute break.
Let's say a new movie is launching, which you weren't even aware of, and it comes on your lock screen as a piece of news related to entertainment. So those moments of discovery that the user has is where Glance really brings a lot of value for the user. As a brand, we are very clear that because we are sitting on the lock screen, we also have a huge responsibility, both towards the user and the brand. We are very particular about the fact that it has to be curated content, has to have right messaging, the right representation from the brand.
Q] So. is there an ad agency that also works hand-in-hand with the brand?
Absolutely right, we have an in-house creative team, which actually helps the brands and the agencies design the creatives according to our recommended specifications. In fact, we even help in brainstorming on the creatives with the brand, so that we make sure it's right. It meets the brand's purpose, and is also right for the lock screen as a platform.
Q] Can you give us a couple of examples or some of the best case-studies where brands have benefited, or gotten great ROI on their spends?
I can talk about two, three diverse examples. One was Skoda, when they launched one of their cars on Glance. Because it has such a high user reach, they felt that they could make a huge impact and splash by bringing the whole launch on the lock screen. We directed users to their landing page, and even helped target the kind of audiences that they were looking at.

Swiggy wanted to acquire new users on the app in particular cities, so during breakfast, lunch, and dinner hours, they brought different creatives to the lock screen, which were meals, recipes, and so on. Glance allows you to do that because as a user I am looking at my phone 65 or 70 times a day. So, around lunch I'm seeing things related to lunch, and around dinner, I'm seeing dinner items. It brought a very time targeting kind of an element for users and created more conversions and a better recall for the brand.

We also did something very interesting with Coinswitch, called Kaun Banega Cryptopati. They created this show, much like Kaun Banega Crorepati, with questions and quizzes, which we then hosted on Glance and then used that to drive both awareness and engagement with the brand itself.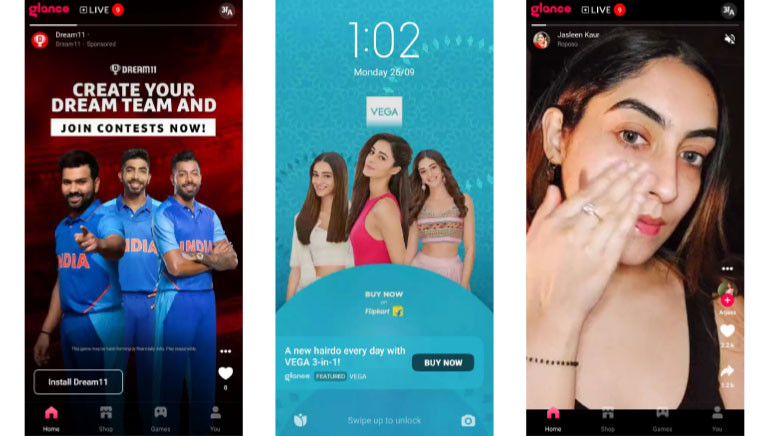 Q] Could you give me an idea on how many brands are working with Glance right now?
I would say that we work with all the large brands in the country. More than 250 brands across categories and verticals work with us.
Q] You spoke about how e-commerce, gaming, all of that is available on Glance, who really are your competitors in the space?
Interestingly, because we started out early in this lock screen space of content discovery, I actually think we don't have a direct competitor. Because today it's really an exercise in category creation for us. We are on the journey of creating a new category in India, and also to take it to a global level, so, we'd like to think that there is no direct competitor. It's taken time to get brands to come on board, and also the conviction and advocacy from them to say, okay, this is working for us.
Q] You just launched a new campaign for Glance called 'Do the Brand New'. Tell us a little about it, and the platforms you are promoting it on?
This festive season, we thought why not bring brands who want to do something unique together with Glance which allows you to break away from some of the traditional campaigns. We're using Glance, and a few other social and digital channels to promote that.
Q] InMobi became India's first unicorn start-up in 2011.What are your proud moments since then?
During this Independence Day, the government recognized InMobi in India's 75-year journey. InMobi which was India's first unicorn was considered the landmark for 2011. It was a super proud moment.