Health and safety solutions company, Eureka Forbes recently underwent a rebranding and announced its new vision and mission after three decades of operations. The brand also unveiled its new 'Posibol' logo, which is the combination of 'positive' and 'symbol' as it strives to make a positive difference during these challenging times. Shashank Sinha, Chief Transformation Officer, Eureka Forbes shares insights about the brand's new identity, its
advantage as a legacy brands and innovations for its star product, Aquaguard
Q] Tell us about the brand's new vision and mission? Why did the company feel the need for rebranding?
About the main philosophy or the strategic principle, the building blocks of our strategy was based on a few things. Firstly, what should be the right brand architecture which we have across categories, different consumer segments, price points and different channels? Therefore, we have looked at categories, consumer segments, price points as well as channels. Earlier, we had different brands for different channels, which is one of the things that we have tried to change right now. The second was to attain a sharper and stronger brand positioning and communication, so that we are able to fully address the needs of each of the target segments. And third, our purpose as an organisation has been to make a positive difference and it is based around the purpose principles as we call them. And then we were trying to see how we can align it closer to making that positive difference. The fourth is what we could have done to revitalise our internal teams which is a very important part of the overall journey for any organisation. And last but not the least is if I wear my marketing hat, then obviously it has also to do with optimising our brand's spends under two large umbrellas and therefore what can be the best linkage used for each of them. So, that's the philosophy and the thinking behind the new vision and mission.
However, we also believe that what has worked for us in the past will continue to work. And therefore, I would say that we have not gone in for a complete rebranding, but rather a refreshing of the brand identity and purpose.
Q] Having been in the industry for over 30 years now, what are some of the advantages a legacy brand like yours has over others in the market?
We have been creators of categories for all the categories that we are in, and for Aquaguard also the same. We are probably the pioneers in water purification in India, and 38 years down the line as we speak, we have yet to see a brand that holds more than 55% of the market share, and has almost unaided recall of 98%, and top of the mind recalls of over 65%. So Aquaguard has built itself over the years only through three main things – the trust of the consumers, the purity and promise that we deliver on and our after sales service. Moreover I would say that our after sales service network is in fact the pedestal the brand has built itself on. In more than 800 towns across India, you will find an Aquaguard service centre within a radius of five kilometres.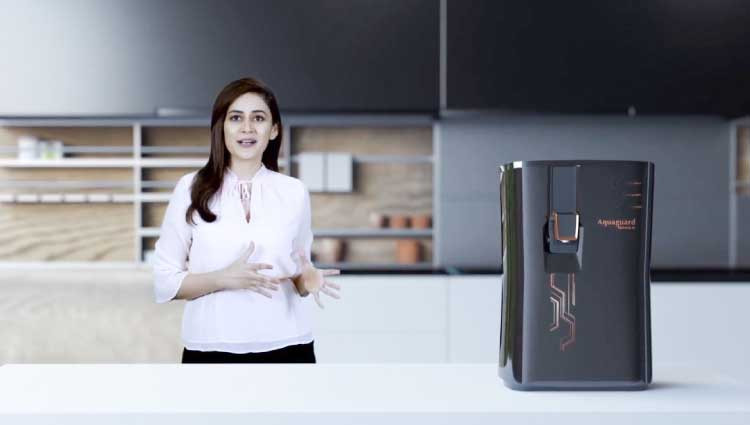 Q] Do you have plans to foray into new product categories? Tell us about your upcoming launches.
So, we recently introduced the first water purifier in India - Ayur. It gives not only pure water, but even healthy drinking water with the goodness of seven herbs. So, that's the newest addition to our range. We already introduced water purifiers, which give you pure water at different temperatures. There are water purifiers which give you pure water and different tasting water, so on and so forth. And going forward there will be more innovations that will be unveiled.
Q] Aquaguard being your star product, what are your strongest growth markets as of today? And how do you plan to expand further in this category?
Water purifiers as of now have very miniscule penetration, even in the upper income group segments. So, a large part of the market is still under penetrated. Now, in terms of geography, the metros have a slightly better degree of penetration. However, they still contribute to the top 12-14 markets. The balance would come from the rest, which are tier 1, 2 and 3 markets. As of now we've still not gone rural. In terms of regions, the largest water purifier market happens to be in North India, followed by West, East and South in that order. And that is primarily to do with the quality of water that is available, both groundwater as well as municipal water.
Q] How much traction is generated for your products from online and e-commerce platforms?
During pre-COVID times, e-commerce used to be about 5% to 7% of our total volumes. From there, it has obviously picked up, like in the case of other durable players as well. And as we speak today, we would be in our early double digit contribution numbers. So e-commerce as a channel is speaking up for us and what it has done for us is it has taken us to newer geographies that we were not present in earlier, facilitating deeper penetration.