Q] Tell us the story behind Meesho and how you 'accidentally' found such an innovative platform.
A lot of small shops in Bangalore sell some part of their wares by posting their products on WhatsApp groups or Facebook. We thought of starting something to smoothen the process for them. But six months later, we were in for a surprise when we realised who was actually using our platform.

With Amazon's entry in India, many smart women entrepreneurs started replicating the marketplace model on a small scale. They became sellers without having inventory of their own, by connecting with some suppliers, curating products which they recommended and sold in their circles.

They somehow discovered Meesho on Playstore, and thought that they can run their 'WhatsApp boutiques' using this app. So, all of them came to our app and started using it, the retention rate was high because they had no offline shop to take care of on the side.

We realised that someone who already has an offline shop will spend 95% of their time in those shops and 5% on WhatsApp. So why not cater to those who are selling solely on WhatsApp? So, we started customising the app for the women entrepreneurs running 'WhatsApp boutiques.'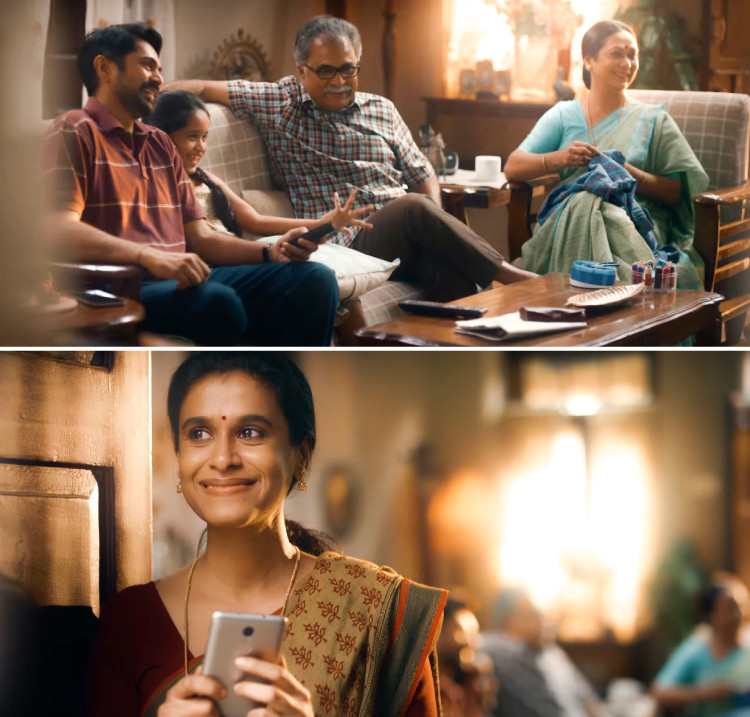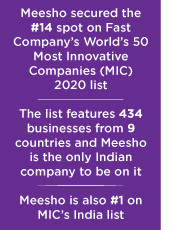 Q] Tell us about your revenue model.
Today Meesho has more than a hundred thousand suppliers on the platform. Sellers get to grow their business by providing the products to the entrepreneurs, 80% of who are women. Meesho takes a cut from the suppliers on every sale made.

But for the women entrepreneurs, the platform is free. Meesho takes care of the product packaging, delivery, free returns, personalised logo and bill generated under the entrepreneur's name without charging the entrepreneur a single rupee for it.
Q] What kind of growth trajectory has the brand seen in the past year with COVID-19 impact?
We went from 1 million to 4.5 million entrepreneurs in less than a year. COVID-19 has really helped Meesho grow. Our entrepreneurs run online shops while competing with the offline shops in their community, but with people not venturing out, they have no competition left.

These women entrepreneurs are able to acquire customers at a never seen before rate. Also with many jobs lost, many women are coming forward to support their families by turning to entrepreneurship. We thus felt it was the right time to reach out to more people across the country and that's why the ad campaign launch.

Also there is a misconception that we are a platform for people in tier 2 cities, when we actually cater to cities like Delhi, Mumbai, Bangalore and Kolkata just as well.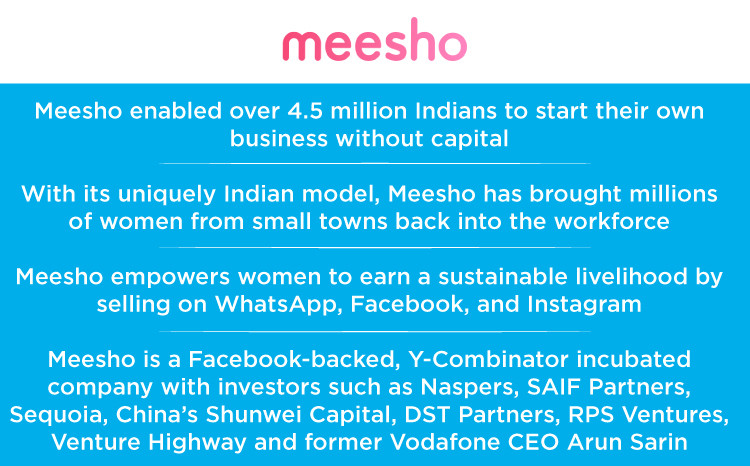 Q] What will be the marketing mix for the campaign?
We are exploring TV advertising for the first time, and have a month-long campaign in Tamil Nadu, Andhra, Telangana, etc. as these are some of the places where we really do well, where women are much more educated and want to do something on their own. Then there are the usual channels on Digital like Facebook etc. We are not investing on Print.
Q] A few months ago, Meesho secured the #14 spot on Fast Company's World's 50 Most Innovative Companies (MIC) 2020 list. You were the only Indian company on that list…
For many years in that list there has not been any Indian company, and that is because most of the large tech companies in India end up being inspired by some company in China or elsewhere.

So it's very hard to get on to that list, but in our case we have built something from scratch by understanding the Indian fabric of how people do things. And I think that's what Fast Company appreciated.