Q] The brand has launched a whole range of devices during 2020, a pretty challenging year all around. Tell us about the kind of consumer response you've seen during this year to the new launches
2020 was a year for change and many firsts for us. The year called for innovation, in order to be able to engage with our community while not being able to be physically present with them though specially curated virtual events and digital initiatives. In April this year, we launched our much-awaited OnePlus 8 series catering to the premium segment. This was followed by the announcement of our new business strategy focusing on diversifying our business by expanding the product portfolio to share OnePlus' leading technology with more users through new product lines and a wider range of price points. In line with this, we launched the OnePlus TV U and Y series of TVs, marking OnePlus' foray into the mid-level and entry-level smart TV segment. The OnePlus TV Y series starts at Rs 14,999, and the OnePlus TV U series is priced at Rs 49,999. In the smartphone category, we launched the OnePlus Nord, our new product line in the mid-range smartphone segment, starting at Rs 24,999. Our most recent offering includes the OnePlus 8T, starting at Rs 42,999. The response we have received for these products has been phenomenal. In Q3, OnePlus remained the market leader in the affordable premium smartphone segment driven by the sales of the popular OnePlus 8 (according to the Counterpoint report for Q3, 2020). The newly launched OnePlus TV Y Series 32-inch was sold out in minutes, becoming the fastest-selling 32inch TV on Amazon, upon their first limited sale since launch. The OnePlus Nord emerged as the No. 1 selling smartphone in the upper mid-tier segment as per the Counterpoint report for Q3 2020 for India.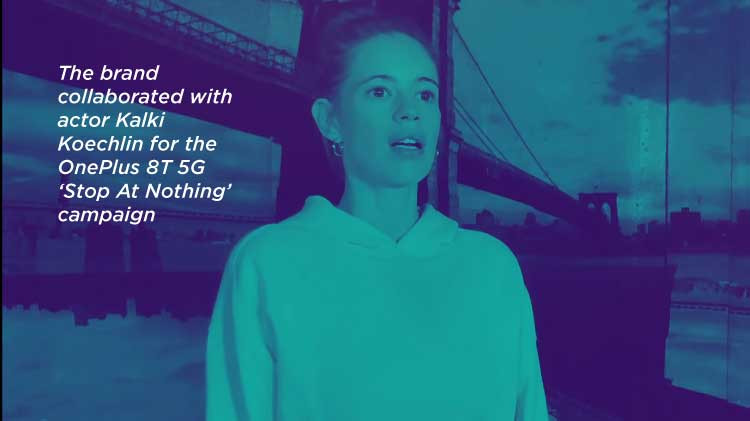 Q] This year has seen several brands across categories cut back on advertising budgets. Has OnePlus also done the same?
OnePlus has always remained a digital-first brand and that has served as an advantage as we grew and evolved through the years. The new norms led to a spike in content consumption online so there was a natural lean towards digital platforms with more people spending their time online. As a brand with close ties to our user community, our priority is to remain closely connected with them during this time. While virtual product launches emerged as the new norm, we wanted to maintain our tradition of giving a more hands-on experience of newly launched products to our consumers and augmented reality played a huge role in the endeavour.

Q] You recently collaborated with Kalki Koechlin for the OnePlus 8T 5G launch. How important is influencer marketing to the brand, and will we see more influencer collaborations in the near future?
While Influencer engagement is integral to our social media marketing efforts, it is important to ensure that there is a synergy with the brand/product and the association is not mere based on their reach or popularity. Our association with Kalki Koechlin for the 'Stop at Nothing' campaign was built on the fact that she resonated with our belief on the importance of digital consciousness in our daily interactions with technology and the increased importance of this conversation especially in the time we're living in. Beyond collaborations with influencers with a huge follower base, we also work to identify and collaborate with upcoming talented creators and equip them with our products to create more refined content. Lastly, our OnePlus community is at the heart of all our efforts and we're always looking at working on more unique engagements that will add value to them and are closely aligned with their interests.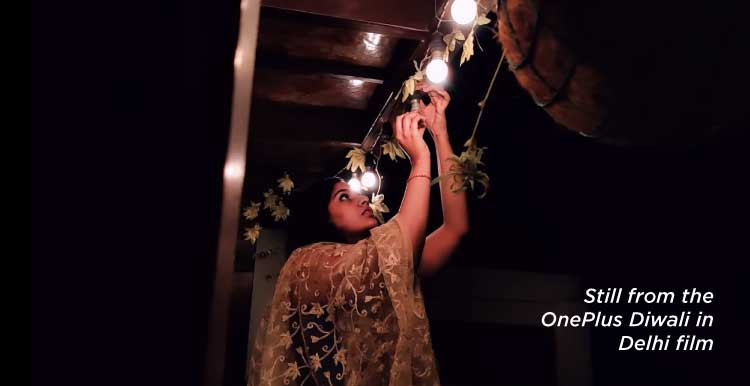 Q] What have some of the key challenges and learnings been for you as a marketer during 2020?
The new norm that we all are living by at present is heavily focused on digital services. People are invariably spending more time with their gadgets, be it their smartphones or smart TVs. The ways in which people connect, consume, create, and compute have undergone considerable changes and staying connected with consumers has never been more important than now. The current circumstances have only reinforced our focus on engagement with our community. Given that all brands are now focusing on Digital due to the current scenario, we had to approach digital though a new lens and push the boundaries on the kind of campaigns and experiences we created for our users in order to make a lasting impact and not get lost in the clutter. Furthermore, our documentary film, 'United by Hope' brought to life the relatable stories that captured their unique experiences captured through the lens of the OnePlus smartphone. However, even in these challenging times, it is imperative for us to remain true to our brand DNA and focus on building authentic connections with our community.
Q] How much has consumer sentiment improved on the back of the festive season, and do you expect to see growth return by the first quarter of 2021?
While we were faced with many firsts in 2020 as a result of the pandemic, consumer sentiment has remained largely positive with good reliable technology becoming increasingly important in the current scenario. This has been reflected in our market share in the premium segment across Q2 and Q3 based on Counterpoint reports and also the positive response to OnePlus Nord which emerged as the No. 1 selling smartphone in the upper mid-tier segment. We expect this to continue going forward as well.
Q] Given that India has seen an explosion of growth in the smartphone category in recent years, how important is it as a market to OnePlus? What percentage of sales/growth comes from the Indian market?
India continues to be a key market for OnePlus since our entry in 2014 and we remain committed towards the region. Over the years, we have worked hard to strengthen our manufacturing capabilities in line with the 'Make in India' initiative and also began R&D development with the launch of our India R&D Centre in Hyderabad last year, with an investment of Rs 1000 crore for the next three years.
At present, all our smartphones are manufactured in India and we have also commenced the manufacturing of the OnePlus TVs in India and by January 2021, all our TV models will be manufactured in India in adherence to government policies. To take the premium OnePlus experience to newer geographies across the country, an investment of Rs 100 crore has been allotted towards retail expansion. We currently have over 5000 offline stores including partnered stores across India and plan to scale up to 8000+ stores in the coming quarters. Last month, we also opened the doors to OnePlus Nizam Palace, our first and biggest ever experience store in the city of Hyderabad.