Deepak Gulati, CMO, Bridgestone India talks about the brand's decision to partner with the Premier Badminton League (PBL), and explains why the tournament is in complete sync with company's core values
Q] Bridgestone has been associated with several sporting properties in the past such as the World Series Hockey and IPL. Tell us how your past associations with sporting leagues have paid off for the brand. What makes sports a good fit for Bridgestone as a brand?
Two key attributes connected with sports are high performance and endurance. These are also values we are focused on delivering to our customers through our product offerings. As such, in my opinion, Bridgestone's association with sporting properties is a logical initiative towards strengthening Brand Bridgestone. It is a fact that Bridgestone's mission of serving society with superior quality goes beyond products and extends to everyday life. We believe that sports is an excellent way of achieving superior quality of everyday life as it helps create better individuals and thus a better society. It is also increasingly becoming a mainstream career which not only is able to support individuals but also inspire millions to chase their dreams – a core belief behind our global association with Olympics.
Q] What was the key insight behind your association with the Premier Badminton League (PBL) this year? What are some of the objectives behind this association?
I have been a badminton player since my early years and have seen the game gaining popularity as a sporting event. Iconic Indian players like Prakash Padukone and Pullela Gopichand have made India proud in the international arena and further added to the sport's growing popularity and inspired many to chase their dreams. Our brand ambassador PV Sindhu is not only a role model but also an inspiration to many taking up this sport. Our idea behind the association is to cheer and support the game as well as the spirit of sportsmanship that is displayed in the League.
Q] The brand had brought on board PV Sindhu as its ambassador a couple of years ago. Tell us a bit about how that decision has driven greater brand recall for you, and how do you plan to build on this partnership with PV Sindhu now with your PBL association?
I have earlier talked about high performance and endurance being key attributes of our products, and PV Sindhu is indeed a personification of these attributes. PV Sindhu's position in the sports arena is a perfect fit for us as she was crowned world number 1 at the Badminton World Federation World Championships. Likewise, Bridgestone is the world's number 1 tyre and rubber manufacturer for 11 consecutive years. This association drives the brand recall higher as we can leverage each other mutually through our number 1 performance.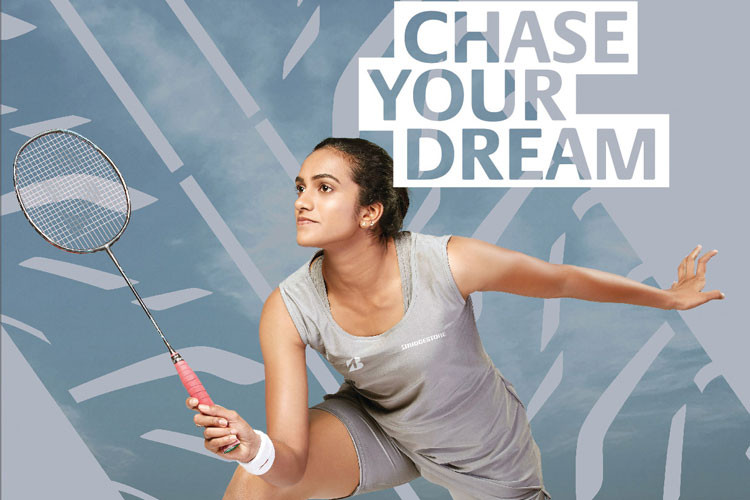 Q] What are some of the success measurement parameters you keep in mind when associating with a sports property like the PBL?
The interest of people in the game and the inspiration that the League gives to some upcoming talent is in complete sync with our Chase Your Dream campaign. This game and the League gives us a direct connect with our consumers and the desired impact that we can create as a brand. The PBL has reached more than 100 million badminton fans in India through TV making it an ideal platform to connect with our consumers. On an average, the reach over the first three seasons was 34.6 million on Star Network. Last year, the addition of a GEC FTA channel helped reach climb up to 133 million. According to Nielsen, the League has helped grow interest in the sport – 25% in 2017, 40% in 2018 and 59% in 2019.
THE MARKETER SCOREBOARD
Deepak Gulati has been the Chief Marketing Officer for Bridgestone in India since 2018, and is responsible for setting up the marketing function in India. His responsibilities include building the marketing and retail strategy, development of products and solutions roadmap, managing customer service and creating new business models for all the business units. Gulati has over 25 years of international experience across geographies like SE Asia, Japan, West Africa and India.
Q] How do think PBL will drive up the sport's popularity among the Indian masses?
The PBL is one of the top badminton leagues in the world. Its playing field features the top Indian and international badminton talent in the world, including Olympic and World Championship medal winners. Besides showcasing the best of international and Indian talent, the tournament has also been successful in widening the base of the game. Indian badminton has a strong legacy from the past with players like Prakash Padukone and Pullela Gopichand who have put India on the global badminton map. The PBL has reached more than 100 million badminton fans in India through TV, on-ground activities, various social media and other platforms over the past four seasons. Over the past few years, players like Lee Chong Wei, Carolina Marin, Viktor Axelson, Tai Tzu Ying and Lee Yong Dae alongside Saina, Sindhu and Srikanth have participated in the league. There is no doubt that the sport is continuously growing and gaining popularity all over the country.
Q] What role do you see creative and innovative communication playing in driving value and growth for brands with PBL at the centre?
Consumers are not just economically but also emotionally invested in the brands they indulge in. They care about what the brand stands for and want to understand its personality. Considering this, platforms like PBL are a great opportunity to have a diverse communication and deeper connect with our consumers.
Q] How can marketers today make the most from upcoming sporting leagues? What are the benefits of these associative partnerships with tournaments
like PBL?
The viewer today is keen to watch sports, whether live or on TV. This gives marketers an opportunity to communicate with a dedicated audience. These associative partnerships with tournaments like PBL give brands an emotional connect with the consumer and this goes a long way in creating and sustaining brand equity.
Q] What is Bridgestone's target audience and how does PBL help reach them?
Our audience primarily includes male car owners targeting metros and tier I cities. TV viewership of sporting events is high in these areas and the League helps us connect with the right target audience.