Q] Can you tell us what the Tata Play Binge app is all about & how will this move impact users of OTT? Also, what does the brand hope to achieve through its 'Bachcha Bachcha Janta Hai' campaign?
What we have done on Tata Play Binge is that we have aggregated content from about 17 OTT apps on one app. On OTT platforms today, every week there's some new release, but people don't necessarily remember on which particular app or platform that new show has come on. The big differentiator for us is the fact that we have one unified interface, so we make the customer-experience very seamless in terms of being able to search for content, discover it, get them the right recommendations based on their profiles, user history, etc.
And that is really what we wanted to communicate through 'Bachcha Bachcha Janta Hai'. The whole intent of the campaign was to say in simple language that even a kid knows that if you are looking to watch any piece of content, it's available on Tata Play Binge. The idea was to take our celebrity ambassadors and place them in relatable, slice-of-life avatars, which anybody can identify with, rather than treat them as celebs. At the end of the day it was about conveying the ease of accessing content on Binge.
Q] Can you share the marketing strategy and the penetration plan for Binge? How does it plan to reach its target customers, and achieve a competitive edge?
If you look at the OTT category in the country today, the total number of people who watch online videos is about 450 million, primarily on their smartphones, and some of them on other devices like TVs, laptops, etc. But within this huge 450 million base, there are just about 50 to 60 million people who actually pay for an OTT app and have a subscription. The whole idea of Binge as an aggregator platform is to be able to address three key barriers of the category – availability – the fact that you have all the content in one place; accessibility – that it's accessible on their smartphones, which means anyone can download and get started; and third, affordability – because we have packs starting at just 59 rupees a month.

So from a marketing standpoint, Binge intends to get people who are not paying for OTT today to start paying for OTT because premium quality content is available at a nominal paid subscription.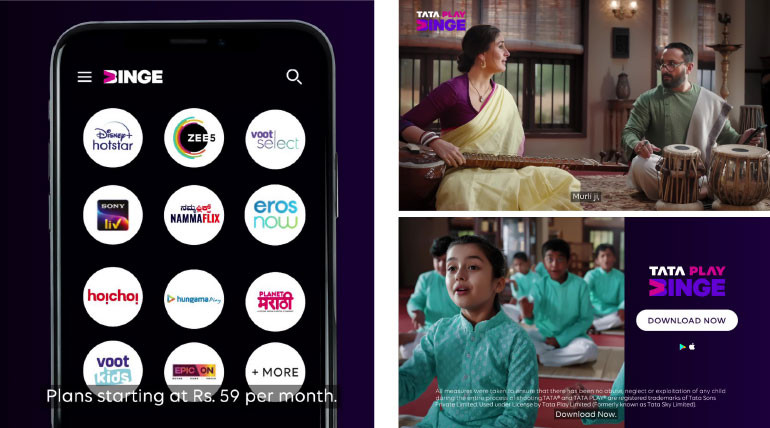 Q] How do you plan to take on the biggies like Amazon and Netflix in the OTT space?
While there's no doubt that Amazon Prime and Netflix are key players, looking at the app subscriptions in the country across various platforms, you will notice that the bulk of the subscriptions is not necessarily residing with these two players. The number one app in India in terms of paid subscriptions is actually Disney+Hotstar. ZEE5, SonyLiv, and Voot too now have a sizeable base. Apart from these, we have a lot of regional apps with regional content as well with us, which are strong in their respective areas.

We've also added gaming onto our platform, and we believe that it is going to be another useful engagement driver for the app.
Q] Please share your TG – is it skewed towards the Tier I, Tier II cities, or spread across regional and Hindi speaking markets across the country?
It's spread across the country. The larger cities are an important market because of the opportunity of penetration, while some of the larger states like Maharashtra, Karnataka, AP, Telangana, and Tamil Nadu are markets that are slightly better for OTT penetration. Even in metro cities like Delhi, Bombay, and Bangalore, where we believe everybody's watching OTT, the actual paid penetration is just about 20-22%. So, there's a lot of opportunity even in the metros. These will be our initial focus areas, but we are advertising nationally as it doesn't mean that the Hindi belt will not subscribe. But yes, initially we believe the level of penetration will be more in the West and South markets than in the Hindi belt and the East markets.
Q] Can you share your revenue model, as in are you also looking at an advertisement-based revenue model?
Currently Binge is a 'freemium' app, which means that you can download it and actually consume free content available on the platform. People who watch the free content do get served ads. Paid content is where all the quality, premium content will be available, and those are ad-free. The only exception will be when the specific app has a policy to show ads. So, for instance, if you are watching cricket on Disney+Hotstar live, whether you're on Hotstar or Tata Play Binge, even if you're a paid subscriber, during those matches, you will see ads.
Q] As per TRAI, during the pandemic, the active DTH subscriber base had taken a hit, with several Cable TV and DTH operators losing up to 1.6 million subscribers. Can you share how the pandemic has impacted Tata Play as a brand and the DTH model in the country in general?
Like most industries, I think the DTH industry did see a loss as a result of the pandemic, more so in the last couple of quarters. We also saw a lot of people who had, for instance, downgraded the packs they had subscribed to and reduced their monthly pay-out, especially in the rural areas and the lower end of our base, due to the economic stress across the country. We helped them in terms of reducing the pack prices, etc. so that they can have a more reasonable subscription on a monthly basis.
Coming to our market share, we've been holding onto our market leadership well. We had more than one in three households in the country on DTH on Tata Play, and that remains the case. At last count, we have about 22.5 million odd subscribers on the platform and that's what the TRAI report also suggests.

Q] There is also a general consensus that a major chunk of the urban audiences has shifted from the DTH subscription model and television viewing to OTT platforms. What do you have to say on that?
While we've noticed that in urban India in particular, OTT consumption has definitely increased, but it has not come entirely at the cost of cutting the TV cord. Some shift in viewership has happened. As a platform, which is into content distribution via DTH and OTT, we do not believe that this is going to be like a zero-sum game. The reason being that they are in many ways complementary.

Hence, we believe that both the markets are here to stay. OTT will obviously grow faster as it's from a lower base, but TV will also continue to grow. So, "cord trimming" rather than "cord cutting" is the bigger phenomenon.