Q] What was the idea and objective behind Slice's 'Aam Ka Ehsaas, Sabse Khaas' campaign?
At Slice, we started this journey three years back, sometime around 2019 with our first campaign 'Slice So Thick.' Slice is one of the most superior mango drinks in the country, and in 2021 we launched the 'Sabse Thick Sabse Tasty' campaign. Then we rolled out the blind taste challenge, which was within the umbrella thought of 'Sabse Thick Sabse Tasty'. Over the last 2-3 years we have been trying to establish that Slice is a superior mango drink in the industry, and we have been successful at that. So, in 2023 we wanted to establish that Slice is the tastiest and the most indulgent Mango drink that comes close to a real Mango. That is when we decided to launch 'Aam Ka Ehsaas, Sabse Khaas' campaign for summer 2023.
Q] With summer season around the corner, how do you look at the market situation for beverages in India and for Slice as a brand?
I think one advantage here is that the industry is really buoyant, and we are seeing very high growth. Post COVID, people are going out, and there is an increase in consumption at homes, which is good news for the industry. Speaking solely about the mango drinks category, and if I compare pre-COVID with post-COVID, we're seeing a trend where the category is almost in mid double-digit growth right now, which indicates a very good spike. We are actually growing ahead of the category, which means that we too are gaining share. We have a positive view on the growth of the category, and we want to invest and drive our penetration that we feel will result in share gain as well.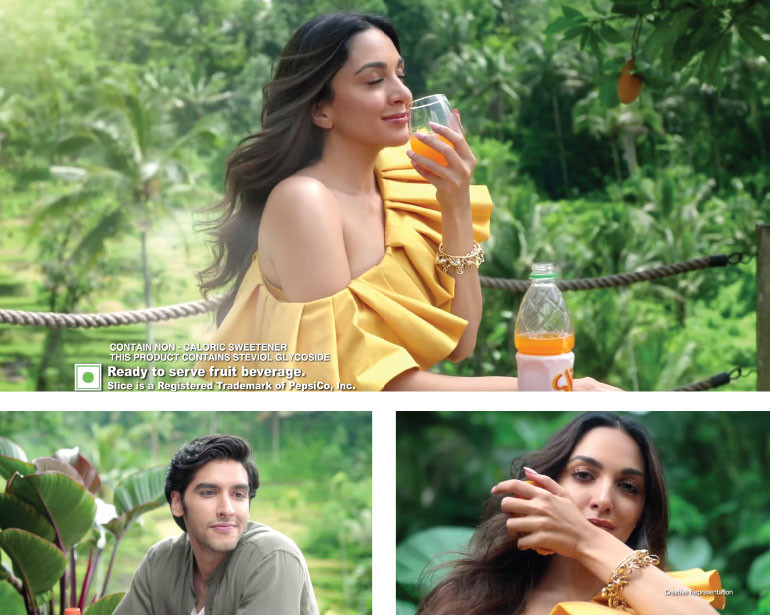 Q] In the recent past, we have seen the growth of local beverage brands in India. Do you think that these brands continue to eat into the market share of major brands, including Slice?
I think that the penetration of this category is still quite low in India, and sky's the limit for every other player to grow. I would say that every brand has a role, and for us at Slice, we have successfully established ourselves as the most superior and safest drink in the country. Our intention is always to reach out to more consumers and drive adoption for our brand. We feel that there is headroom for everybody to grow in this category. So, I don't see any challenge with that right now.
Q] What was the media mix for this campaign?
TV still remains one of the biggest mediums in India, and we want to reach consumers across the country. We want to reach out to the hinterlands because tier II and tier III is where the brand is seeing good growth. So, it's imperative that we remain aggressive on the medium with the highest reach, which is TV. We all know that Digital is now making inroads in consumers' lives, and that they are spending a considerable amount of time on screen. We are also focusing on Digital big time. We have the ability to use first party data, and Digital makes us capable of driving one-on-one conversations with consumers. We can target consumers from specific interests, geography, and messaging perspectives. A lot of campaigns that we do are vernacular, and can be targeted to the different parts of the country. We have a 360-degree plan for TV, Digital, Outdoor and Print for this campaign as well.
Q] Apart from this campaign, what other innovative strategies does Slice utilize to reach out to the masses?
It is a mix and match, and the entire marketing strategy is obviously such that we have a mainline TV presence. We also have a much-focused geographic targeting. For example, in a market like UP, Free to Air (FTA) channels play a very important role in the overall media mix for us. We have seen that it gives us results when we have invested heavily in those channels. Secondly, Digital mediums like OTT platforms do quite well for us in the markets. We tactically use Outdoor, Print, and Digital to gain maximum reach. In 2021, we had done a first-of-its-kind initiative for brand Slice. We created an Artificial Intelligence filter, wherein the call to action was that you scan a Slice logo and hear stories of people who are contributing and helping those suffering from COVID.
Q] How much growth in revenue has Slice registered in the last fiscal year?
Within the portfolio of PepsiCo, Slice would be amongst the top four brands, and the fastest growing one too.