Mattress manufacturer The Sleep Company recently introduced Anil Kapoor as its first official brand ambassador while also unveiling the #GoSmartGrid with AK campaign. Priyanka Salot, Co-Founder, The Sleep Company discusses the brand's latest campaign, the synergies it shares with its new brand ambassador and its strategy to compete with established brands
Q] What was the insight behind The Sleep Company's '#GoSmartGrid with AK' campaign?
The company was launched around 20 months back. So we've been a brand that was born during COVID itself and we know that this has not been an easy time for people. We've kind of seen two big trends coming out during COVID – one is that suddenly mental and physical health have become important for people, and there are a lot of conversations on sleep, comfort and health. Second was the insight about how many Indians suffer from back pain issues. In fact, a study done by FitBit shows that more than 75-80% of Indians actually suffer from some kind of back pain. We wanted to address these needs with our patented SmartGrid technology, which can help our customers get better sleep, and enjoy better mental and physical health. So the new campaign, which is 'Go SmartGrid with AK', aims to drive awareness of this new technology and showcase how it is better than anything else in the market, be it a foam or a memory foam mattress. So, the intent is to really drive strong mainstream awareness about the product and the technology, and how it can help people get better sleep, better health and comfort.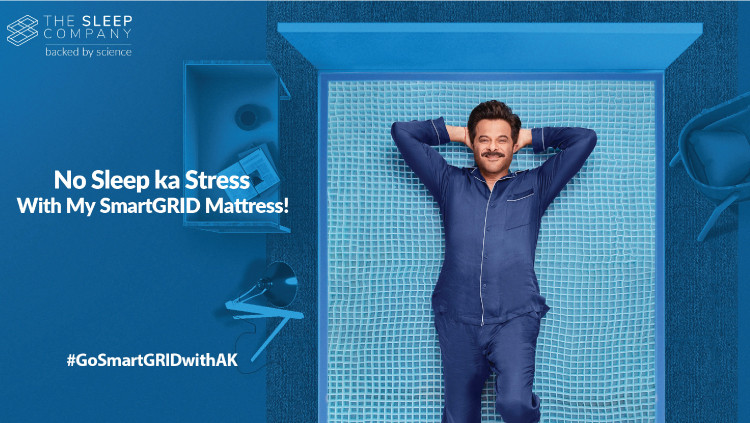 Q] What does your media mix look like and what budget have you allocated for the overall campaign?
The Sleep Company is a D2C brand, which is currently shipping products from the factory to consumers' doorsteps directly. So we are leveraging a mix of digital mediums. Our digital campaign with Anil Kapoor is our first commercial, and our digital ad went live just over a week ago on YouTube, Facebook and Instagram. We are also leveraging advertising on marketplaces like Amazon, Flipkart and Pepperfry. For our campaign with Anil Kapoor, we are also employing digital influencers to create viral content and consumer friendly content. Our main commercial is the 'raw egg challenge', a test to see if your mattress is good enough for you or not. So, we are creating digital friendly content, which is getting a lot of visibility.

Q] What was the thought behind roping in Anil Kapoor as the face of your brand? What makes him a good fit for the brand?
There are two big reasons. Firstly, Anil Kapoor is not just the face of the brand, he's actually a loyal user for us. And he's been a great advocate for our SmartGrid technology. So that was one critical element that we just didn't want any kind of face for the brand. We want somebody who understands the technology, who has experienced it and has kind of fallen in love with it. And he's that face! So we wanted to leverage that trust that he has in our product and our technology, and to spell that out for our customers in a fun, quirky way. Anil Kapoor is both fun and quirky, so we got him to showcase the science behind the product in a fun way to help our customers understand that SmartGrid is the biggest disruption in the comfort space in India. Another thing is that we see a lot of synergies between The Sleep Company and Anil Kapoor, which is why we chose him as the face of our brand. We have a lot of exciting campaigns coming with him even in the future. But everything would be about how The Sleep Company is disrupting the comfort space, with its patented SmartGrid technology, and how that technology can really help our customers.
Q] How would you define The Sleep Company's journey in the ecosystem? What kind of challenges did you face while establishing the brand?
It's been 20 months since we launched The Sleep Company in India. In just 20 months, we've become the highest rated mattress online. We are one of the top brands on Amazon. Hence our vision is really to keep driving that innovation and become the world's best comfort technology company. We wanted to really upgrade the way people sleep and sit. If you see this industry, which is let's say mattresses or any sleeping or sitting products, sadly no innovation has happened in over 60 years. Memory foam was actually invented in the 1960s, way before even colour television. Everything in our lives has become smart, our phones are smart, our TVs are smart. So, we decided that it's time to make comfort and our sleeping mattresses smart as well. And that is the vision and intent. To be honest, the challenge or I would actually like to think of it as kind of an opportunity is the whole digital ecosystem. It really enables the new age D2C brands to reach customers and delight them in a much more efficient, faster way. And we want to make sure that we continue to leverage this digital ecosystem to reach more and more customers and to delight them by literally improving the way people sleep.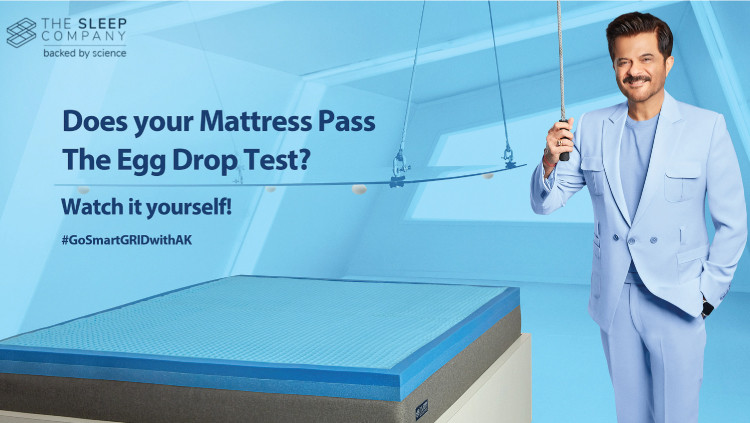 Q] What is your strategy for becoming a mainstream brand and competing with the more established players in the category?
Our focus is to mainly drive three big things. We want to become a Rs 500 crore+ brand in the next three years and the brand is on a strong path to do that. We want to continue to innovate with better products than anyone else in the country. And our superior products versus other brands in the country will help us gain share in the pie. The pie is huge, and the Indian mattress market itself is a $2 billion market. And we are seeing it going through a disruption where consumers are moving from offline to online. There is a shift from unbranded to branded happening. So we want to be at the forefront of that disruption and want to make sure that with our superior and patented products, we continue to win consumers and that's our first big driver. The second is we would be expanding our product portfolio beyond the sleeping segment. Today our portfolio is into sleeping products. We will be launching a lot of products, even into the sitting comfort space. And the third big driver is international expansion. So we have already filed for patents in multiple geographies in the Asian as well as the developed world, and will be looking to expand The Sleep Company and our SmartGrid technology to other international markets, which will be also a big growth driver for us in the next three years.