In its campaign for the Olympics, Bridgestone India invites Indians once again to be a part of the spirit of the upcoming Olympic Games this month and chase their dreams. The campaign features long-term team Bridgestone members like MC Mary Kom, PV Sindhu, Srikanth Kidambi and Sakshi Malik sharing their experiences of struggles and victories. Deepak Gulati, Chief Marketing Officer, Bridgestone India explains why the brand aims to support all athletes and transform India into a holistic sporting nation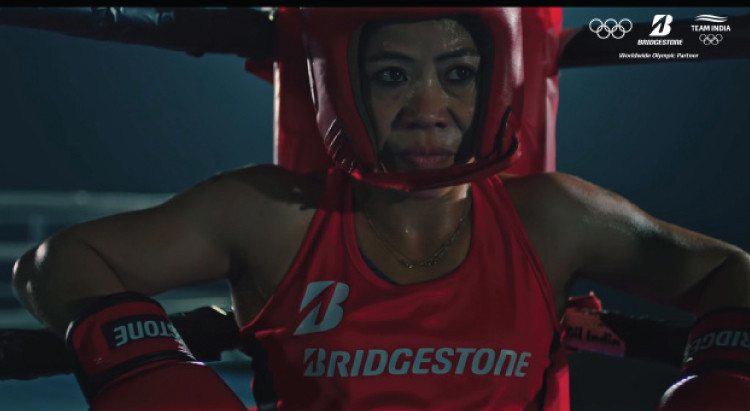 Q] This is your second campaign for the Olympics. What is the insight and objective behind the association with the event in a cricket-loving country like ours?
Our campaign 'Chase Your Dream' is a global marketing campaign for Bridgestone's prestigious Olympic Games partnership. First unveiled a year prior to the 2016 games, it highlights the pursuit of performance that Bridgestone shares with the Olympic Movement and honours the commitment necessary to stay the course to realise one's dreams. We have translated the campaign for India by recognising the inspirational stories of our Team BS athletes across several Olympic sports. And, in our cricket-loving nation, we are calling out a billion cricket fans to come and support Indian athletes who are chasing their dreams and bring laurels for the nation. The core insight is the fact that if hard work, passion and challenges of a sportsperson are no different across the sports, then why the support should be any different, be it cricket or any other sport. We should support and motivate our athletes to eventually help India become a holistic sporting nation.
Q] Would you also be able to give us an idea of the kind of spends you've devoted to this campaign?
We have invested strongly in the digital medium to engage our audience and fans. It will be well supported by influencers and other mass mediums to get the reach for the noble message of our campaign. We will further strengthen the same in the coming month with more media investments and digital innovations.
Q] Over the years, Bridgestone has established itself as a brand synonymous with athletes and sports. Is that something the brand does consciously?
I personally think that sports can ignite the passion of all Indians. Bridgestone believes in the power of sports to motivate and encourage people to chase their dreams. Our association with these sports personalities helps us connect with our target consumers in a very special way, cutting across the boundaries of specific sports and relating to the core spirit behind every sport. Team Bridgestone members have exhibited tremendous endurance and performance to reach where they are now. Endurance and performance are key attributes of Bridgestone tyres as well and these are the very same ingredients needed to 'chase your dream'.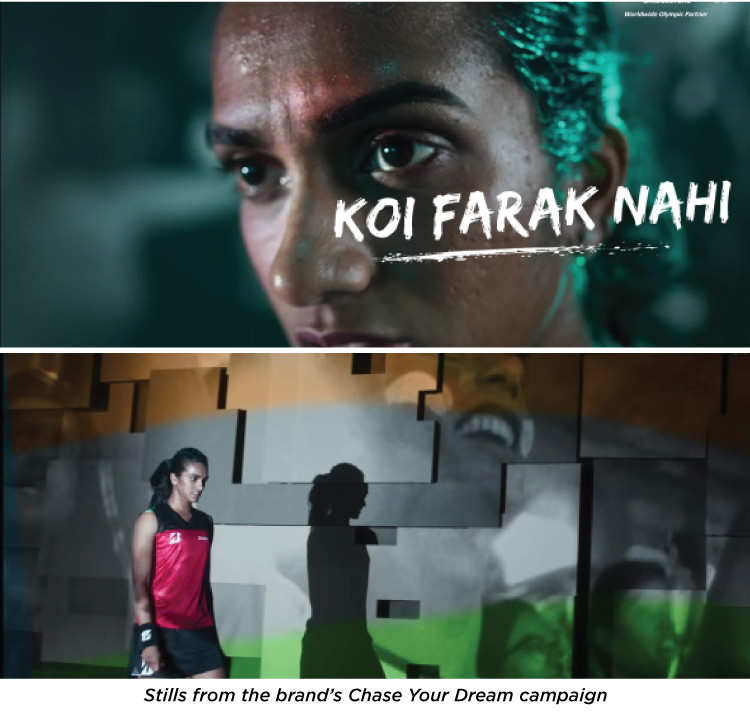 Q] During the past year or so, marketers have been faced with numerous challenges during the pandemic. How have you navigated these times and how have you reinvented your communication approach during the COVID outbreak?
The pandemic was a major disruptor that no one saw coming. It caught global industry and society unawares. The consequences were tough on all. With lockdowns and corresponding restrictions, market outlets were either shuttered down or open with only a trickle of consumers coming in as health and safety was the prime concern of the consumer. At the onset of the pandemic, we understood that ensuring a healthy and safe environment for our customers would be critical and could become a differentiator at that time. We launched a contactless tyre servicing platform 'Bridgestone Bookmyservice', which allowed customers to book appointment online and avoid the rush at the outlets and have their visits pre-planned. We were not selling them a product but giving them a mobility solution that addressed their safety concerns as well. We pioneered consumer centric solutions like book my service, doorstep fitment of tyres (select on wheels) and pickup and drop service to give consumers the convenience of getting their tyre care at home. Also, our social media marketing was made contextual and relevant to the needs of the consumers. We leveraged our Team BS athletes to create content which encouraged consumers to stay at home and stay fit with exercise regimes they recommended. We extended CSR support to truck drivers, who were working relentlessly through the lockdown to ensure essential supplies are not disrupted. We sanitised several trucks and fleets to keep truck drivers safe. We also launched a 'heroes of the road' campaign, which is a tribute to the truck drivers.
Bridgestone team also ensured relentless communication with our employees, dealer partners and other stakeholders to ensure their anxieties are taken care of and they understand we are all together in this time of crisis. This helped the teams to come together very quickly to capture the opportunity when markets opened up after the first lockdown.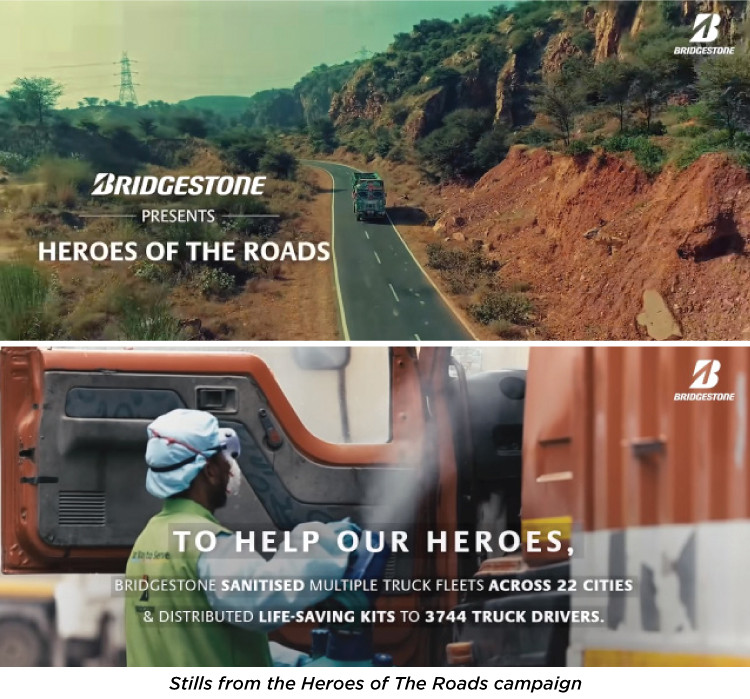 Q] Going forward, what will some of your core focus areas be, especially in the light of the pandemic?
The pandemic has taught us to be more agile and responsive to ever changing market and consumer needs. So respecting market situation and listening to consumer needs will always be the focus. We will continue to invest in strengthening the brand's core proposition, as well as strengthening equity by leveraging the Olympics association. We will continue to innovate and bring more solutions that serve our customers better. Digital marketing will remain key in all our initiatives.
Q] As a marketer, what have some of the key learnings been for the brand during these times? How has marketing evolved for you during the pandemic?
The pandemic has taught us a lot as human beings as well as marketers. Agility and empathy have been core for the brands to keep a strong connect with their TG. Marketing has changed a lot during the pandemic. Everything Digital has taken a huge leap. New solutions and business models have emerged. Omnichannel and hybrid models have become essential for a business to thrive. Experiential marketing has gained a new meaning.