Q] What was the idea behind the #WearYourConfidence campaign?
Zivame's brand positioning is that the right intimate wear designed for the Indian body profile comes with body confidence that gives one the freedom to do as one likes. This latest campaign strengthens that positioning of body confidence. The insight that the campaign has been built on is a simple one – we need to be confident in everything that we do in our lives, be it a simple team meeting, or a coffee outing with a friend. Irrespective of who we are and what we do, confidence makes us special. The campaign talks about the right intimate wear, and how it empowers you to confidently take on any day. The video of this campaign is inclusive and diverse, showcasing women across different life stages and in different situations.
Q] Which mediums were used to amplify this campaign?
We have used multiple platforms to reach out to the consumer. The film was promoted on Digital platforms across multiple channels. We even had a strong offline push for the campaign, and used print, radio and outdoors in major cities. As a brand, we use influencer marketing effectively to promote conversations, and this played a big role for this campaign.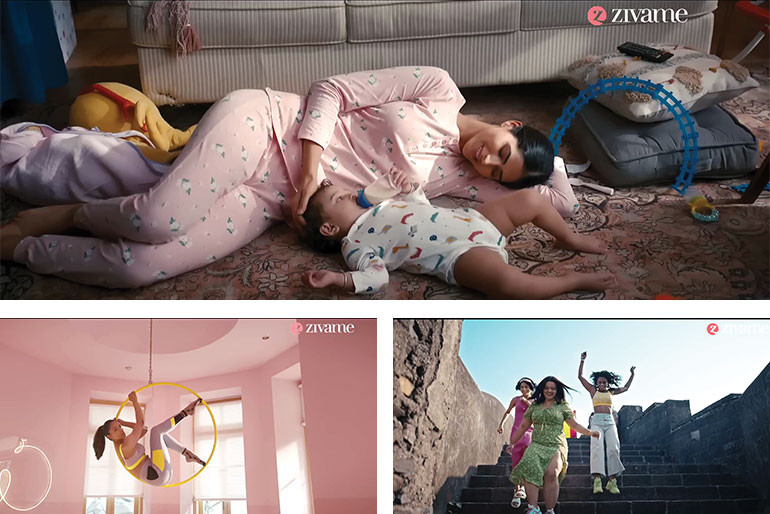 Q] The Indian market is flooded with multiple lingerie brands, whom does Zivame consider as its closest competition?
Zivame is a pioneer when it comes to intimate wear. At the moment, we are the market leaders in D2C women's intimate wear brands. Some of the things that we do have never been done before in the category. We don't focus much on what the competition is doing. For us, what is important is that we look at what the consumer wants and make sure that every strategy is built keeping the consumer in mind.
Q] What is your go-to strategy to stay ahead of the competition in the intimate wear category?
We are extremely robust about growth in the coming year, and as a brand we are well-placed as per value, price and positioning. We believe that the kind of products we have to offer to consumers are absolutely right and relevant. Zivame will continue to leverage technology in order to solve consumer demands, and provide a seamless shopping experience for consumers. We are also building tech agile supply chains to ensure that we provide our services to the consumer where she is.
Q] Indian apparel brands often face issues related to counterfeiting, how do you tackle such challenges?
We haven't really seen a lot of counterfeits or fakes when it comes to intimate wear because it is a technical category. The product is extremely technical, and it is next to impossible for some local players to copy the kind of products that Zivame has. So, we are not facing such challenge.
Q] What other initiatives are you taking in order to increase both reach and revenue?
Zivame as a brand has always stood up for making conversations easy for women in this category. A lot of the campaigns that we have done over the course of last few years have normalized conversations for women to talk about intimate wear and most importantly help women understand its important role. We have done a series of stand-up videos with very popular female stand-up comedians. We chose comedy lingerie is often considered to be a sensitive and taboo topic. But when such a topic is packaged with humour, it suddenly becomes a lot easier for consumers to relate to.
Another initiative 'Zivame Unhooked', a first of its kind in intimate wear in India, featured real woman across different age, body, locations and stages of life. The eight episodes were based on women we had invited to discuss the issues they face related to intimate wears. Our team of design experts helped these women to find the answers to their problems. We get to see how the women transform with the help of the right intimate wear.