Google and Facebook are expected to lose over $44 billion in ad revenue in 2020 due to COVID-19 as per global investment bank and financial services company Cowen & Co. However, not much is known about the impact of COVID-19 on the coffers of the tech giants in India. Social distancing has resulted in increased virtual proximity via FB, Instagram, etc, TikTok still is a popular entertainment platform, Google and Twitter, an essential tool for daily updates on the world outside. But even as the user base of these tech companies increases, their revenue through ad sales is believed to be taking a hit.
As per a statement from Facebook, "Much of the increased traffic is happening on our messaging services, but we've also seen more people using our feed and stories/products to get updates from their family and friends. At the same time, our business is being adversely affected like so many others around the world. We don't monetize many of the services where we're seeing increased engagement, and we've seen a weakening in our ads business in countries taking aggressive actions to reduce the spread of COVID-19." Facebook's business model relies heavily on ads - in 2019, about 98.5% of Facebook's global revenue was generated from advertising.


Sameer Singh, Vice President, Monetization, TikTok India says, "People are more likely to spend longer hours on the Internet at a time like this. Additionally, there have been several brands across verticals that are leveraging TikTok to drive their campaigns around safe and healthy practices. We are looking forward to collaborating with brands and enabling them to leverage TikTok's deep reach in the country while engaging with a diverse audience to do their part and focus on adopting healthy practices."
An industry expert who did not wish to be named says, "Facebook and Google have deep pockets and diversified revenue channels, plus the demand for their services has not got affected. I don't think FB and Google ad spends will suffer as much as the overall industry at an annualized level by the end of this. As for ad spends on these platforms, companies may still cut ads as they have no way of completing the purchase journey."
But marketers we spoke to also claim that at this point, they prefer to spend on Google, Facebook, e-commerce channels and OTT over traditional mediums like TV, Radio and Print. Digital is just used to keep the engagement with users going at some level. Many have even frozen spends on the three mediums.


Gautam Reghunath, CEO, Dentsu Webchutney says, "The global economy is in a comatose situation. A week-long business disruption pushes back weeks and months of planning. There will now be many months of uncertainty but it's hard not to dismiss that as a small price to pay for the well-being of society. It's a ripple-effect on suppliers, vendors, agencies, employees, and new hiring. What we all will need is time to cope. It might be hard to see now, but the long-term prospects for the industry look bright as ever. Most brands will take a step back and keenly understand that they are more than products they sell and that 'figuring out digital' is so much more than spraying media money online. The latter is especially important, because I expect inflated expectations in the market to course-correct."
Though their job is largely technical, Digital agencies are easing into the work from home mode. In fact, virtual brainstorming has become the new cool,

Anil Nair, CEO, VMLY&R claims that surprisingly pitches have been very productive, with the pitch process getting more mindspace and creativity from people, given the lockdown and lack of any other distraction. They are also getting used to collaborating on Hangout and Zoom and many other VC platforms. Nair adds, "We were kind of prepared for this as our Singapore and China teams had a head start on this. So when the time came, we were nearly organised with VPNs, work share platforms like Teams and Creative DAMs. It is not easy to transplant work all of a sudden into a whole new framework but touchwood it has panned out well for us. WPP has also been an amazing source of support by constantly checking in on us and providing central back-ups if needed."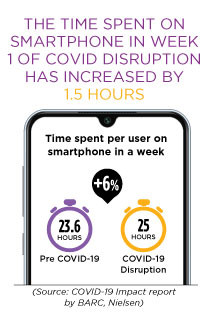 Varun Duggirala, Co-Founder & Content Chief, The Glitch says, "What it's also bred is innovation in figuring out what we can execute for clients within the constraints of the lockdown, where there were once shoots there is a stronger focus on post production, motion graphics and animation today, collaboration with influencers and partners to build content has also been on the rise. But above all, purpose and sensitivity has risen as a core factor in all ways of working."
Industry experts say that Digital agencies are expected to take a hit of 10-20% on their annualized projections assuming things normalize by April-end. The quarter will look worse obviously but things will get better if the industries which are lying low in this period spend heavily later. Digital being an efficient medium will ideally bear the lesser brunt of any ad spend cuts.


Ashish Pherwani, Partner and Media & Entertainment Leader, EY India sums it up: "As a very broad estimate, if the COVID-19 crisis ends by mid-April and life gets back to normal, then we shall see a flat year in 2020 because it has in effect taken a month and a half of revenue. This is also assuming IPL will happen, post the crisis. If it goes on for another month, we shall start seeing de-growth in M&E sector. However, within the various mediums, Digital will see an uptake on the national advertiser end like FMCG brands, but the guys who do local digital advertising to sell their stock will refrain from advertising altogether."