As people stay indoors due to the lockdown, dependence on Television as a source of entertainment has seen a surge across the globe. According to a report released by Nielsen and the Broadcast Audience Research Council of India (BARC), average daily reach on TV increased 6% in Week 11 (March 14 to March 20), as compared to the pre-COVID-19 period (January 11 to January 31) from 560 million to 592 million.


The news genre led the growth chart, with a jump of 57% between the pre-COVID-19 period and Week 11, 2020. Kids' channels viewership grew by 33%.
"We are witnessing the early signs of a consumption uptick with the average time spent on TV increasing sharply. The latest BARC data for the week ending March 20 shows that the consumption of television content has increased by over 72 billion viewing minutes, already leading to a 8% jump in total viewership over the last three weeks of January. With schools and colleges shutting down and a mandatory work-from-home in place, viewership has risen by 8% among males, 9% among females and 20% among kids. The growth is being driven by a 20% increase in daytime viewership at an all-India level. This reflects the entire family now consuming more of television and a clear convergence between weekday and weekend viewership behaviour is being noted. Therefore, there is a need to customise programming for this emerging trend," says Prathyusha Agarwal, Chief Consumer Officer, Zee Entertainment Enterprises Ltd.

"Non-Prime Time viewership in the morning and afternoon has seen a big upward shift with most people relying on TV news in the absence of the morning newspaper routine. NCCS-A has seen a sharp growth of 11% too. I am happy to note that more women are watching Television as the increase in their viewing minutes is more than men's. Data also shows that the Prime Minister's address on lockdown was the biggest TV event ever - even bigger than the IPL finals. This trend keeps news networks like ours on top of the game," Avinash Kaul, CEO, Television News, Network18 says.
Shoot of new shows halted
As shooting of films, webseries and TV shows have come to a standstill, broadcast companies are having to rely on their content libraries to feed into the increased viewership.
For example, Ramanand Sagar's epic Ramayana is set to telecast on DD National from March 28. Comedy Central brought back the popular 'Friends' series from season 1 calling the section 'Quaran-binge'. Zee TV has reportedly stopped its two highest ever rated shows Kumkum Bhagya and Kundali Bhagya. The channel has introduced a new 9-11 PM band with three finite series streamed on AltBalaji in the last couple of years. Even Colors introduced a line-up of shows bringing back Big Boss Season 13, to name a few.
"As a safety measure amidst the ongoing global coronavirus contagion, we have come up with a fun, informative and engaging animated rap video, wherein kids' favourite toons from Cartoon Network share easy-to-follow hygiene tips, available in both, Hindi and English for our fans in India. We want to make our young viewers mindful in adopting some basic health and hygiene practices at home and in their surroundings," says Abhishek Dutta, Senior Director and Network Head of Cartoon Network and POGO in South Asia.
Ad spends and TV
According to an industry expert, one positive aspect of this pandemic is that consumers are open to advertising. Controlled messaging that builds trust for the brand is likely to have a lasting effect. Not surprisingly, overall ad volume grew 13% in Week 11 of BARC as compared to the pre-COVID-19 period. Of course, social advertisement saw a spike of 147% followed by banking and financial services at 47% and foods and beverages at 36%.


Now, are broadcast companies re-negotiating rates with advertisers or media agencies? "All our customers (advertisers) are closely monitoring the developments and rather than having a monthly view on advertising spends, brands are looking at it one week at a time. If we are able to come out of this lockdown with things well under control, I have no doubt that we will see a rebound in consumption as well as advertising," says Ashish Sehgal, Chief Growth Officer – Advertisement Revenue, Zee Entertainment Enterprises Ltd.
Every media company is trying to spread awareness on how one can protect oneself from this pandemic and doing their bit for society. As part of CSR activity, Network18 has launched #IndiaGives, wherein over 6,000 employees of the Network18 group have contributed a day's salary to the Prime Minister's National Relief Fund, to be used to provide succour to daily-wage workers whose livelihoods have been affected due to the shutdown.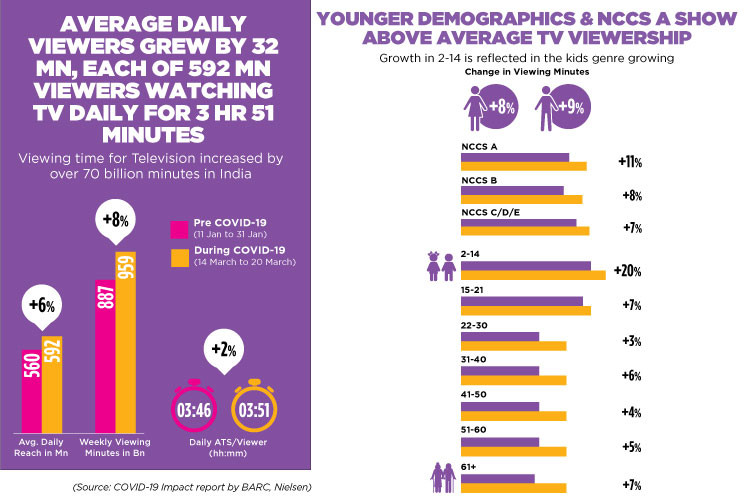 GENRE & LANGUAGE WISE GROWTH
Movies, News, Kids, the key contributors to the growth in viewership Reach across most of the Genres has increased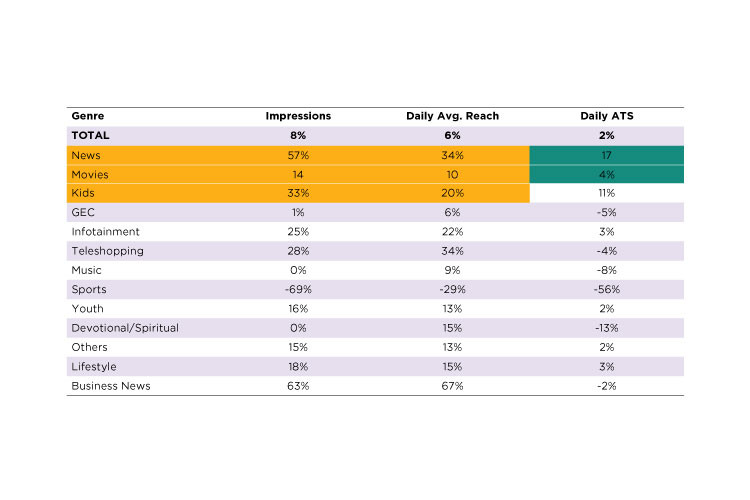 BUSINESS CONTINUES AS USUAL IN WEEK 1 OF COVID DISRUPTION
Advertising FCT has increased by 13%. The top 3 sectors show significant growth