The Season 9 auction witnessed the record for the highest paid player in Vivo Pro Kabaddi history broken twice in quick succession. Raider Vikash Kandola was the first player to exceed the previous highest bid amount of Rs.1.65 Crore across 8 seasons with a winning bid of 1.70 Crore from Bengaluru Bulls. This was shortly followed by a historic moment when leading raider Pawan Sehrawat was bought for an astounding 2.26 crore by Tamil Thalaivas. This was a 38% jump from the previous highest paid player, indicating how Vivo Pro Kabaddi is growing strength to strength each season. Over the course of 2 days, 4 players crossed the exclusive 1 crore mark while 11 others were sold for 50 Lac or more.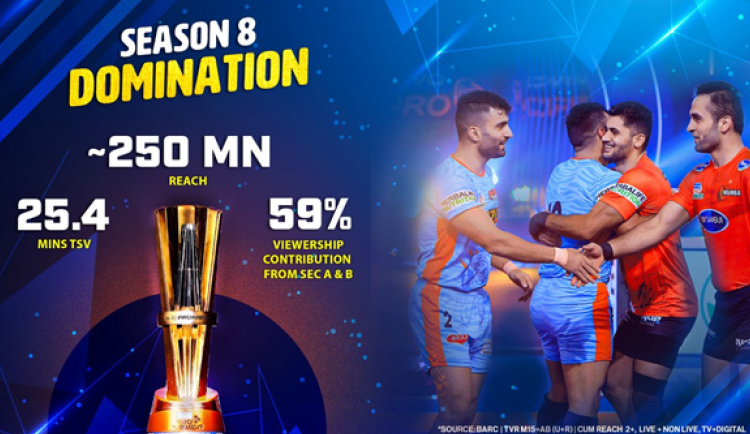 Vivo Pro Kabaddi has showcased fast-paced growth as a league and as a high impact media property with an increase in national exposure in terms of viewership, time spent per viewer and overall reach on TV. As per BARC, season 8 of Vivo Pro Kabaddi delivered a cumulative reach of around 250 million with an average time spent per viewer of 25.4 minutes, a staggering number for a sport that has a total duration of 40 mins per match. The league garnered a 20% increase in viewership from NCCS AB over the previous season, setting new benchmarks for the league adding to its existing stronghold in the heartland of India.

Season 9 is building up to be a festive celebration for fans and advertisers as the league will travel to multiple venues in the country and fans across these venues are waiting to be a part of the high-octane entertainment that Kabaddi brings. With the league happening during a period of accelerated buying, advertisers on TV will look to cash in on Season 9 of Vivo Pro Kabaddi to drive large scale awareness and leverage the power of innovative integrations to create deeper engagement with viewers.