Q] What was the insight behind 'Any colour, one price'?
At JSW Paints, we have thoughtfully brought the best in technology and global best practices to offer the freedom of choice in colour to our consumers with the promise of 'any colour one price'. We are the first and only paints company in India to do so. Internationally it is the norm. The new campaign aims to point out to consumers that they pay different prices for different shades when they buy paints for their homes. This is peculiar to paints as a category in India. Have you seen consumers pay different prices for different colours in other categories like apparels, luggage, automobiles, cosmetics etc.? Paint companies charge extra for colour cost, sometimes as much as 50%! In fact the extra price they pay for the colour can be as high as the base paint itself and consumers are oblivious to this fact. JSW Paints aspires to bring transparency. Paint is an important décor element for a home where various colours are matched to the consumer's likes. Thus, the consumer's engagement in the selection of colours while painting their home is very high. And they must pay the same price for any colour they choose.
Q] Considering that you released the campaign around Republic Day, why didn't you blend the patriotic flavour in your ad – through 'freedom of choice'?
Our campaign is strategic and long term in nature and there will be sustained efforts to push our narrative. Hence, we did not want to make it tactical by focusing on any one day.
Q] In that case, will a TV campaign also follow? What is the marketing mix you are going with?
We launched the campaign in over 60 towns in the South and West of India through Out of Home media, featuring colourful visuals of categories. Our main brand campaign of 'embrace every colour' also talks of our 1808 shades at the same price. Besides, the campaign also has a strong digital push to ensure that the message of 'any colour one price' goes to every discerning customer across the country. In the long run, TV and Digital will be the main media for spends as is for most consumer brands.
Q] How much of your revenue do you dedicate to advertising annually?
We are a start-up so we focus on spends to make the campaign effective in terms of reach and impact and do not look at it as a share of revenue in these early stages.
Q] You have recently roped in Alia Bhatt and Ayushmann Khurrana as brand ambassadors. How well was your maiden ad with them received?
The 'embrace every colour' campaign received a great response from all our stakeholders. Colour is what consumers most want from paints. That is the reason why we had put colours at the heart of our maiden campaign and our brand ambassadors, Alia and Ayushmann brought it to life wonderfully. The campaign has helped to create strong brand recall among our customers and has managed to effectively establish our 'any colour one price' proposition.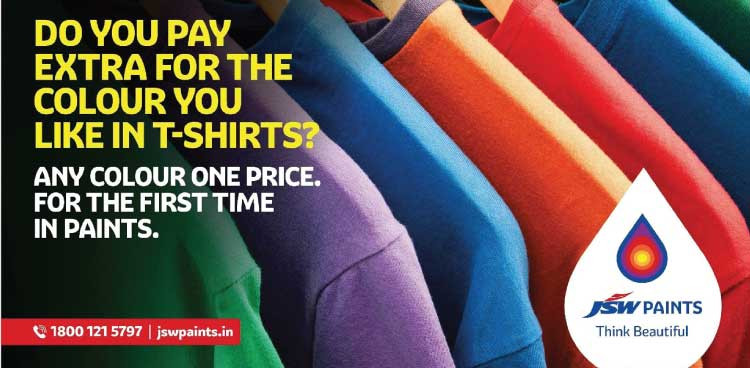 Q] You entered the paint business in April 2019, and back then aimed to achieve a share of 5% in the decorative paints market within three years… Is that plan still on track, despite COVID-19?
We are growing consistently month-on-month. While COVID has affected the industry and us, we believe this is a temporary setback of a few quarters and we will aim to make up for it in the period ahead.
Q] How difficult is it to compete with established players like Asian Paints, Berger and Nerolac who have been in the market for decades? And who do you consider as your closest competitor?
We feel we have great products and a great differentiator in the 'any colour one price' proposition. This is the first time an Indian paint company is bringing such pricing transparency to Indian customers. 1808 colours at the same price is an industry-first offering that has disrupted the entire paints market. We see an opportunity to become a significant player and take a greater share of the market by leveraging our disruptions.