The Collective which was formed during the #MeToo movement to make workplaces safer for women has come up with a forceful video compilation. In conversation with one of its founding members, Ashwini Deshpande, Co-founder & Director, Elephant Design on why there is too much of tokenism around Women's Day without any real solutions and how 'The Collective' is hoping to bring about a change.
Q] How has 'The Collective' evolved in the two years since its inception?
We started around the time of the #MeToo movement. In many of these midsize or smaller agencies, the leadership itself was being questioned or being tagged for 'me too'. In the very large agencies, the procedural stuff was so long that younger girls did not want to go and talk to the organizational heads. So we thought we as senior women should be available for anybody who wants to speak up even though we didn't have a legal standing.
We followed it up with another initiative where we tried to reach out to agency heads starting from Ogilvy, we just thought that if you're visible and questioning the system, people become far more answerable to their processes and policies. Our other plans fizzled out subsequently because of the pandemic but then we regrouped because we heard stories of harassment even in a work from home environment.
Q] So what is The Collective's job now?
We decided that we should not only be complaining about sexual harassment, but also be broadening the reason why people could reach out to us. We could be the group of women which goes and questions seniors who might be involved or would be in a position where they can set things right.
Q] The Collective put together an interesting video with thoughts on what bothers the women leaders in the ad industry… What was the insight behind that?
Tokenism is the biggest enemy at the moment, especially during this Women's Day. In this time of the year our achievements are highlighted but a lot needs to be changed within the industry and that doesn't get talked about. The video was Tista Sen's idea and the scripting and editing was done by her and Deepa Geethakrishnan. Tista coaxed women leaders to send across videos on what bothers them about the way the industry treats women professionals. In five days, we had 60-70 videos. The first step is to identify and define the problem and classify them into buckets and systematically finding the solution for each of them whether it's talking to the leadership or talking to the women themselves, or putting in place some new tools and processes
Q] But in the past two years, do you think The Collective has established itself as the go-to place for women facing any kind of workplace issues?
Not to a large extent, because last year each of us was grappling with the pandemic. But the year before that i.e. the year after #MeToo, we pulled off at least four or five initiatives and managed to spread the word within the agencies that had one of us working in them. It's just that we don't have any legal standing. But we can always ask questions. And that is the degree to which we can do an intervention, which in itself could be great. But I think we've gained the momentum back.
Q] Swati Bhattacharya spoke about lack of 'equal pay' in the video… is that a distant dream even in an industry which makes ads talking about equal opportunities for women?
These are real problems and we will really need to go through each of them to understand it better. Just saying there needs to be equal pay won't solve the problem at all, we need to sit with the HR teams of every company and understand what their policies are currently, and then see how we can inculcate good practices.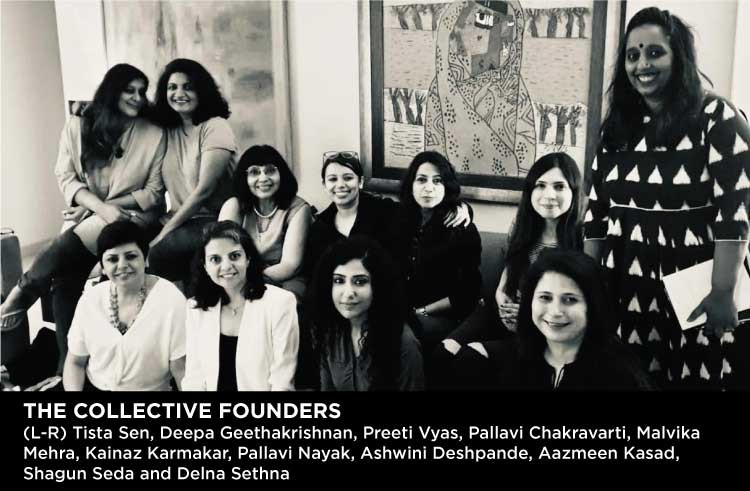 Q] Even today the ratio of women leaders to male leaders on top in the ad industry is very skewed…
And I'm proud to say that in design industry, it's not so bad, but in advertising it's absolutely pathetic. It is a mindset problem and the more we speak about it, the more people will start thinking about it. I'm very sure that the male leaders in the advertising industry are going through those videos. I don't think all men support this discrimination, but many men don't do anything about it. So, that's also something we need to change.
Q] What do you think industry bodies need to do about it to make it right?
Many of these industry bodies also don't have women representation. They have become a 'boys' club'. I don't know what the body will say when they themselves don't have enough women representation there.
Q] Will the same apply to The Collective, or will it have male representation in the Council too?
We most certainly want men on board the Council at The Collective to get their perspective and solve problems together.