One of the key attributes that is typically associated with leadership is seniority and experience. Someone leading a large corporate firm or a huge business is expected to bring substantial experience and years of learning to the role. However, if you take a look today at the diverse set of leaders across sectors and companies, age seems to play a diminishing role. This was perhaps best demonstrated at this year's IMPACT 40 Under Forty jury meet, where industry veterans pored over profiles and names of leaders who have achieved a tremendous amount of success and hit great milestones, all below 40 years of age! So what do these young guns bring to the table that allows them to walk shoulder-to-shoulder with the industry greats? And more importantly, just how much of an impediment is age among co-workers who equate experience with leadership? Are people more likely to react differently to younger leaders than older ones? Do they take them seriously?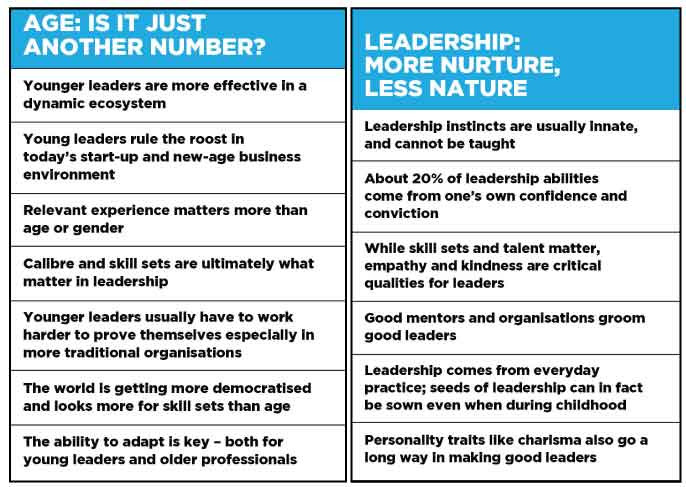 LEADERSHIP IN A CHANGING WORLD
Industry leaders across the board believe the time has now come to view leaders from outside the perimeter of age. Mahesh Shetty, Head - Network Sales, Viacom18 points out that what really matters is knowledge and skill. "Everyone, including people like me, should be prepared to work with people who are far younger than them. The question we should ask in fact is – what is the knowledge that person brings to the table? We are moving to a world which is connected and rapidly changing. And at times, it is people who are far younger who have better perspective of what is going to work in the coming years versus a person who has been there for a very long time. So I don't think there is any problem in a younger person leading a bunch of people who are far older because the skills and the stuff that they bring to the table is very different," Shetty says. A changing world, with Digital at its centre, makes new skills and fresh perspectives important. While there is no set formula to leadership, a person's calibre is really what matters. However, that transition towards a younger leadership base is not going to be the smoothest, especially since it requires a bit of unlearning on the part of the more experienced lot. Suresh Balakrishna, Chief Revenue Officer, The Hindu Group draws from his experience at the IMPACT 40 Under Forty jury meet to note that experience is not everything, particularly in the media, marketing and advertising domain. "I used to believe that age matters. But I have had to revisit my values and beliefs over the past 10-15 years as I see this industry evolve. There are so many bright young stars coming up and taking on leadership roles without what seems like too much of an effort. That has completely changed the way I thought about how leadership comes with experience. While experience is good to have, I understand now that it isn't everything! Maybe 15 years ago, age would have mattered. Today, especially in our industry, I think it doesn't as young people and young leaders lead from the front," states Balakrishna.
WHY EXPERIENCE TRUMPS AGE
While age may still not be the biggest factor in leadership, industry leaders are in agreement that experience is important. Age doesn't necessarily guarantee relevant experience, which is what makes a strong leader, says Rana Barua, CEO, Havas Group India. "Without experience, it's impossible to be a strong leader. But, you can't put a definition to age to say that you have to be a certain age in order to be a leader. Even the Indian cricket team has seen such young leaders," Barua points out. The very fact that CEOs of large organisations and start-ups today are so young and often well under 40 years of age, proves that the age factor can rarely affect a person's ability to lead an organisation. For instance, Megha Tata, Managing Director - S Asia, Discovery Communications says that leadership qualities are sometimes even ingrained in young children. "Age is a number. Even young school-going children display leadership skills. How you leverage your opportunities and the environment you're in also plays an important role. The environment always adds to the leader's potential to shine," she explains. Tata adds that things are looking up for the media and advertising industry with so many CEOs and business heads in their 20's and 30's. "The industry is in good hands with such amazing talent. I am certain that this talent will take the industry to greater heights," Tata states. But is the industry really willing to accept a younger leader, and will we see veterans with decades of experience adapt to a younger CEO at the top? Uday Sodhi, Former Business Head - Digital, Sony Pictures Networks India, believes that will not be an issue. "I don't believe that people will be unwilling to work with a leader who is young. In today's day and age, people will follow and work with leaders who have a vision for the company. All that matters is the calibre of the leader and what they bring to the table. The industry looks up to leaders who will give them direction, and a clear path," explains Sodhi, adding that age is inconsequential when it comes to leadership.

Rituparna Dasgupta
Principal Partner, Strategy, Mindshare Fulcrum
Leaders are made, according to me. You may not have those leadership qualities but they can always be developed. My belief is that leadership is a practice that you need to live every day.

Suchit Bansal
Head of Business – Personal Care, Marico Limited
The world is getting democratized and is more open about skillsets rather than age. We are seeing a lot of young leaders today than before – there are young leaders in their early 20's that are leading $20 billion organisations. This is a clear testament to the fact that age doesn't matter more than what you bring to the table.

Anushree Tainwala
Executive Director, Marketing, Samsonite South Asia Pvt. Ltd.
I believe that leaders are made. It is the opportunities that you are given, the challenges thrown at you and the mentors that guide you that enable you to hone your leaderships skills. The team you work with also helps you make your leadership and your dreams a reality.

Aditi Srivastava
Co-founder, Pocket Aces
I still think people react differently to younger leaders especially in this part of the world. Ours is an ageist culture, among other things. However if you know your stuff and if you show substance, then that opinion can change very quickly.

Faye D'Souza
Former Executive Editor, Mirror Now
Younger leaders can get people to work harder because they're also on the floor a lot. They can identify with their teams better because they are roughly in the same age group. However they also have to prove themselves that much more since older people in boardrooms tend to question your ability more if you are a younger leader.

Akila Jayaraman
Senior Account Director, Essence India
More than young or old, people are different and therefore, there are different kinds of leaders. So you just need to learn to adapt to the kinds of teams you are working with and managing. Both the team members and leaders have to adapt according to who they are working with.

Kranti Gada
COO, Shemaroo Entertainment Limited
It takes a little longer for younger leaders to establish trust as compared with older, established leaders. Once the trust is achieved, then it is not difficult for a younger leader at all. So if I were to make a comparison between older and younger leaders, the initial part of building trust is where the difference lies.

Vikram Pandey
National Creative Director, Leo Burnett
The most important thing when you are a leader is your team – if you have a great team, they make you a great leader. And if you have clients who are willing to support you and put their faith in you, that is all one could ever ask for as a leader.

Sandeep Anand
CMO, Zomato
There are only a few lucky people who can say leadership is a quality they were born with. It's something which you have to consciously work towards and inculcate in yourself. One of the key things you must do as a leader is develop empathy and understand how other people feel. You shouldn't put your team through something that doesn't seem right to you, or something that you wouldn't do yourself.
NATURE VERSUS NURTURE: ARE LEADERS BORN OR MADE?
Much like the Maybelline tagline, there is this widespread understanding that leaders are just born with that inexplicable quality that makes them what they are. We see it in our everyday life experiences too – some people have a natural charisma and a way with people, qualities that lend themselves to leadership. Does this give them an edge over others then? Are leaders born with an innate leadership quality? Or is it possible for leaders to be groomed and mentored? Industry leaders speak from experience as they weigh in on the nature versus nurture debate.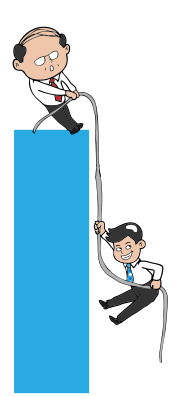 BORN THIS WAY?
There are certain attributes that are typically associated with leadership, such as confidence and vision. Peter Drucker, widely known as the father of management, is quoted to have said: "Leadership requires talent. This gift is rare. In the world of management, the best managers are in limited numbers, and the leaders among them are many times less." MV Shreyams Kumar, Joint Managing Director, Mathrubhumi, also the Jury Chair of IMPACT's 40 Under Forty, explains that while it is true that leaders are born, organisations also have a role to play in grooming young talent for leadership roles. "It is true that leaders are born but at the same time, leaders can be trained also. A lot depends on the environment and opportunities you have. There are many great organizations giving opportunities to youngsters to become leaders, trusting them and their ability to do things," he explains, adding that organisations tend to lose out if they don't entrust youngsters with responsibilities. Grooming is a critical aspect of the leadership process. Irrespective of the person's innate talent, a lot depends on the opportunities available, the person's education and the grooming process. A person may well have the propensity to lead an organisation but not the opportunity. Janardan Pandey, Founder-Director, Nett Value Media Pvt Ltd is of the clear opinion that one's purpose and ambition is key to the leadership success story. "I do believe that what we do, how we shape our thought process, how objective we are towards our purpose and goals in life, all of that goes a long way in the leadership process. It's nothing to do with where you are born and how you are born," he states, adding that history is a clear testimony of this.
TALENT VERSUS GROOMING
While most veterans agree that successful leaders have seen a balance between natural talent and grooming, the more popular opinion is that in order to succeed, one must have that keen leadership instinct. Basant Dhawan, CEO, English & Business News Cluster, Network18 observes, "Leadership is a balance of both grooming and natural talent. Of course, there is a great deal of hard work that goes into becoming a good leader and you must go through the struggles that come along the way. But if you have a leadership instinct, that's the icing on the cake." Education, ability, opportunity and training combine to make effective leaders, which means that everything doesn't always come from birth. Explaining why he believes leaders are made and not born, Sharad Puri, General Manager, JW Marriott, Juhu says, "I am a firm believer of the theory that leaders are made, and believe very little in the theory that leaders are born. Some of the great leaders that I have worked with possess a high EQ and also what I call PQ, Passion Quotient. Of course, talent is also really important, but both EQ and PQ are two important qualities in leaders." Puri adds that another key factor is the environment leaders create for themselves and for others. Empathy and kindness can go a long way in making leaders great and effective, he notes.