A lot has been written about influencer marketing over the years, about its power in terms of driving brand loyalty and organic growth, even as some marketing purists continued to remain sceptical of its actual influence. The second wave of the pandemic has perhaps accentuated the growing need for sensitive, purpose-led influencer marketing campaigns. However, the recent incident involving Heineken was also an important reminder for marketers to keep authenticity at the centre of all influencer-led campaigns, especially those that are purpose driven or cause driven. To be sure, the controversial Heineken campaign was perhaps an exception in a scenario where brand managers and influencers have come a long way in delivering sensitive, compassionate messaging during the COVID crisis. At a time when brands needed to take a step back from hard selling and launching new products, they found themselves perfect allies in influencers to reach consumers with messages of empathy. In fact, a recent survey from AI-driven influencer marketing platform, ClanConnect shows that 90% of marketers plan to allocate 25% of their entire marketing budget towards influencer-led activities in the current year.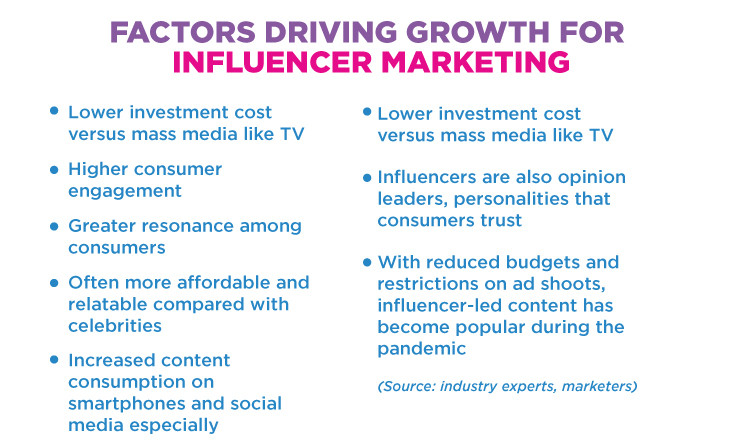 On account of the pandemic and the growing demand from brands for sensitive influencer-led messaging, INCA, the influencer and content marketing vertical at GroupM recently published a whitepaper for influencer strategies. Speaking about the objective behind the whitepaper, Ashwin Padmanabhan, President, Partnerships and Trading, GroupM India explains, "As brands navigate through an uncertain business environment, many are exploring ways to work with influencers to drive conversations with their consumers. The challenge though is how to leverage an influencer's connect with their audience while ensuring the content posted does not negatively impact the brand. Thus this white paper by INCA, GroupM's influencer marketing platform. The white paper is a quick guide to brands wanting to work with influencers and helps them to navigate this space in a brand safe manner."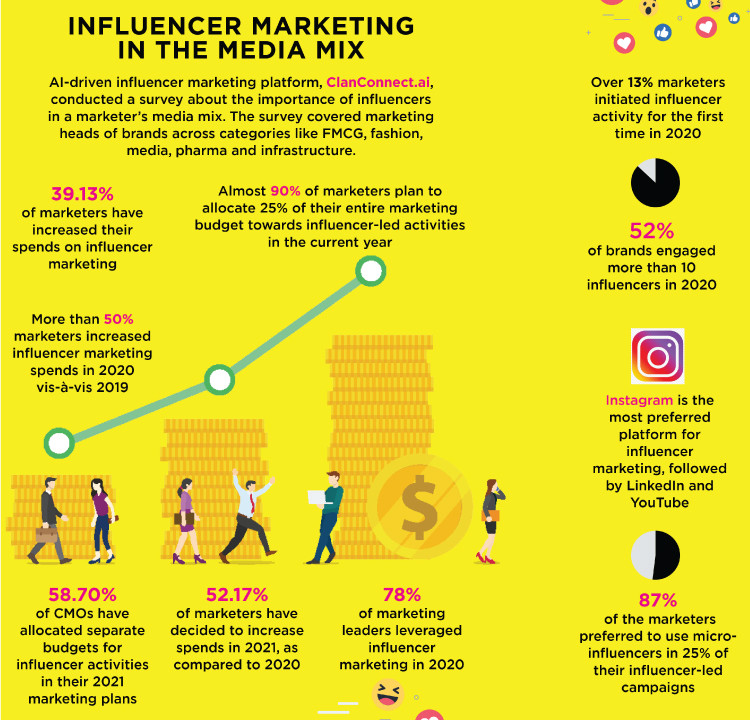 Influencer marketing in a pandemic
Looking back at when the pandemic first struck last year in March 2020 to the second wave this year, there was a dramatic change in consumer behaviour and response. The early months of the lockdown in 2020 saw consumers coping with household chores and enjoying quality family time or trying new recipes. Contrast that with the months of April and May 2021, and the mood was definitely more grim and sombre across the country with people scrambling for beds, oxygen and medication, notes Pranav Panpalia, Founder of OpraahFx, and OP Gaming. His organisation was instrumental in relief efforts and fund raising during the second wave of the pandemic. "From influencing people to watching a series on an OTT platform to now keeping a tab on medical resources and SOS requests, influencers had completely shifted their priorities and approach. We did a fundraising campaign for COVID relief, where we got 35+ Indian influencers to do a YouTube live stream for seven and a half hours and raised Rs 60 lakh for Hemkunt Foundation, which delivered free oxygen cylinders and concentrators to patients and their families in the country. I believe that this is the true influence of influencers," observes Panpalia. Selling products and promoting brands took a backseat at this time, and Panpalia also adds that influencers today are keen to work with companies that are making a difference to society especially in times of crisis.



Given the crisis at hand, brands that collaborated with influencers during the pandemic had to ensure two rules were followed – don't be tone deaf and make it worthwhile. Brands being sensitive to the gravity of the pandemic asked creators to keep the content subdued, subtle and empathetic. And since creators already know their audience, they pivoted even faster, observes Ankit Agarwal, Founder, Do Your Thng. Their content moved away from hard-selling towards affirmative storytelling, making it compassionate, problem-solving and focused on well-being, he notes. "The consumer's frame of mind shifted from discretionary purchases to essentials in the first wave.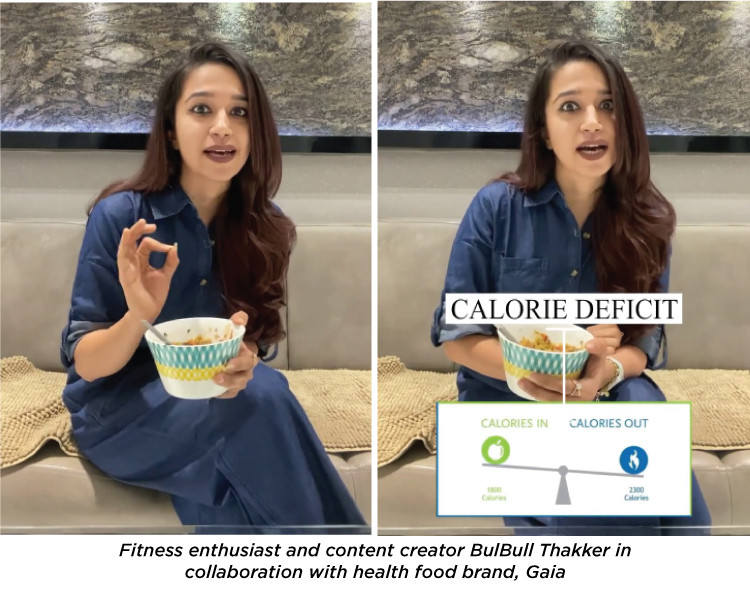 The second reinforced it. Brands had no other option but to react to the change. Most influencer marketing campaigns we've launched, particularly after March 2021, were on hygiene, immunity products, health and personal care. ITC's Savlon collaborated with micro and nano-influencers to amplify their new FFP2 S mask, Gynoveda did the same for their Daily Detox Pill, and so did MFine for their smartphone feature SpO2 tracker. We've also worked with creators for essentials like Tata Salt. That's not to say all fashion, lifestyle, e-commerce or retail brands pulled back and activated the wait-and-watch mode. A limited number of them continued to work to leverage our influencer community like Levi, Hershey, DaMENSCH and Havells," he adds, explaining that all advertisers ensured their tonality was in sync with consumer sentiment.
One of the brands that also drove awareness about building immunity during the pandemic was health food brand, Gaia. Dolly Kumar, Founder Director of Cosmic Nutracos, parent company of Gaia explains that the larger idea was to build awareness about improving health and immunity in the wake of the second wave. "While the threat of coronavirus still looms large, we are looking at the influencers to encourage people to stay at home and choose home deliveries for basic supplies like groceries and medicines. In order to stay safe and healthy, the content promoting the use of healthy products offered by Gaia will remain on top of the list," says Kumar.
The incremental impact of the pandemic in 2021 presented marketers with the conundrum of how to appropriately and effectively communicate, while keeping in mind the changing behaviour and unprecedented challenges, notes Vikram Kari, Product Head, INCA India. He explains that the kind of branded content INCA put out was credible yet relatable and with a result-oriented tone. "Among the campaigns we executed at the onset of the pandemic last year was one was for a leading beverage brand – to emphasise the importance of taking care of the elderly, at a time when they were alone at home and most susceptible to infection. This was done using credible celebrities and content creators to spread awareness about the cause," he says. Kunal Sawant, Client Engagement Lead, INCA adds that brands today no longer look at vanity metrics like follower count but rather are more concerned about getting the influencer fit right. Cautioning against the possibility of an influencer marketing initiative backfiring, Sawant remarks, "Our clients today are more interested in understanding if there is fitment at the core. Does the influencer live up to the core of the brand value? Does he/she demonstrate that in their usual posts? Do they even talk to the audience that matters to me? Are they brand safe? Clients are wary of the fact that influencer marketing can also backfire, at times being too sales-driven or content being inappropriate or for associating with the wrong creator. This is where tools like INCA come into the picture helping brands identify the right creators who speak to the right audience and are fit for the current brief."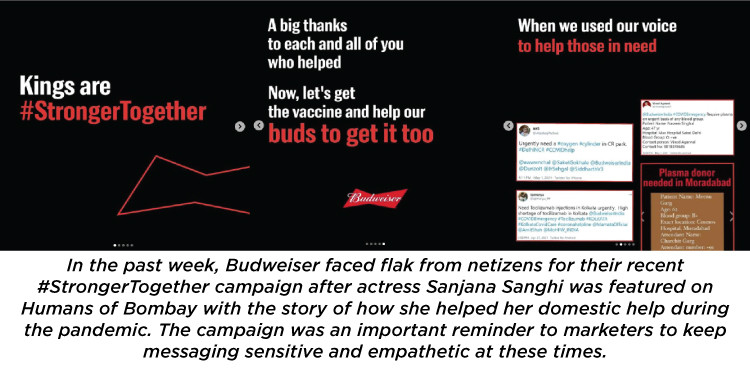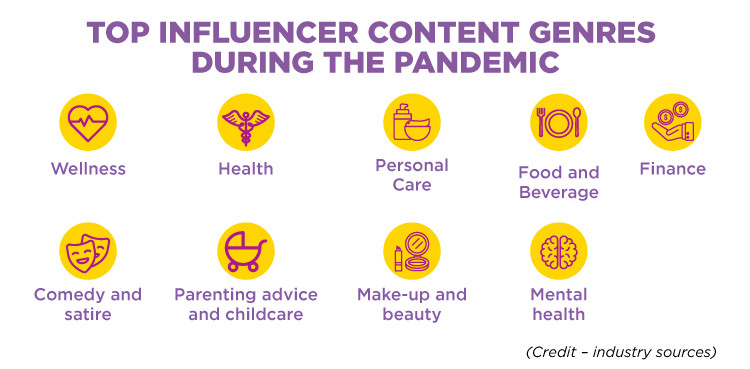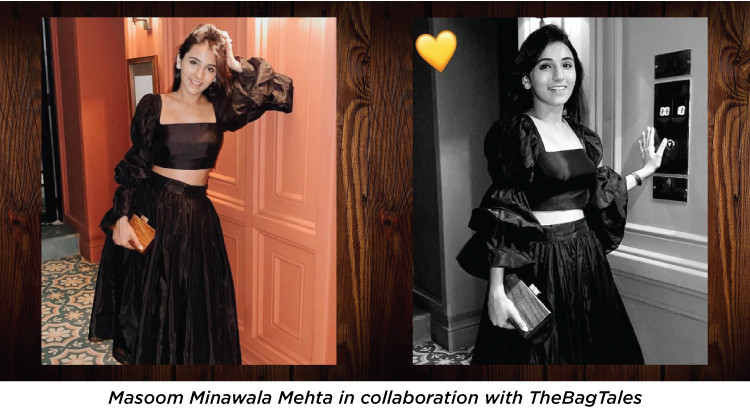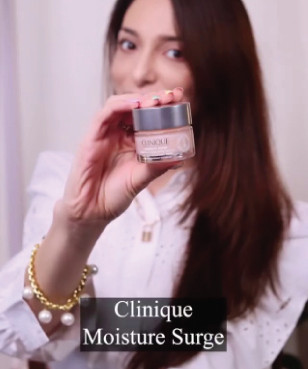 Bringing purpose to the fore
The second wave in particular saw several people affected – this was even across clients, agencies, influencers and celebrities. In a situation that was so grim, brands had to reorient their messaging and move away from selling to putting out communication that was considerate and empathetic. "We re-channelled our content spaces to incorporate the 'stay at home,' and 'we are all in this together' angles by seamlessly integrating the product plug-ins as well," states Ramya Ramachandran, Founder & CEO of Whoppl, an influencer marketing and content creation agency. She notes that brands, while staying cognizant of the prevailing consumer sentiment, were also quick to address needs and bring some feel-good content to consumers during this time. "With all the salons shut during the lockdown, we recently worked for an epilator brand to drive home the point that one does not need to step out to get smooth skin; they can get all the salon benefits from the comforts of their home. We also leveraged a lot of parent influencers to come up with video assets where their kids were seen helping them with small, simple things like garnishing custard with dry fruits. We wanted to communicate that in such a bleak time, it is crucial to do things that help you lift up your spirits," points out Ramachandran.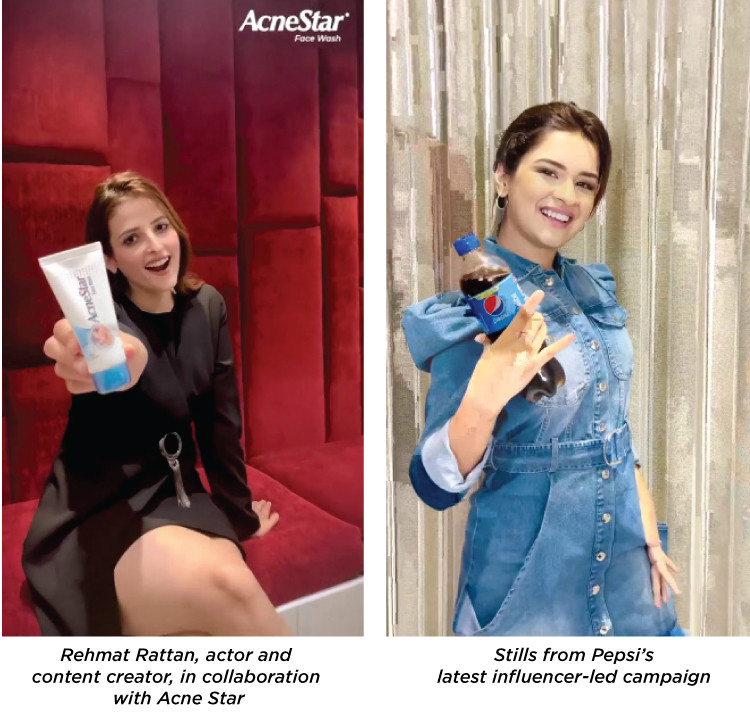 Brands in categories like personal care, FMCG, healthcare, finance, hygiene and F&B tweaked their communication, collaborating with content creators and influencers to put out messaging firmly built on purpose. Often, these collaborations had only a subtle brand plug, thereby ensuring little or no selling. Sanitary pads brand, Paree also channelled content that prioritised the consumer's needs and her menstrual hygiene. "We initiated conversations around menstruation topics such as heavy flow and PMS while also showcasing our solution-driven products. We recently collaborated with popular content creator, Kusha Kapila and other influencers to launch the newest addition to our premium product range – Paree Prima Sanitary Pads and Panty liners through a digital campaign #APadThatBreathes. We went beyond just talking about periods and added some creativity and humour to period blues with quirky and fun content. We trust that comedy as content is a great tool to lighten the mood and take a light-hearted approach in the current times," notes Samta Datta, General Manager, Marketing, Soothe Healthcare.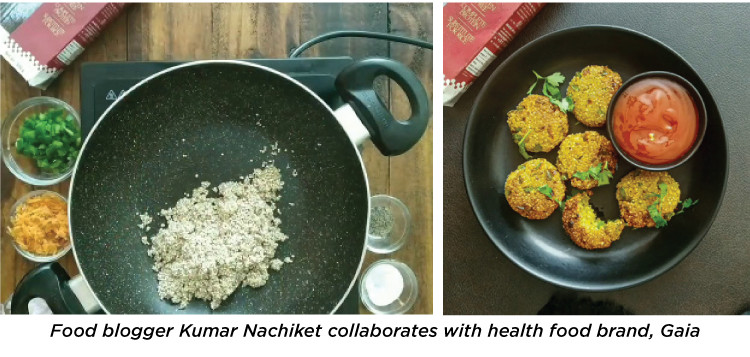 Another brand that has been consistently using influencer marketing even from before the pandemic is meat and seafood consumer brand, Licious. During the pandemic too, with people opting to stay in and order groceries at the doorstep, the brand stepped up with campaigns roping in celebrity uncle and nephew duo – Anil and Arjun Kapoor. It also collaborated with content creators like Naveen Richard for its ready to cook range during the IPL. Speaking about the brand's approach to influencer partnerships, Simeran Bhasin, VP - Brands and New Ventures, Licious says, "We've done many experiments in the last seven to eight months with influencers and it's important for us to find the right balance, and not just use influence from influencer marketing for the sake of using it. So you will see more of influencer marketing coming in as we find relevant situations to use them but it does seem to be flowing a lot more naturally."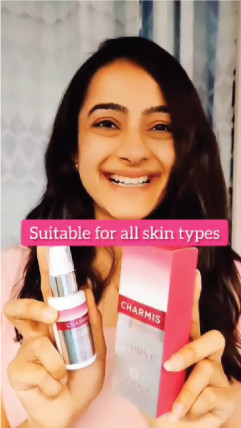 A larger slice of the marketing pie
The pandemic period has seen massive growth in creative content and the emergence of several new and notable influencers, which has also proved beneficial to brands. This was seen especially in the early months of the lockdown and its effects have continued, since brands have recognised the value influencer collaborations bring to the table. Sagar Pushp, Co-Founder and CEO – ClanConnect tells us that through his organisation, some influencers have even signed year-long campaigns with leading brands. Speaking about the growing importance of influencers in the marketing ecosystem, Pushp says, "We are seeing some brands invest 10-25% of their marketing budget on influencer marketing. Higher investments have been noticed across D2C brands that aim to connect with their audience at a deeper and more authentic level." Pushp also adds that the recently introduced ASCI guidelines for influencers are indicative of the fact that they are now seen as mainstream with ample marketability. He welcomes the new ASCI guidelines that require content creators to indicate if a certain piece is sponsored along with the brand name. "This will, in turn, garner greater awareness around brands and products just like it happens with traditional advertising on a large scale. The only requisite for influencers will be to brainstorm and think of interesting ideas and highly engaging content for sponsored posts that don't go unnoticed. This is where creative agencies will be able to support influencers in their endeavours, thereby creating a collaborative, fast-evolving, flourishing market," remarks Pushp.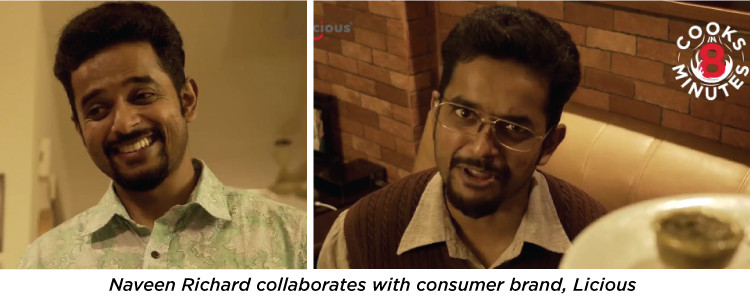 Across the influencer marketing ecosystem, the new ASCI guidelines have been welcomed though there is some concern about how they will be implemented. Ashutosh Harbola, Founder & CEO, Buzzoka observes, "Where a million pieces of content are floating every hour, who will report or check these? My suggestion to ASCI would be to draft these guidelines in sync with all leading social media platforms with a right to report by each and every user. This way we can truly bell the cat, else the guidelines will not really be enforced." Since the guidelines were rolled out however, brands have also come out in support of them and time will show just how well they have been implemented.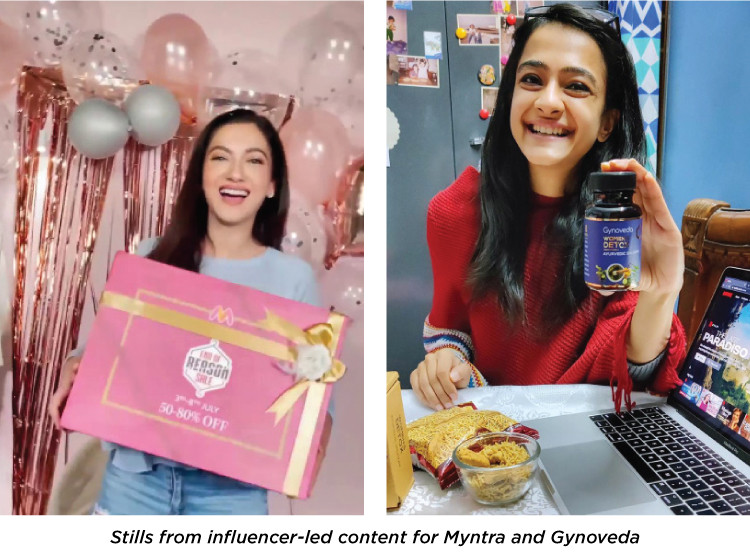 Homegrown businesses that typically rely on offline events and word of mouth are increasingly relying on influencer collaborations to drive growth during this pandemic year. One such brand is TheBagTales, which operates in the bags, purses and accessories space. Shetal Shah, Co-Founder, TheBagTales tells us how influencer collaborations have driven results for the brand. "In this 'new normal' way of conducting business and growing through challenging times, we have set our budget at about 15% of our total marketing budget, towards PR and influencer marketing, as it is the need of the hour. We also associated with television celebs like Tinaa Datta, Donal Bisht, Pankhuri Awasthy who helped us reach out to a larger audience, especially across small towns. We were surprised at the response we have received from small towns in India! Our message across any influencer partnership has been to highlight our product USP and to support small homegrown businesses," Shah says.
"At GroupM, we have seen influencer marketing spends growing at >200%. The number of clients who have executed a campaign have jumped by 100%. CPG brands contribute the most in terms of value yet it is a small fraction of their overall budgets. Hence there is a lot of room to grow and at the other spectrum we have a lot of digital first brands who have influencer marketing at the core of their marketing spends," notes Kunal Sawant of INCA, adding that influencer marketing is at the core of the content strategy for most of the organisation's clients.
(With inputs from Simran Sabherwal)