American Tourister just celebrated five years of their association with Virat Kohli. Anushree Tainwala, Executive Director Marketing, Samsonite South Asia in a conversation with IMPACT talks about why they have renewed the contract with the brand ambassador despite India's dismal performance in the T20 world Cup and how sales are looking up for the international travel gear giant



Q] Tell us about your five year long association with Virat Kohli and how has that helped the brand American Tourister to grow?
It has been a great journey for us, we have seen Virat Kohli's journey from a super energetic young player to someone who's more mature, level headed and the brand has had a similar transition too. When we got Virat Kohli on board, American Tourister had a few 100 crores of sales, but we really wanted to take it to the next level, talk to the younger audience and focus on the youth of the country. And that's when Virat joined our journey. And he has really helped us make American Tourister a household brand in the country. Virat helps us gain that mass appeal.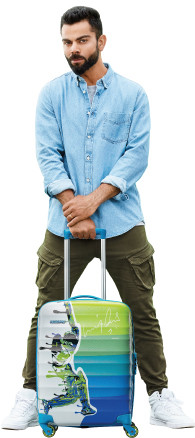 Q] Can you tell us in numbers how much American Tourister has grown in the past five years?
We have grown by double digits every year over the last five years and thus have really come a long way. Pre-COVID American Tourister enjoyed close to a 1000 crore figure. Last year has been not so good, but we're expecting that trajectory to continue next year.
Q] In an age where celebrities are quick to abandon a brand and vice versa at the first sign of a problem, how important are such associations for the credibility of a brand?
Virat Kohli really represents what the brand is looking for in India. We wanted a youth icon that appeals to an Indian audience but is international in his stature for an international brand like American Tourister, and honestly today as well, there aren't many other Indian celebrities I would count in that space who are international figures as well. I cannot comment on from the side of other brands or on behalf of Virat Kohli but it has really been a fruitful association, we've had a good working relationship with each other. Our core values are very similar to each other as well and that is why it worked both ways.
Q] An association with a celebrity, while it helps to reach out to the masses quickly has its side effects too, for example Team India for the very first time didn't make it to the T20 semi finals and Captain Virat Kohli is also quitting T20I captaincy... how does that impact his brand appeal and American Tourister?
In everyone's career, you have ups and downs and we are not the kind of brand which will abandon our brand ambassador just because he has had a few bad months. Especially in sports, you win some you lose some. He maybe down now, but I'm sure what he stands for and believes in is very much what the brand still agrees with and symbolises as well. Right now we've renewed our contract for the next three years and definitely we don't have any intention of severing any ties in the next three years.
Q] Samsonite and American Tourister are the world's two biggest travel luggage companies, both have their distinct qualities… what kind of market share do they have in India at this point?
Samsonite has a premium luxury brand positioning in India and internationally, it caters to a niche traveller, someone who's extremely well-travelled and is looking for that little bit extra in the travel gear that he/ she purchases. They care about the bag lasting long and finer aspects of craftsmanship and luxury which tend to be high network individuals or people who really travel a lot frequently to domestic and global destinations. That segment is small in India but is growing and with it Samsonite too. American Tourister is more of a mass brand. The promise of American Tourister is basically about bringing international quality, style, technology at a more affordable price for everyone. There we cater to a really large audience, whether it's a young family, individual travellers, students, young professionals. American Tourister, of course in terms of size is larger than Samsonite in India. In fact, I would say it's the single largest brand in the country today for luggage. There are plenty of domestic competitors available at a similar price point or a little bit lower kind of a price point. But of course, from an international brand perspective, there is no competition. Meanwhile Samsonite is the only brand that exists in its price and positioning segments.
Q] The past year has been tumultuous for most travel related brands, how did Samsonite fare and what is the strategy for the year ahead?
The last couple of years have been tough years for us. We've basically been trying to navigate and keep our head above the water because travel was really not on everyone's mind. But since July this year, we can say that travel is back with a vengeance and people are traveling. It's impossible to get a flight or hotel these days. And we've seen that in our sales numbers as well. We saw the last couple of months crossing our 2019 sales numbers. So yes, whilst the last two years were tough, it seems to be very much behind us. And India is ready to travel again.
Q] You refrained from spending at all on advertising last year. After the Kerala floods Samsonite launched the 'Kerala is Open' campaign, can we expect something similar from you now that India is on a revenge travel mode?
Yes, that's correct, we didn't advertise since the pandemic struck. Yes we may do something on those lines, but nothing is finalised yet. For the next year or so, there is definitely going to be more focus on the digital space because of the dramatic shift for the customer on the digital space since the beginning of the pandemic. It also gives us a chance to make a one-on-one connect with most of the customers, and not just a one size fits all kind of approach, which really is what above the line advertising ends up being. So, not to say that we will rule out above the line advertising altogether, but definitely, to begin with, the focus will be more on the digital space.
Q] Now that your sales are looking like what they were in 2019, will the advertising spends also match up?
It's too early to tell, we are cautiously optimistic and don't want to put the cart before the horse as yet, but if things continue the way they are, we will definitely see some spends next year.