Q] Tell us about the 'virtual launch toolkit', which has enabled many brands to launch products online during the pandemic?
The pandemic has short circuited digital adoption in the country by at least a couple of years. What we did was a 'value chain analysis' for our key auto clients. We told them that this is where we can play a role ---right from virtual launch to customer feedback and input, generating leads and closing the loop. The virtual launch toolkit came from the premise that they could not go to big stadiums and hotels to launch cars. So we brought the best of online car audiences, and the facility of AR filter called Spark. We used AR filters to create a full launch environment, like for Auto Expo we literally created the entire stall for MG Motor on a virtual, AR filter. Similarly for Maruti's S-Cross we managed the entire launch end to end from unveiling the car to creating virtual test drives, to allowing playable ads for engagement so as to create awareness about the new launch. Lastly leaving a lead behind saying "I'm interested in the S-Cross do reach out to me." So, it was a full funnel approach. Similarly for our handset clients like Samsung, Vivo and Oppo, we actually took the power of unboxing into the hands of the end consumer through virtual unboxing. So as a user, you didn't have to look at an influencer unboxing the phone. You could actually use an ad, play with the device and literally unbox it on our own from the comfort of your home without any third party talking about it. And then add your comments and become a little mini influencer in your own world.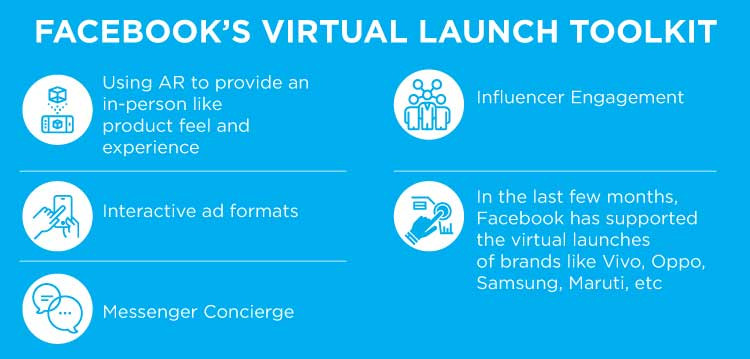 Q] Several event management companies have done something similar and then used Facebook to stream the event, you definitely have the advantage of owning the platform…
We therefore worked with a couple of event management companies, who are anyway using our platform to stream. We partnered with them and built on their ideas like throw in a virtual test drive option for a car launch for Hyundai.

Q] But when things go back to normal after the vaccination drive will the 'Virtual Launch Toolkit' still be relevant?
I for one believe it will be. We did extensive testing of each of these virtual launch activities with all the clients where we put brand lift tests, to measure awareness and consideration. And in almost all the cases, the consideration scores went up because there was engagement with the brand. It is not just an innovation of the pandemic, I generally feel it's a more efficient way to add to your marketing mix. I think I have no reason to believe that it will disappear completely, it will still stay. There will continue to be physical launches in hotels where you have a maximum of 500 to 1000 people but in an online launch you can reach an entire country. We piloted this with the Auto Expo where we live streamed and created AR experiences around it and this was pre pandemic.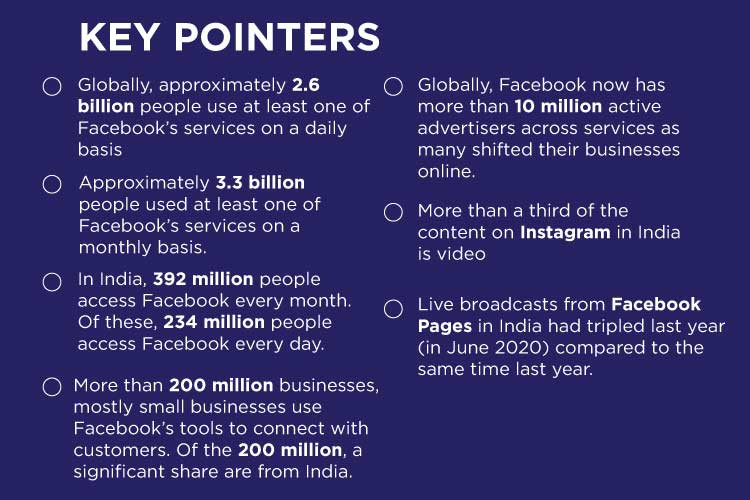 Q] You've helped brands digitize their value chains. What are the different ways these have benefited the brands and also the smaller retailers?
So, here's one example of digitizing a business of India's leading automaker. So, Maruti has some 900 plus dealer outlets and maybe 600-700 dealers. Two years ago when we started having conversations with them we realized that a main part of their value chain is the dealer ecosystem, because that's where the moment of truth happens with the end consumer. And their metrics were majorly offline. So offline is great, but can always be improved and driven more efficiently. So we sat down with the Maruti team and pitched them an idea of digitizing their entire ecosystem. It took us around six months to launch it because it takes time to drive that change. Currently we have 900 plus outlets linked up as part of the hyperlocal system. And Maruti has driven 1.3 million leads through this project so far. And these leads convert at a reasonably higher ratio than they normally do. The dealers are happy because they've seen the benefit of being digitized. Maruti is happy because they have introduced efficiency. We are happy because we brought about a change in the industry. So this is a classic example of a large business driving small businesses.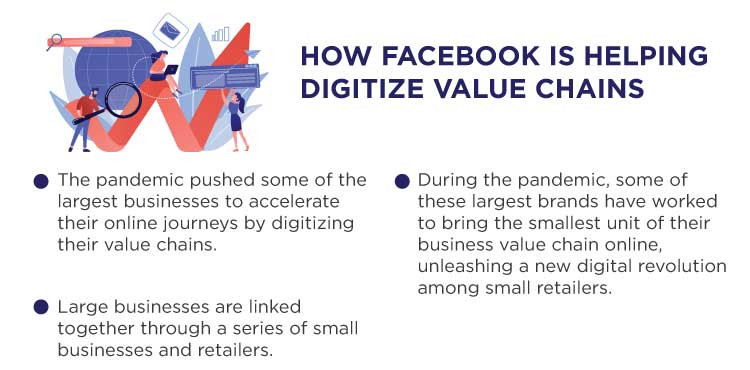 Q] In the past 12 to 15 months, what kind of growth have you seen in accounts on Facebook, WhatsApp, Instagram because of the pandemic?
We can't tell you specific numbers on WhatsApp and Instagram, but we have around 400 million Facebook accounts in India. We did a survey in the middle of the pandemic to measure the influence of digital and the number increased by up to 25%, three months after the pandemic hit. And from a smartphone angle, seven out of 10 smartphone purchases were influenced by digital. A third of small and medium businesses on Facebook said that the proportion of sales they made digitally has increased compared to what it was before the pandemic.