Q] What was the prime objective behind Tata Starbucks' latest campaign, #ItStartsWithYourName? How did you conceptualize the campaign?
We celebrate our 10th year in India this year, and over the last decade we have formed deep connections with our customers in the country, and look forward to the road ahead as we welcome the next generation of Indian coffee-lovers. We are the most loved coffee brand in India, according to a brand equity study done by Tata Starbucks across metros and tier 1 cities. Customers come to us for the coffee but stay back for the warmth and connection.

The campaign is a celebration of all these distinct details that make each Starbucks experience personal and special. From the minute you walk into a Starbucks store, the experience is a personal and positive one. At Starbucks, you will always find your name written on a cup, which is called out. Our biggest inspiration for this campaign stemmed from the fact that at Starbucks we don't see customers, we see people.
Q] How are you amplifying the campaign? What marketing mix are you looking at?
The campaign will be promoted in our 4 launch cities that include Bhopal, Indore, Gurugram, and Bengaluru. Our promotional channels include a mix of traditional and digital media, across print and radio, as well as OOH, music and video streaming services.
Q] What was the idea behind introducing a new size for beverages?
By introducing new and localized offerings, we are responding to consumer demands and preferences. In India, we like our coffee and tea in smaller proportions, and at home, our tea and coffee cups are sized between 150-200 ml. In keeping with this, we have introduced the new 6 oz. cup size (180ml approx) called the 'Picco,' in Bengaluru, Gurugram, Bhopal, and Indore.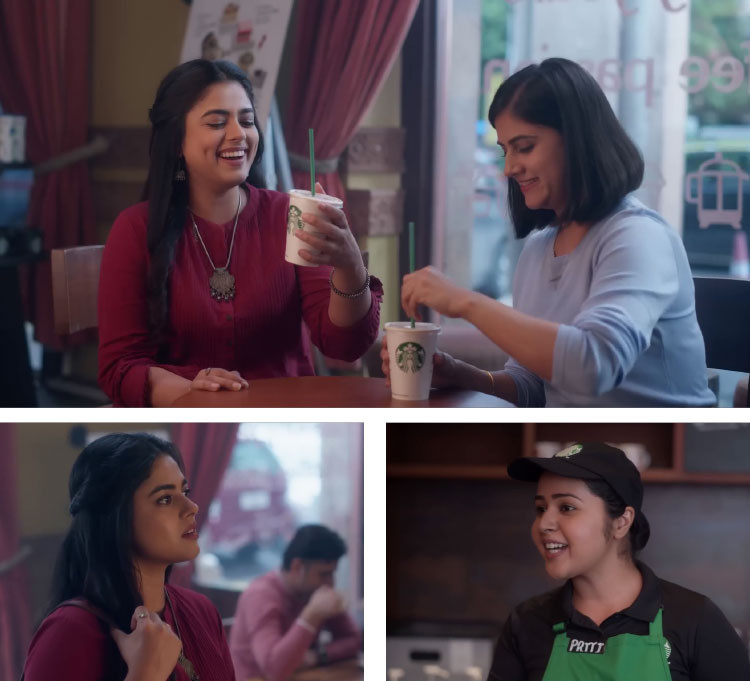 Q] Tata Starbucks has also introduced a new food menu along with some new beverages, what are your expectations from the new launches?
Yes, we have a new and exciting food menu. For the first time ever, there will be freshly assembled sandwiches in stores, so you will get Green Goodness Spinach Panini Sandwich; Spiced Cottage Cheese Focaccia Sandwich; Herbed Chicken Focaccia Sandwich; and the Tandoori Chicken Panini Sandwich. Then we have bite-sized and shareable food items, including Mushroom and Cheese Tart; Spinach and Corn Quiche; Bhuna Chicken Puff; Chocolate and Pistachio Eclairs; among others, starting at 180 INR.

These items have been introduced keeping in mind consumer demand, and we are confident that they will do well.
Q] What strategy have you planned to market the new offerings?
The new offerings in Bengaluru, Gurugram, Bhopal, and Indore are accompanied by a robust multimedia campaign. #ItStartsWithYourName is a callout to all new customers to visit us and experience the warmth and personalization that every Starbucks store brings. The launch film starts off with two working women making their way to a Starbucks store, one is hesitant and homesick as she misses her mother in a new city. To cheer her up, her colleague shares her nickname with the barista, and when he calls her out by that name, it instantly brings a smile on her face. Each of these launches is supported by a short film that connects the new innovations to a personal moment of connection and warmth.

The film introducing the new size `Picco` is a take on how new customers can enjoy their favourite coffee at an exciting price and in a size they are comfortable with. The `Filter Coffee` film celebrates the special relationship between a grandmother and grandson as they both enjoy a wonderful cup of South Indian filter coffee. The `Masala Chai` film is a sweet tribute to families and shared memories over the perfect cup of tea, just the way mom makes it. Starbucks signature milkshakes film showcases sweet moments and romance shared by a senior couple, and we will be demonstrating the revamped food menu through camaraderie between two friends as they share their food and have a good time.
Q] How have the last two years been for Tata Starbucks, and how has the brand's business and marketing strategies evolved during the pandemic?
2022 marks Tata Starbucks' tenth year in India, and we remain grounded in our commitment to the long-term growth potential in the country. The pandemic demanded that brands and businesses pivot. For us, this meant, focusing on online channels with delivery partners. Our home delivery orders are higher than pre-covid levels, today delivery accounts for 13-14%, pre-covid it was 4-5%. We marked our highest expansion in India in FY 21-22 by opening 50 plus stores, and we have a total of 278 stores today in 30 cities.

Last year we did a revenue of 636 crores and clocked a growth of 76% over the previous year.

We strongly believe in the potential of the Indian market and remain committed to growth. India is one of the top 5 fastest growing markets for Starbucks globally.
On the Marketing front, we have always believed in fostering deep relationships with our customers and so even during the height of the pandemic when stores were closed, we remained closely connected to our customers through the `Reconnect with Starbucks` campaign. We sent more than 2500 messages to our customers on Instagram with messages from our barista, reminding them of their favourite Starbucks moments. We have a loyalty base of close to 1.2 million customers, and we engage with them very closely to provide the signature Starbucks experience.
Q] Since online shopping and digital-first products have seen tremendous growth, how much traction is generated for your products from e-commerce?
Digital will continue to be an important route to market for us through 2022. We have launched our products on e-commerce with Tata Cliq and Flipkart, and both platforms continue to grow for us. We also have our Mobile App where customers can order their beverages ahead and directly pick it up from the stores.