Q] I believe the whole concept of your latest campaign Zindagi Ka Syllabus came from Vedantu's internal team. Tell us more about it.
The insight behind the campaign came out of our observation of the real-life stories at Vedantu, instances with our master teachers and their students. The insight was that any teacher can teach, but only a few can inspire. We believe that the job of the teacher is not just to know the subject; it's to know the child. And only when you know the child, can you reach out to them and be able to inspire them in a manner that creates magic. So, the job of our teachers is not to just get a certain level of marks. 6% of our batch gets into IIT so yes, we do that with proficiency but what we believe lies at the core of a Vedantu master teacher, is that he can give lessons that can transform your life in addition to providing academic success in the short term. The point of differentiation in Vedantu is that you are not applying pressure from an external source. You're trying to kindle something within a child internally, and that leads to a very different kind of outcome.
Q] But it takes a lot of time for a teacher to understand a child or to learn about his/her aspirations. So how do your teachers do that?
It depends on a few things, like how a teacher operates, why are you a teacher in the first place? What is your motivation as a teacher to be here? One of the fundamental things that are unique to Vedantu, and something that we are proud of, is that we are teachers by choice and not by chance. The founders themselves are teachers. We have got teachers coming out of IITs who don't want to pick up all of those shiny offers and opportunities and want to instead guide others.
Our students reach out to their master teachers and tell them the kind of difficulties they are facing and teachers step out to help them, there is no playbook here. Of course, all of these teachers are also ably assisted by technology like WAVE, which helps the teacher get a pulse of every student in a class and understand their level of engagement. In ed-tech, while you're operating at this kind of a scale, you still want every child to feel that they're on the first bench and not getting left behind.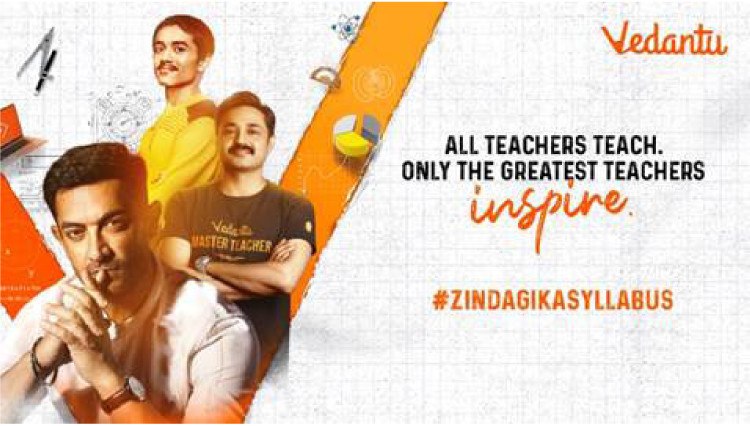 Q] What is the media mix that you apply for your campaigns?
We usually do a 50-50 media mix i.e., on TV and digital. It's similar, even in this case. In digital, we are looking at OTTs, content, influencers, YouTube and social impact properties. So, it's a mix and based on the targeting and whatever we do see as outcomes we shall keep refining that.
Q] Tell us about your next innovation, on product, or technology side, which would enhance the learners' experience?
In India, if you were to just compare education versus healthcare, the income elasticity of education is lower, and what that tells you essentially is that at any given income level, you're always going to have people who want to invest more in education, versus healthcare and I'm not talking only about the rich here. We want to create affordable products that will create value for people. So, we have some innovations coming on that front. Also, content in vernacular languages is on the cards. If the overall ambition is to create impact at scale, you're not going to be able to do it for the chosen few who can afford it. The onus is on us to ensure that everybody can access it in their language, the onus is on us to be able to find solutions to reasons on why they are currently not a part of this. So, in a sense, the innovation is going to be driven by that principle, overall.
Q] Once schools reopen, do you see the subscription or interest in online learning reducing just as it increased tremendously during the pandemic?
We do see some level of recalibration on that front, there are a certain number of people who might be aligning with ed-tech because they don't have a choice, but nothing dramatic that can impact the baseline. But the growth is going to continue, and we're barely scratching the surface. We started Vedantu many years ago when one would never have imagined that learning and schools would shut down. We were seeing 3x to 4x growth, even before the pandemic.
Q] Do you see any headwinds or challenges in your growth path?
We're talking about education, we're talking about a kid who comes in the second or third grade, and we want them to continue with us till the 12th grade. When you have 300 or 400 kids in one classroom, how do you personalize the learning journey? And if you want to be able to scale and go to every kid in the country and not be able to personalize, you're going to fail, at some point, the kid is going to stop attending classes, then stop taking your courses, and then just get out of the system, because the system has failed the kid. That's the one problem we are trying to solve. That's where WAVE and our technology come in. That's where our teachers come in.