Q] 2020 was the first time you ventured into dishwashers, was it solely due to Covid-19 and the changed lifestyle?
Yes, we introduced Godrej Eon Dishwashers last year via e-commerce platforms for the first time. We started with select markets online before expanding to all territories and based on response, now we are bringing the same to the offline market as well. We have been working on various technologies around the themes of health, hygiene, and effort minimization since the start of the pandemic. Dishwashers live up to this perfectly.

Q] Tell us about the product, what unique features are these dishwashers equipped with?
Godrej Eon Dishwasher is ideal for an Indian kitchen with 12-13 place settings to wash up to 91 utensils and cutlery at a go, including large steel pressure cookers, kadhais, pans, tawas and all the typical Indian cooking utensils. It is also suited for expensive dinner sets and delicate cups and glasses. It can also wash Teflon™ non-stick cookware, ceramic, melamine, silicon and plastic ware which is marked Dishwasher safe. Steam wash technology, UV Technology, built-in, Smart Wash technology, Direct Wash Function, Triple Wash Function, Special Turbo Drying Technology, Intensive 65°C and Auto Door Open feature all significantly contribute in washing the dishes.
Q] How does Godrej plan to compete with dishwashers from other brands such as Reliance, Vijay Sales and Samsung?
Consumers value our brand while making high investment decisions. The role of the brand becomes even higher in categories with lower familiarity levels. Godrej enjoys high-trust and has been known for offering quality products with high durability. After sales, service plays a crucial role too. Godrej Appliances is rated the highest on after-sales service by consumers, two years in a row now. Apart from the fact that our products are well-thought through, keeping consumers in mind, with a host of relevant features and offered only post robust quality checks, the above factors will also work in favour of the brand.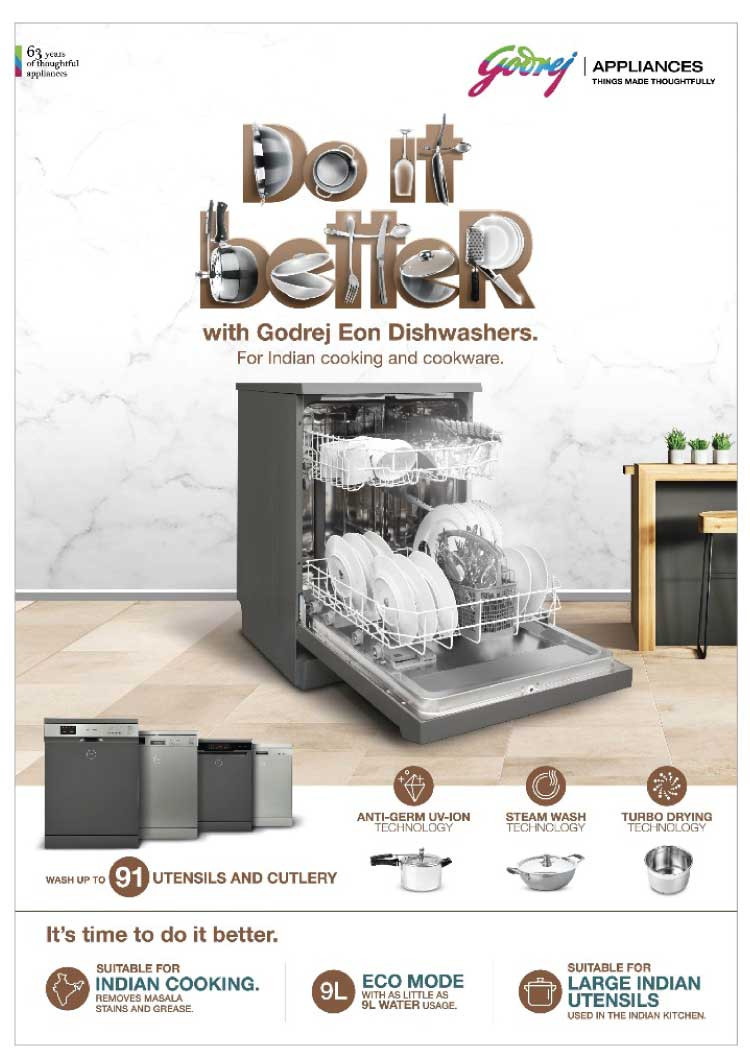 Q] There is a notion that dishwashers waste water and are not environment-friendly. How did you tackle these concerns?
The new Godrej Eon Dishwashers challenge prevailing misconceptions about dishwashers in multiple areas – cleaning efficacy, types of dishes it can cater to or number of dishes it can cater to, water wastage, electricity consumption, time taken, etc. Contrary to the popular belief that dishwashers consume a lot of water, dishwashers actually consume lower or at par water. In fact, all Godrej Dishwashers have Eco mode which saves energy and uses as low as nine litres of water per wash cycle.
Powered by efficient BLDC inverter technology, Godrej Eon Dishwasher has the highest A+++ Energy Rating as per European standards for low energy consumption, better cleaning & drying performance, while saving water and time.
Q] With the pandemic here, people are trying to reduce their dependence on house helps. But will these products remain relevant even after the pandemic goes away?
Pandemic forced people to re-evaluate their perceptions with the safety risks and the uncertainty around labour availability. While these factors may not operate at the same scale post pandemic, the surge in adoption will automatically fuel word of mouth and drive further penetration in times to come. Indian dishwasher market is anticipated to cross USD 90 million (INR 667 Cr.) by FY2026 and is expected to grow faster than many other categories. Apart from the pandemic and increased familiarity of the category, continued growth of dishwasher market in India will also be governed by the prevalence of nuclear families today with both partners working, high disposable incomes, availability of finance, increased acceptance of value adding - effort minimising appliances, increased exposure to dishwashers with people travelling abroad, etc.
Q] How do you aim to counter the low-cost method of hand-washing utensils?
Dishwashers have a very clear advantage over hand wash –self or outsourced. Dishwashers eliminate the effort of hand-washing. It minimises dependence on others and is easy enough to be operated by anyone in the house. It does not need intervention once it is initiated and frees up considerable time. There is no fear of delicate cutlery slipping and chipping or breaking, which is always a risk in hand wash. Sanitizing baby bottles and baby dishes is easy. The fixed and running cost of dishwashers put together becomes largely at par with cost of manual dishwashing over five years if not earlier. With dishwashers gaining popularity, dishwasher detergent costs are also bound to come down and this is expected to lower the running costs further.
Q] Did any other products see a rise in demand during the pandemic?
Apart from dishwashers, other products like washing machines, microwave ovens, robotic cleaners have all witnessed a surge in demand, with consumers seeking solutions to manage their lives better amidst the challenge of work from home and the need for social distancing. Convenience and hygiene have been key drivers across categories. With whole families at home, dishwashing is a constant and perhaps one of the biggest chores at home. In fact, dishwashers were the one product which literally flew off the shelves last year, no longer being seen as a luxury item, especially in larger cities.

Q] What other new additions are being made?
We upped our production of vaccine refrigerators and partnered with India's immunisation drive. We rolled out advanced medical freezers and ultra-low temperature freezers as well last year, with which we now have the complete range to cater to the storage requirements for any type of Covid vaccines, not just in India but for the world. As we move ahead, you can expect more offerings in the health and convenience space from Godrej with both specialized products and more generic products.