Q] You launched this campaign a few weeks before Diwali where you were seen advising consumers to have patience and wait till the big Diwali bonanza that will come their way. Tell us more about the thought behind that?
We did what any friend would do, i.e. tell our consumers that they don't need to sacrifice on their needs and wants by paying a big sum before the festive offers kicked in and how holding off for just about 10 days would help them save a lot more and make them happy. Any tech savvy friend would would advise the same.
Q] What was the marketing mix of this campaign, and being the festive season did you dedicate a very big amount of your annual budget to this?
Our first set of communication is always on social, because we like to have a direct connect with our supporters. Beyond that we kicked off the campaign with Print and Digital because, that's where the consumer will be during this period. Almost about 70-75% of our budgets would actually go into digital and that too largely on the performance side. In fact, we are increasing our budget there, compared to last year we are spending about 2X the monies. So, it has been an important Diwali for us.
Q] You started off as a phone brand, but today have a whole range of gadgets, from smartphones, smart TV, speakers, audio peripherals, tablets, etc., but what is it that Xiaomi really wants to be known for?
We are a technology company, and want to help consumers solve their problems. Smartphones in India is one of the biggest industries and because we are dominant there, we automatically get associated with smartphones. Every year, 100-250 million people buy new smartphones and Xiaomi holds a quarter of that market share. Thus, we are bound to be seen everywhere in that zone. About three to four years ago, we started moving from normal TVs to smart TVs. So, Xiaomi was the catalyst there as well saying that it's not all about linear TV anymore and OTT will contribute in a big way. It was slightly ahead of the market, but I think we helped shape it. During the lockdown we introduced the robot vacuum cleaner. We are the leaders in that space also, even though currently it is a small one. So, we keep innovating.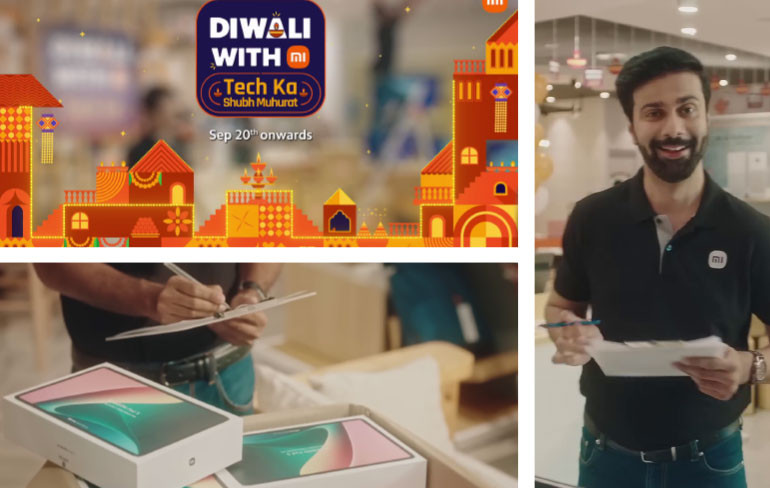 Q] Smartphones still contribute to more than half of your revenue today, what is a close second?
Yes, smartphones is the biggest category for us. Smart TV as a product has seen more adoption of late. With the advent of OTTs, people have started opting for larger screens, earlier the 32-40 inch TVs were the most sought after, now it is 50 inch. Also, because Disney+Hotstar, Prime and Netflix have all introduced 4K technology, people are now seeking 4K TVs. So, that's obviously a good growth engine and has been on a lot of people's wishlist for this Diwali too.
Q] In Q1 you led the Indian smartphone market with a 20% share, despite a 22% decline in your sales volume, but things are not as hunky-dory in China where you are trailing behind Oppo and Vivo, so, what is the difference in strategies in India and Xiaomi's home country?
From last year, second half onwards, the overall market took a hit, largely because globally there were supply chain issues, shortage of components, and zooming logistics cost. So, global supply chain was under huge stress though the overall market declined a bit. Even if one component of Xiaomi's well performing products gets hit, our volumes take a hit. So, in the last year in Q4, and Q1 this year, we were facing supply chain issues, which is why we were behind slightly. But now we have largely sorted things out.

From a strategy perspective, in India right from the start, i.e. about eight years ago, unlike most of the other global companies, we've had a completely Indian team. We like to believe that we understand the market really well and have adapted to the changing local conditions really quickly which helped us get to the number 1 position and stay there. But that was never really the goal. The goal was --how do we work with our consumers, make friends with them and bring in innovation at every level? So, whether it is about providing the best possible camera smartphone or bringing 4G or 5G to the masses, I think we have struck a good balance and the team has done a really good job in maintaining that balance.
Q] From time to time there are these anti-China sentiments, and the first to face the heat are the smartphone makers. How do you overcome that and do you feel at the end of the day you are at an advantage because there is no globally dominant smartphone brand which has emerged from India?
I think we have had very strong homegrown brands as well but from a Xiaomi perspective over the last two years, we've obviously seen the geopolitical situation play out. I think we are very clear, ours is a completely Indian team. In fact, Xiaomi was one of the first brands to start making phones in India. So, today we have almost about 60,000 plus employees working to get people those phones in India. I think we are as Indian as any company can be.
Q] While you are number one in smartphone category overall, you are tailing behind Samsung in the adoption of 5G, what will be your strategy on that front?
As far as 5G is concerned, we have already shipped almost seven and a half million phones, so, we are not that far behind, but we were being a little more careful in not over promising things. We were waiting till the auctions actually happened, so that we could know what frequencies would be given out, which circles will have what in order to get a complete picture. That way the customers won't be disappointed with the phone, whenever the services do start getting rolled out.
Q] Recently you also launched three budget phones. What percentage in the volume of overall sales are you expecting from the budget category?
Today, even with rising costs and in turn the prices, the sub $200 segment is still close to about 70% of the overall market. So, most of the country is still buying phones in that segment and essentially the three phones that you mentioned are built to cater to that segment. So, it would account for a good healthy percentage of our overall portfolio as well.