Q] UpGrad's new digital campaign 'Real People, Real Stories' is noticeably different from your previous campaigns. Tell us about this shift in the brand's communication strategy.
With the 'Real people, Real Stories' campaign, we have entirely changed the brand's tonality. Prior to this, we were either cheeky or humorous, but we realized that being an education brand, we need to be more sincere. So, we went for a complete change in the tone and content of the message that we are putting out to our learners, and interestingly, we have seen a clear demarcation in the RoIs ever since then. This is the first time that any campaign from upGrad has attempted to show how big a difference we have been able to make, in terms of sheer volume of careers impacted.
Q] Could you please elaborate on how you conceptualized and executed the campaign?
With this campaign, our objective was to celebrate the success of our learners. Given the business that we are in, we succeed only when our learners succeed, and when we celebrate them, the brand automatically comes to the fore. In that sense, the first leg of the campaign was straightforward testimonials. The second leg was also quite similar. However, while we saw that testimonials do build trust, due to their long format and nature, they are not 'super engaging'. Hence, for the third and most recent leg of the campaign we figured out a format that is both engaging like an ad, and celebratory at the same time.

We've got the right mix of drama and authenticity to achieve our end goal of inspiring the viewer in 20-30 seconds, and the results have been great. People are loving this ad.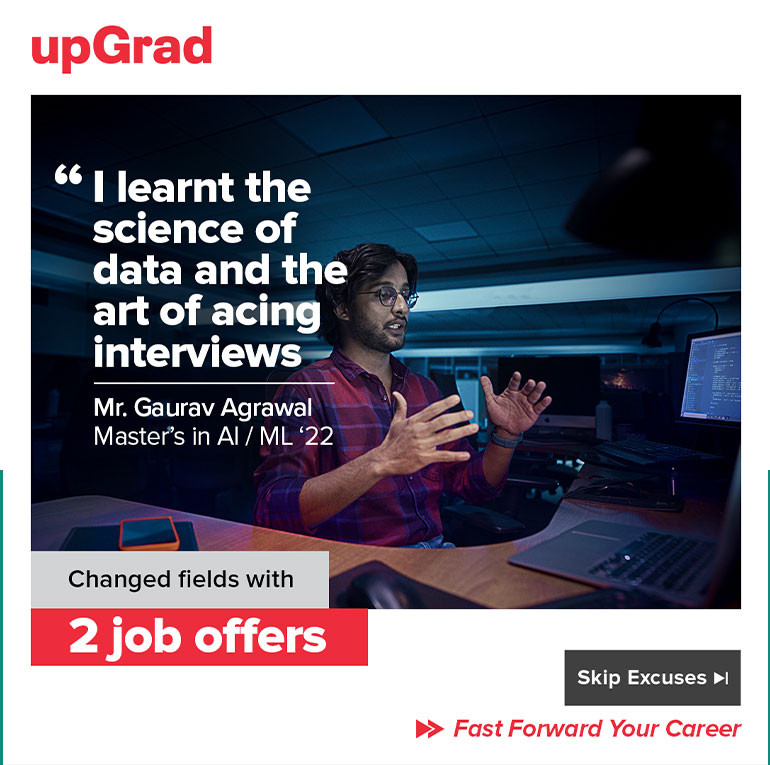 Q] What kind of returns do you expect from the campaign?
We did a couple of primary studies to evaluate our brand imagery. These studies revealed that the kind of traits that upGrad was being associated with were not the most desirable traits for an education brand like ours, which is into Data Science, AI, or MBA.

'Funny' is not something we should be associated with. So, we decided to change gears and I hope that in the next round of brand track that we do, we will get to see some desirable traits such as 'trust', 'credibility', and 'impact' being associated with the brand. We stand for all of that. We have first-party data verified by an independent auditing agency, Deloitte, and it says that five out of six people have seen positive career growth with upGrad. But even with a strong message like this, you have to tell a story to convey it. That's what the 'Real people, Real Stories' campaign is all about.
Q] Was this change in the brand's communication strategy also, in some way, tied back to the evolving business strategy at upGrad?
Definitely, upGrad has grown multi-fold in the last few years, not just in terms of revenue but also in the workforce, from 5500 employees to now 9100. We closed FY23 with a record-breaking 22000+ placements in a year and are looking to create higher benchmarks in the current fiscal. This comes from both organic growth and the strategic M&As that we pursued.

As the upGrad portfolio expanded, it also overlapped with a few business models that were acquired. Hence, it took a conscious call to integrate high-growth businesses internally to be able to build a rock-solid foundation with 'One upGrad'. Unlike in the past years where the offering was spread across formal education, upskilling, lifelong learning, studying abroad, corporate learning and recruitment, upGrad has now integrated its businesses seamlessly to introduce three core pillars - Career Skilling (formal education and upskilling), Transnational Education (study abroad and pathway programmes), and Workforce Development (career services and recruitments).
Q] Coming back to the campaign, your early campaigns were created by your agency partners, but of late we see that most of it has moved in-house. What is the reason for this change?
We have always had a very strong content and creative team in-house, yet we had an agency. Later we realized that our team is quite capable of doing it on its own. So, what we do right now is, conceptualize and write these ads and get them produced externally. In fact, we have a very senior creative head of a large agency working with us. So, in some form and manner, we have a mini agency sitting inside upGrad.
Q] This one is largely a Digital campaign, but for the regional leg you did a bit of TV as well. What was the rationale behind that?
This year we did some TV as we tried going regional with the Andhra and Telangana markets. That's because while OTT and Digital are great for Hindi and English content, the penetration for regional content is limited. Moreover, regional TV is not as expensive as say a Hindi GEC, and since our objective was also to build the brand in these southern states, something where TV gives much better results and reach than Digital, we decided to use it specifically for these two markets.

And it has worked. Now we see the traffic increasing from those states, and so we are back to Digital, actively targeting people who are specifically in our TG. The brand campaign was also for targeting people who are in the periphery and the influencers.
Q] Talking about the TG, how are the tier 2 and 3 markets performing for upGrad?
It's quite a surprising trend. Our core markets for working professionals are the metros, where the majority of the corporate offices are located. However, we have seen tier two cities like Visakhapatnam or Ludhiana doing really well for transnational education or our Study Abroad business. There's a lot of demand coming from there. In fact, a decent share of business also comes from smaller towns – from people who are working from home, from their hometowns.
---
PROFILE
Ankit Khirwal is a seasoned marketing professional who currently leads end-to-end marketing initiatives at upGrad. He is responsible for managing all aspects of Brand Marketing and Public Relations including Performance Marketing, CRM Marketing, and Creative and Content Marketing. Ankit has been instrumental in helping upGrad maintain its rapid growth to meet the strong demand with the expansion of the company's footprint in international markets and new verticals.
ABOUT THE BRAND
Started in 2015, upGrad claims to be Asia's largest integrated learning, skilling, and workforce development and placement company. To date, upGrad has impacted 10 million+ learners across 100+ countries. It boasts a strong network of 300+ direct global university partners, a wide lineup of 2500+ pathway connections, over 20,000 recruitment partners, and a robust enterprise arm with a clientele of 3000 corporate partners worldwide.
FACTS
Media Agency: in-house
PR Agency: Adfactors PR
Digital Agency: in-house
BTL/ Activation Agency: in-house
Creative Agency: in-house