Q] Tell us about JK Tyre's tie-up with e-commerce giant, Amazon. How has it helped your brand and what kind of response have you seen?
JK Tyre is a customer-first organisation. We associated with Amazon in August this year with the sole purpose of serving our customers. In the new normal, customers have become more inclined towards e-commerce platforms due to its contact-free nature, from payment to procurement. Accordingly, we are now providing doorstep delivery of our entire range of premium tyres for passenger vehicles and two-wheelers through the seamless connectivity offered by Amazon. We aim to provide the best purchase experience, and are already witnessing a great response through this association. We have already sold over 10,000 smart tyres through our association with Amazon.
Q] What marketing strategy did you use to leverage the association? Was it largely Digital-led?
Digital as a medium has been used extensively to create awareness about the association and sustain engagement with our customers. Accordingly, we leveraged several platforms, such as YouTube and Instagram, and tailored short targeted videos. We were already witnessing a steady demand for our premium tyre range and this association has certainly raised it further.
Q] How has the COVID-19 pandemic affected your business? What different marketing strategies have you been adopting in the new normal?
The first quarter of this fiscal was definitely slower for everyone in the manufacturing sector. However, in terms of recovery, the tyres segment has been able to bounce back quickly, especially in the replacement market. Even during the lockdown, the flow of critical commodities persisted, and that maintained the traction in the replacement market, especially on the commercial side. The rural sector, which wasn't affected much, created good demand. The OEM (Original Equipment Manufacturer) tyre market, which was comparatively slower, picked-up pace in the festive season as well. Overall, we are focused on strengthening our positioning as a premium brand and are leveraging the digital medium to connect with our customers. Additionally, we also have a strategic tie-up with ITC's e- Choupal Saagars for better rural connect.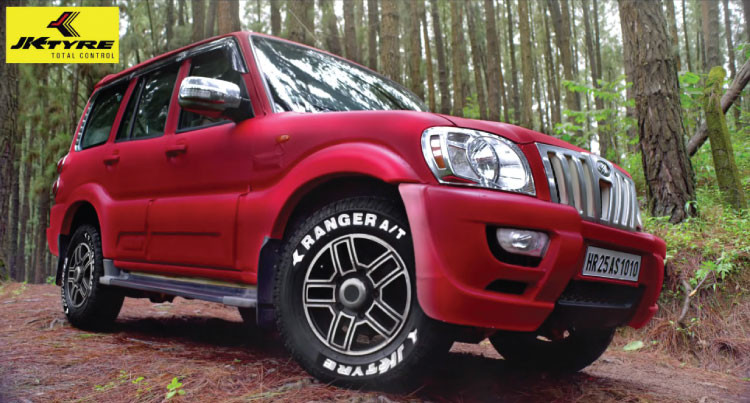 ABOUT THE BRAND
The flagship company of JK Organisation, JK Tyre & Industries Ltd provides end-to-end solutions across segments of passenger vehicles, commercial vehicles, farming, off-the-road, and two and three-wheelers. The company is present in 105 countries with over 180 global distributors.
FACTS
Social Media : Lookads India
Creative Agency: Cheil India
Social media agency: Cheil India
Digital Agency: Cheil India
PR Agency: Weber Shandwick
MARKETING TIP
'Never let a good crisis go to waste.' The pandemic has taught us new things like better scenario planning, improving the efficiency of spends and the need for a strong digital ecosystem.


Q] What are your thoughts on the auto industry in India currently? What are the key trends that will drive growth for the segment?
The worst is definitely behind us and the outlook is certainly positive for the automotive industry. On a sequential basis, we are seeing a constant increase in sales and the festive season added to the momentum. Hassle-free purchase experience and the need for personal mobility to ensure safety emerged as two big trends during this period. As far as key trends in the auto industry are concerned, I will simply use the popular word - EASCY - which stands for electric, autonomous, shared, connected and yearly updates. In 2021, government spending on infra, scrappage policy and preference for personal vehicles will be the tailwind for the industry.
Q] Since there has been a huge increase in personal vehicles post-COVID, what have been the focus areas for JK Tyre to meet the demand?
We are exploring strategic tie-ups to cater to all our customer segments across urban and rural markets. Very recently, we announced our association with Kia Motors India as a tyre partner for their highest selling model, Seltos. We are also increasing our focus on the SUV segment through our Ranger series.
Q] You mentioned your partnership with ITC's e-Choupal to expand presence in rural markets. How is this association helping your brand grow in these markets?
Rural remains a priority for us and our alliance with ITC's e-Chaupal Sagars, which is a first-of-its-kind in the tyre segment, caters to the rural customer community across Madhya Pradesh, Rajasthan and Uttar Pradesh. We are ensuring 360 degree engagement with our customers in the hinterlands through on-ground discussions, customer meets and influencer engagement, etc. to understand their requirements and serve them better.
Q] The company has also expanded its global presence by commencing operations in the United States. Tell us more about your global expansion plans and recent initiatives undertaken.
We are extending our focus in global markets as we are receiving promising responses from the United States and Latin America. Very soon, we are going to update our product portfolio to cater to the growing demand and sustain our momentum.
Q] What kind of positioning do you hope to create for JK Tyre, going forward? Will we see a lot more campaigns from the brand in the coming year?
Every brand has pre-defined marketing objectives for the year and for us, it was to further strengthen our positioning as a premium brand, for which we did line-up campaigns and product launches. Right now, Digital is the go-to medium for audiences and we are using it to stay relevant to our customers.