Vedantu recently launched its new ad campaign - #learningKaComeback for its student-centric initiative Vedantu Online Talent Exam (VOTE) to address the academic gaps and loss of learning in 2020. Kunal Dubey, Head of Marketing, Vedantu discusses the initiative and the growth that the platform has seen in the last 12 months
Q] What was the insight behind Vedantu's new campaign, and what kind of response has it received so far?
With the new academic year on its way, we wanted to make an impact on the kids' learning journey and we were inspired to create a national-level initiative, VOTE to address the academic gaps for students in 2020. Being a student-centric company, we are planning multiple initiatives to ensure every kid will have a comeback in learning in 2021. VOTE is one of the initiatives, and with an idea to gamify this entire experience, it will provide learners with the right platform to prepare first-hand, in-depth performance analysis and discover their all-India rank out of million kids. With personalised report cards for students, it will cover skill, subject, topic, and question-level analysis of every student to understand their areas of improvement. The responses from kids all over the country are very encouraging for us and so far, we have over 4 million kids who have reacted positively towards the initiative. We will give assured scholarships to more than 10 lakh students from a pool of Rs 500 cr.
Q] What marketing mix has been used for the campaign?
VOTE is a digital first 360-degree campaign for us where we have reached out to over 90 million plus audiences across 40+ cohorts. It is a good mix of performance and digital campaign across Television, Print, CRM, YouTube channels and impact properties on Digital like OTT, news apps, etc. In terms of bifurcation, it was divided into 70% Digital and 30% ATL.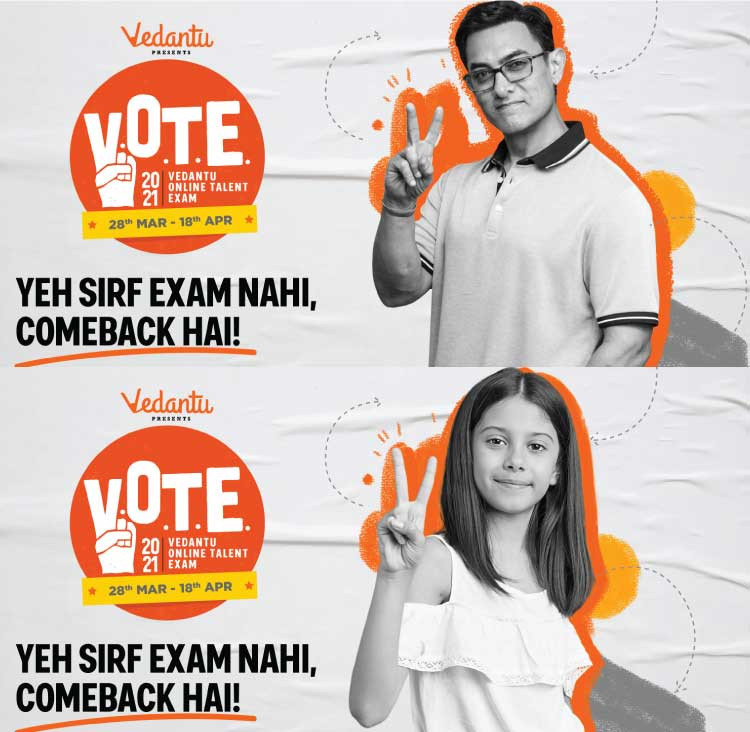 ABOUT THE BRAND
Vedantu is a live, interactive online learning platform for students. It offers individual and group classes delivered by experienced teachers in a live real-time, virtual learning environment. 150,000 students study live every month on the platform and more than 25 million users every month from 1000+ cities and 40+ countries access free content, tests, doubts and videos on Vedantu's platform and its channels on YouTube.
FACTS
Social Media Agency: Dentsu Webchutney
Digital Agency: Dentsu Webchutney
PR Agency: Archetype
PROFILE
As the Head of Marketing at Vedantu, Kunal Dubey spearheads all the marketing activities for the brand. Dubey brings with him 15 odd years of overall experience and has previously worked with companies like eBay India, Flipkart, and PhonePe.
MARKETING TIP
"As long as you stay focussed on whom you are serving, and you are connected with your community, everything else falls in place."



Q] What kind of growth did your platform witness in the past 12 months and which courses are seeing more uptake?
Our platform has certainly seen some surge in the past couple of months with students attending 75 million live hours of content across Vedantu's platform in 2020. The number of students attending live classes on the platform grew exponentially to 6.3 million across the K-12 category and competitive exams such as JEE & NEET. Last year Vedantu's YouTube channel also saw a 9X growth with yearly views of 510 million views making it one of the largest YouTube platforms for K-12. In all the core matrices like paid students, free students, etc. we saw a growth of 7X.
Q] Online learning has been seeing a rapid surge since the pandemic, how do you see this changing as schools reopen?
Students from the remotest part of the country today have access to the best quality teachers and content, at a very affordable price or at no cost at all. With the help of technology, learning today has become a fun and engaging experience. There has also been a rapid behavioural shift in parents' attitude towards online education. A lot of parents started trusting the new way of learning and teaching. The adoption is based on a positive user experience, as it has been in the past. The focus on technology-driven education has opened doors and presented ample opportunities for educators and e-learning companies like Vedantu, which have always envisaged transforming the face of learning in India through live online classes. Making live and personalised learning classes accessible is key for education to continue and sustain, especially given the current tidings.
Q] What marketing strategies have you planned, going forward?
Our marketing strategy is very simple, and our board theme is '2021 the year of a comeback'. We are a student-centric organisation and whatever we do will be on the principle of DUS (disruptive, unique, and scalable), which is any marketing idea or strategy is 10/10, and this is our marketing tenet. It is not about matching the SOV of the other competitors. We are not here to play the SOV game. We are here to do the right thing, talking to kids and parents, and we want to be frugal about the way we spend on marketing.
We are planning some large-scale events which are yet to be launched. Following VOTE we will have Revise India, an event where kids can revise their content for the board exams in 3-4 days. Very soon, we will also come up with our brand campaign which will talk about the ethos and principles of why we exist and whom we serve.