The Jaquar Group's Essco recently unveiled two new TVCs under its cross-generational campaign focusing on its propositions of honesty, trust and legacy. Sandeep Shukla, Head Marketing & Communications – Global Operations, Jaquar Group talks about the brand's latest campaign, its marketing strategies and challenges
Q] Tell us about Essco's latest new cross generational campaign. What was the insight behind it and what kind of consumer feedback have you received so far?

The Jaquar Group's Essco is a 60-year-old brand which redefined the branded bath segment. Today, this brand perfectly fits the bill for the PM's mission of affordable housing and housing for all. It has seen generations of quality and trust. So, this whole campaign was all about sending the message to the audience that the legacy of Jaquar Group is coming through brand Essco.

If you see the ad, the way we communicate is through a happy and feel good film. The film show a child learning from his grandfather, and showcases how certain things are passed down and preserved over generations. For the bathroom in the next film, we have used 'Aadatein nahi jaati.' For example, with things like shaving, we created an emotional connection with the brand. We have been able to create that kind of aura around the brand, showcasing that it is there for ages. And this was probably the first time that we saw three generations of men. So this campaign has a touch of freshness and uniqueness.
Q] Over the years, Jaquar has used emotional appeal in its ad campaigns. What differentiates the new TVC from the rest?

Jaquar has a history. We have always believed the fact that brands are built through emotions. It's not a transactional value. It doesn't mean that our products don't have great quality, we offer great quality and customer service. But, if you recall the first ad which we did, the 'chorwala' campaign where a thief goes into the house and rather than stealing the jewellery,

he steals the taps. That campaign was one of our most successful one, which created an impact with the consumer. After that we did a lot of series of campaigns but we never let go of our emotion-filled lineage. We have done a lot of films for Jaquar, Artize and Jaquar lighting, but for Essco, this was our first commercial so we brought in emotions of three generations together.
Q] Over the 60 years of the brand's existence, what strategies have worked best for you and what were the major challenges?

We are the pioneers in the branded bath fittings. Earlier, there were imported brands or the unbranded players offering low quality. So, to create a niche in the branded segment, we came up with a range called 'Deluxe' and 'Something Special'. Those were very different during that time. So, consumer awareness and education was our biggest task and we were very successful in doing it. In fact in West Bengal, people still swear by this brand.

The main core of Essco is all about high quality products. Now, the moment you decide to get a high quality product, you have to pay more. So even for the segment that can afford, in our products they find high quality and value for cost. That has been the core strength and showcases why people have been patronising us for the last 60 years.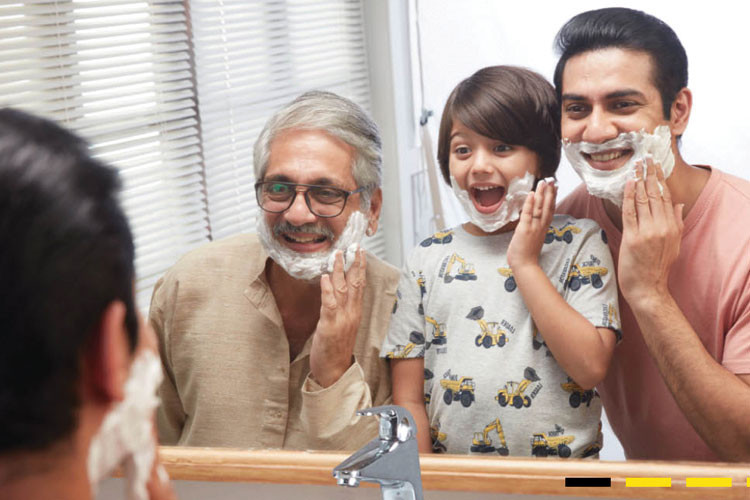 ABOUT THE BRAND
Essco is a value for money bath brand from the Jaquar Group, which has a big retail footprint in the country and an annual turnover of over Rs 300 crore. The brand offers a varied range of bathroom solutions from taps and sanitaryware to accessories.
FACTS
MEDIA AGENCY: CRESTRA COMMUNICATION
CREATIVE AGENCY: CRESTRA COMMUNICATION
DIGITAL AGENCY: SOCIAL BEAT
PR AGENCY: PR PUNDIT
Q] Do you have plans to expand the brand's digital presence by roping in social media influencers?

In fact, we have been using Digital quite effectively even with new platforms like TikTok. We are using a lot of plumbers as brand associates because in the tier III and IV markets, the execution is done through contractors and plumbers. They are the ones who really patronize the brand, and help customers choose the right product. So, we are using Digital to educate people and that cannot be done from a TV – it is only to build aspiration and image. Transactions or education which is called 'brand comprehension and recall' happens through Digital.
Q] What separates Jaquar from its competitors?

One of the biggest USPs of the Jaquar Group is that we are the only company to be in complete bathroom and lighting solutions. There is no company currently who can say that they have the width and depth to match ours.

We have three brands - Artize, Jaquar and Essco. So, we are not only offering solutions in terms of products, but we are also catering to different customer segments. And the biggest areas that we are proud of are our quality and customer service.
Q] Jaquar was always positioned as a premium brand. The new campaign however aims to target tier II, III and IV markets. How do you plan to make this transition from a premium brand to a brand for the masses?

The Jaquar Group has three brands and Essco has always been positioned in the affordable and value segment. Yes, Essco's reach was initially restricted to metros and Tier II. However, with this campaign, the whole agenda is to go to the Tier III and Tier IV markets primarily because today the aspiration and the need for affordable housing in these markets have grown. In this segment, this brand is always about masses and affordable housing.
Q] Do you already have outlets or distribution retail partners in the new focus markets?

Jaquar has a typical distribution market where we sell through our distributors and dealers. So, we have authorized Jaquar dealers. What separates us from any other players in the market is that we have almost 85% of the network, which exclusively sell our products.

Besides, we have 21 of our own customer orientation centres to educate customers. We help you create your bathroom design, bill of quantity and give you an estimate. Then you are free to buy from anywhere you wish. So we create awareness through advertising and orientation centres and then expect customers to go in the open market and buy from authorized dealers.
Q] What is your target market-share currently in the bath fittings category and which are your strongest growth markets?

We are enjoying almost about 60% market share in the bath-fitting category and we are the leaders in complete bathroom solutions also. Coming to the growth story, the big cities will always give you imagery and the volume but the real growth now is coming from tier II and Tier III markets, where people's aspirations and families are becoming larger. You will be amazed to know that in places like Amritsar for instance, they are installing things like spas because they have space.

However in a city like Mumbai, you don't have the space to build a big bathroom. So, small cities have that advantage of space, money and time. The real growth opportunity I see in next four or five years is in the affordable segment from tier III and IV markets.
Q] Which mediums do you plan on investing in the most, going forward?

TV remains the biggest chunk of my media investment. However, we are going into Digital and Outdoor. And being in a category which is B2B, we also focus on trade magazines and exhibitions. We also educate customers, who are mainly architects and interior designers. So, ours is a healthy mix of Digital, Outdoor, Exhibitions, Cinema and trade magazines.
PROFILE
Sandeep Shukla is the Head, Marketing Communications - Global Operations for the Jaquar Group. Having worked as a marketing professional for over two decades, Shukla brings with him experience in delivering strategic, integrated marketing and communication solutions in categories relating to building and construction, retail and advertising. At Jaquar, he is responsible for helming the brand's marketing communication vertical across
global markets.
MARKETING TIP
Spend time with your customer, not in the glass cubicles but in the market so that you learn from them.