Q] Tell us about your survey on "Productively Brew-ding". What was the objective of the survey?
With offices and cafes shut across the country since the lockdown, we all have been missing out on socialising with our colleagues and friends over a cup of coffee. We then decided to conduct a week-long survey titled 'Productively Brew-ding' among Indian millennials and the Gen Z population to understand how this consumer set is currently coping with social distancing, particularly while working from home during the lockdown. As a result, the survey results show that the respondents' relationship with coffee goes beyond it being just a beverage; they see coffee as both, a productivity enabler in order to churn out those extra hours of work, and a companion if they decided to take a break, any time of the day.
Q] What insights have you received so far from the survey?
Some key insights from the survey are – 40% of the respondents feel that non-stop rounds of coffee are what keep them productive while working from home. 49% of the millennial workforce miss their morning coffee with colleagues, more than any other aspect of their morning work routine; this is especially true for those who associate coffee with productivity. This reiterates that coffee is both a productivity enabler and a companion for our millennial generation. Nearly 40% prefer fixing up a snack and a coffee when taking a break from work; this beats taking a power nap (28%) and a quick workout (20%). Amongst those missing meeting people outside their homes during the lockdown, 77% miss a coffee date with their significant other, while 23% miss family gatherings. A whopping 68% prefer some form of coffee (whether hot or cold) to get them through an all-nighter. Contrary to popular belief, only 14% would opt for an energy drink. In terms of preference, the workforce segment prefers hot black coffee while students (predominantly Gen Z) prefer a cold fix.
Q] What is the sample population that has participated in the survey and what was the criteria of selection for the sample?
The survey was taken by over 5,000 millennials and the Gen Z population from across all major Indian cities including Chennai, Bengaluru, Hyderabad, Kolkata, Mumbai and New Delhi. The selection of the criteria was based on two factors – they are the major part of the workforce and also one of our important target audiences for the brand.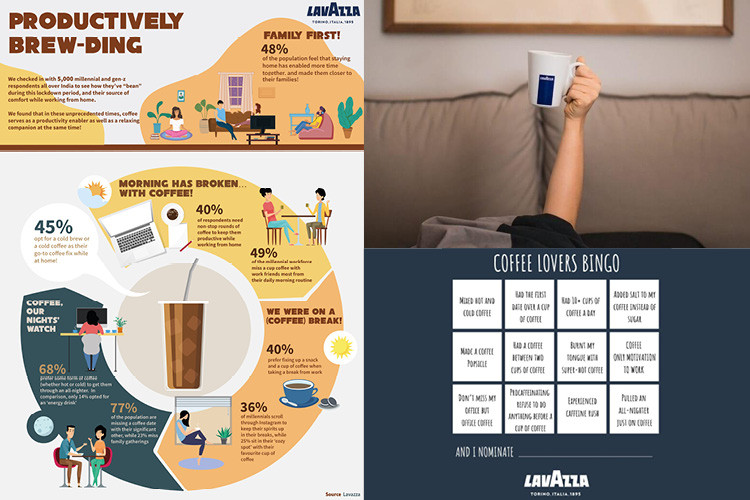 ABOUT THE BRAND
With its origins back in 1895, Lavazza is an international coffee brand name synonymous with all things Italian – creativity, art, passion and of course espresso coffee. The brand, also renowned for coffee roasting, operates in both home and away-from-home sectors like food service, vending machines and cafes. The company marked its entry into the Indian market with the acquisition of Fresh & Honest Cafe Limited in 2007. Lavazza India now has a presence in the retail branded coffee sector, café products as well as in the coffee machines segment, becoming one of the leading players in the country.
FACTS
CREATIVE AGENCY: AMPERSAND COMMUNICATIONS
MEDIA AGENCY: GROUPM INDIA
PR AGENCY: THE MAVERICKS INDIA
Q] How are you planning to use the survey results for your future marketing activities?
The survey results have certainly helped us understand the psychology of the millennials who are one of our important target audiences. The insights will help us craft our marketing strategies and communication to adapt to the new habits of the millennials and Gen Z in this new normal while keeping in mind what the future holds for us as a brand.
Q] Since Lavazaa is an International brand, how would you define its journey in India?
Lavazza believes in bringing authenticity and quality in everything that it does and this has been replicated in the Indian market. With more than 125 years of experience globally, the brand invented the concept of blending in coffee. Lavazza in India continues to build on its heritage and commitment to excellence by promoting the original Italian quality coffee experience with a wide range of offerings for several settings: whether HoReCa, business, or, at-home segments. For Lavazza, quality isn't controlled but developed through methods which oversee the selection of the beans, their proper roasting, assembling of the right blend and putting the final products in packages that are meant to last. This ever-present approach improves every day through innovation and constant research for obtaining best-quality end-cup results.
Q] What separates Lavazza from its competitors?
"It's about doing business with your heart" as Emilio Lavazza says. It is the spirit which has allowed Lavazza to expand the company over the years. Our way of doing business is an example of sustainability in the fullest sense of the word.
Q] How has the outbreak of COVID-19 affected the coffee industry and your company in particular?
The coffee industry has certainly taken a hit like any other industry has, globally. At a more granular level, coffee shops have taken a major hit, again owing to the lockdown. Having said that, we believe that while it will take some time for us to recoup, things are likely to go back to normal with time.
Q] What different marketing approach have you adopted during the ongoing coronavirus crisis?
Lavazza's commitment has always been towards extending our services to bring people together for their love for coffee. Amidst the social distancing situation, we are comforting our consumers and engaging with them over social media platforms through interesting activities. In India specifically, we ran a coffee lovers' bingo contest on Instagram, which was well received. Moreover, our motto at the moment is to introduce different ways to celebrate the beverage and keep the emotion alive, as coffee definitely brings joy every day in our lives, from the time that one wakes up with a good mug of coffee to start a new day, to the time that we decide to wind down after a tiring day of work and daily chores.
Q] We have recently seen the 'dalgona coffee' trend take off in a big way, and some brands have even responded to that by crafting various creatives. Being a coffee company, what is your take on the viral trend?
Coffee is a DIY drink. In fact, preparing oneself a cup of coffee is a liberating experience. From grinding fresh coffee to brewing your favourite kind of coffee with the right equipment such as a French press, aero-press or a pour-over, it's just you and the coffee beans talking and creating some magic. Everyone has their own preferences based on what's palatable for their taste-buds and their personalities. We're glad to see that consumers are tapping their inner barista selves and the trend started off with dalgona. We're quite keen to see what the next challenge is going to be.
PROFILE
As the Vice-President, Marketing for Lavazza India, Rachna Anbumani overlooks all aspects of marketing and communications for the brand. Anbumani brings with her an experience of over two decades and has worked with companies like Oriental Cuisines, Murugappa Group - Parry's Sugar, Mars International, Murugappa Group - TI Cycles of India, Henkel SPIC India and BPL.
MARKETING TIP
As most consumers will undergo a major habit change post-pandemic, this is an interesting time for marketers to have a deeper understanding of consumer needs, desires and fears