Q] How did 2020 pan out for Motorola in India? What were some of the key highlights for the brand, despite the challenging pandemic?
In 2020 we have not only been at the forefront of cutting edge innovation through our foray into the foldable smartphone segment (such as Razr and Razr 5G); but have also been instrumental in introducing smartphones with many industry-first initiatives such as India first chipsets. We were the first to launch Snapdragon 662 with moto g9 and Snapdragon 750G with moto g 5G), class-leading camera systems (introducing the most affordable 48MP camera system with moto e7 plus) and best-in-class support for 5G technology at more affordable price points. We have seen strong consumer response to almost all our products that has enabled us to drive both business and brand metrics in the form of profitable growth as well as significant lifts in awareness, consideration and purchase intent for the brand.
Q] How did the pandemic affect the smartphone industry and your business in particular?
The smartphone industry was not isolated from the impact and did see significant contraction in the first two quarters. However, as consumers accepted the new normal and adapted to it, it led to changes in their consumption patterns – remote working and high content consumption on smartphones that led to a strong demand for technology products in the second half of 2020 thus limiting the overall impact of the pandemic on the industry significantly.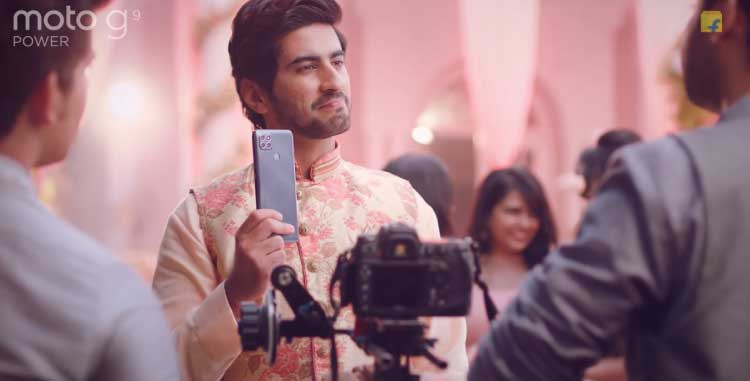 ABOUT THE BRAND
With over 90 years of experience in bringing mobile communication products to market, Motorola is a well-known brand name in the smartphone industry. The company has invented most of the protocols and technologies that make mobile communications possible, including the first mobile phone, the first base station, and most everything in between. It is best known for its foldable phones.
FACTS
Media Agency: Publicis Media
Creative Agency: 21N78E
Social media agency: 21N78E
Digital Agency: 21N78E
PR Agency: Zeno Group
PROFILE
Shivam Ranjan is the Head of Marketing at Motorola India. He is responsible for spearheading the brand's marketing operations and communication in the country. Ranjan has over 15 years of experience in marketing strategy, communication and brand management. He has previously worked with Airtel Payments Bank and Samsung India Electronics.
MARKETING TIP
Even in the biggest adversities there are marketing opportunities, which exist for brands that can only be realised if they listen frequently and intently enough to consumers and are flexible and agile enough to adapt to them.



Q] What different marketing strategies has the brand adopted on the back of the pandemic?
During the pandemic, we followed the simple strategy of being flexible, agile and sensitive to the fast-changing consumer sentiments as well as behaviour. With a slew of product launches planned across smartphone segments in the H1 of 2020, it was important for us to explode the marketing funnel for the products and the brand. However we did tweak our communication and media choices to ensure that we were able to address the changes due to the pandemic. In terms of communication, we ensured a healthy mix of contextual communication around the pandemic along with our product-led communication. With respect to our product communication we believed in being genuine and relevant. With our products we leveraged the power of storytelling to create local influencer videos and digital films that did not mirror the current scenario but established aspirational, clutter-breaking stories that were engaging, entertaining and gave consumers a reason to smile.
From a media perspective, our focus was concentrated on Digital and TV which were the only two media platforms which gained during the pandemic. We also leveraged specific digital platforms in line with growing consumer trends such as high consumption of video content (specifically OTT platforms) along with increase of traffic on social media to fulfil the need of connecting with friends and family while being isolated. The result of the above strategies has been extremely positive as we have seen an unprecedented 7% lift in consideration and over 16% lift in purchase intent for the brand Motorola in H1'2020.
Q] How do you think electronic brands will leverage the 5G era to create smarter technology?
5G technology will lead to incremental changes in consumption patterns for consumers. The exponentially faster data speeds and lower latency will not only boost content consumption and gaming on mobile devices but will also introduce new use cases and opportunities such as the introduction of AR and VR experiences in online shopping and more.
It will be extremely important for technology brands to understand these use cases and incorporate changes in different product parameters to ensure that they satisfy the consumer needs. A few simple examples would be the use of faster chipsets and better screens (OLED, faster refresh rates) to aid the growth in content consumption and gaming on smartphones due to 5G.
Q] What new innovations have you come up with keeping in mind the growing digital transformation?
Our focus on Digital has been to leverage the power of localised, contextual content that is able to deliver not just product awareness but also drive strong consumer engagement.
With our various other mid segment phones such as fusion+, moto g 5G and moto g9 power we created local, contextual videos that gave consumers an outlet to their suppressed desires. An example is the moto g9 power digital film which uses the context of an elaborate Indian wedding to showcase a superlative camera and battery experience of the phone, while also giving consumers a reason to smile by experiencing a happy memory through our piece of content.