Amidst the nationwide lockdown due to the COVID-19 outbreak, Ritesh Ghosal, Chief Marketing Officer, Infiniti Retail Limited, Croma talks about its impact on the consumer durables industry and the marketing approach adopted by Croma in the wake of the global pandemic
Q] The COVID-19 crisis has impacted industries across the spectrum; how has it impacted the consumer durables industry and your company in particular?
COVID-19 has impacted the entire world. Frankly, it's a delta moment for all of humanity. Every aspect of life is affected. At a macro-level, nations are re-evaluating friendships and corporates reconsidering supply chains. We are at the cusp of a new world order and it's really very premature to predict what the future may be. That said, there are some near-term impacts that I can foresee: The entire industry has lost a critical period of the year – the onset of summer. In the immediate period post re-opening of stores, there is likely to be aggressive price competition between brands and retailers to offload inventories and free up resources for the rest of the year's operation and this will put pressure on smaller retailers. Another factor is that people will continue to be fearful of infections long after the lockdown ends and will tend to avoid crowded places. Thus, creating an opportunity for online marketplaces and organized omni-channel players to garner a higher share of the limited market.
Another impact of the global pandemic is on the production and flow of components and finished goods across the world disrupting the global supply chain, creating shortages in products like laptops, smartphones, etc., in short-term. In the long-run, it might lead to brands de-risking their supply chains from any potential disruption in a single geography. In fact, if the Government plays its cards right, it might forever change the scale of 'Make in India'. I believe the immediate aftermath of the lockdown will see people buying what they missed most in their homes. From computers to microwaves, from washing machines to vacuum cleaners, there is likely to be a period of stepped-up demand. Given the environment of cash constraint, brands and retailers offering purchases against loans will enjoy a larger share of this business. In the longer term, I expect people to commit a larger share of their incomes to home-improvement projects.
One remarkable aspect of the lockdown has been its impact on the environment and how nature has been healing itself. I, for one, will be very disappointed if the world reverted to the lifestyle we had before the pandemic drove us indoors. Perhaps, there might be a stronger impetus to the quest for a sustainable lifestyle with its impact in consumer durables being a shift to more resource-efficient choices, responsible disposal and longer use-cycles.
Q] What different marketing approach have you adopted after this outbreak?
As the outbreak started, we witnessed a period of booming demand for our '3-hour delivery' from stores via croma.com. This is an indication of how people will behave post the lockdown too, i.e., online shopping. We have been ramping up the scale of this operation and making the digitally-assisted shopping experience more accessible to a larger number of people. When our stores open, you will find a greater emphasis on digitally assisted shopping with phone-consulting and online transactions preceding home deliveries. As the number of people working from home increased, the demand for IT products and services also saw a rise. Because of the unfortunate lockdown, we launched a virtual IT trouble-shoot service which has been well appreciated by our customers. Finally, we are driving a campaign to encourage the purchase of better quality, resource-efficient gadgets, offering service assistance to drive the useful life of existing products and helping dispose of e-waste responsibly – our attempt at encouraging a more sustainable lifestyle.
Q] Since the sale of laptops has increased due to all the industries moving towards the concept of Work From Home, how much has it compensated for the decrease in revenue on other items?
The sale has not increased – the demand has increased. In the first few days of WFH, we did sell a large number of laptops and even smartphones via croma.com, especially using the '3-hour delivery' platform; however, from the day of complete lockdown, our stores and DCs too have been shut as our business is not covered under the list of essential services. So, while there is demand and we do have stocks, we have not been able to fulfil the demand.
Q] Several brands have come up with ad campaigns supporting India's fight against coronavirus; is Croma planning to launch any new campaign amidst the outbreak?
We are doing everything we can to support the Government in its efforts to fight the coronavirus, from complying with all its orders to encouraging our staff to volunteer in delivering essential services and also helping people visiting our website contribute to the PM Cares fund. On advertising, I believe every brand has a remit from its patrons and messaging beyond this remit only hits a blind spot. Croma's remit is to help people buy electronics. Over the past few years, we have helped people make responsible choices while buying electronics. Our marketing efforts in this period have focused on the silver-lining, i.e., the impact of the lockdown on the environment and provoking reflection and re-evaluation of choices for the future.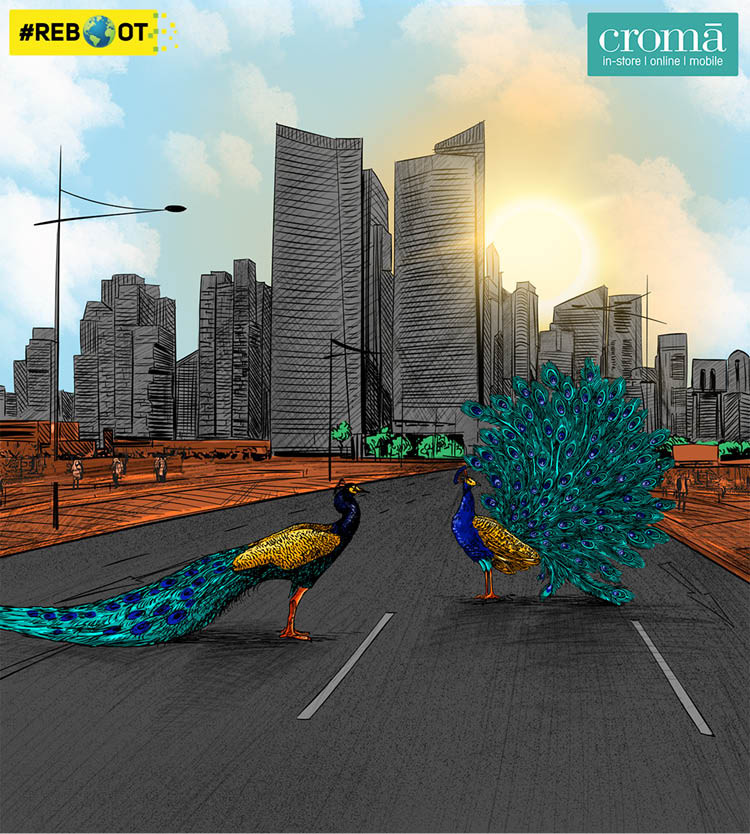 ABOUT THE BRAND
Croma is a brand of Infiniti Retail Ltd., which is a wholly-owned subsidiary of Tata Sons, the holding company of the Tata Group. With over 9000 products across 300 brands and more than 150 stores across 46 major cities of India, Croma is India's first and only omnichannel electronics retailer. Catering to all multi-brand digital gadgets and home electronic needs in India, Croma also launched its own label products in 2008.
FACTS
MEDIA AGENCY: WAVEMAKER
CREATIVE AGENCY: PLAN B
DIGITAL AGENCY:WAT CONSULT
PR AGENCY: ADFACTORS PR
Q] As consumer durables require after-sales services such as exchanges and repair, how are you managing on that front during the lockdown?
Brands' service centres are all closed on account of the lockdown. Our own call centre service agents are working from home and we are trying to assist in virtual trouble-shooting via asking people to share pictures of the problem or describe it to us and giving suggestions and recommendations as appropriate. It does solve the problem in a surprising number of cases. As for the rest, all we can do is commit to ensuring the brands take up the cases as soon as the lockdown gets over. Not an ideal state of affairs, but it's really the best we can do.
Q] What will be Croma's strategy, going forward, during the challenging times of the COVID-19 crisis?
Our strategy is to focus on the post-COVID-19 period. We believe the world will come out of it, we believe India will come out of it stronger and it is up to us to ensure Croma gets its rightful place in this #BrighterEveryday for India. This will require us to keep investing in the expansion of the physical chain of stores, invest in a digital transformation to provide world-class digital retail experiences and sharpen the skills of our frontline in helping people choose wisely. The COVID-19 episode has not made any change to the overall strategy – it has made us accelerate the investment in digitally assisted shopping and forced us to delay the opening of around a dozen new stores, but that is about it.
PROFILE
Ritesh Ghosal is the Chief of Marketing & Insights at Infiniti Retail Limited, Croma. He is responsible for all aspects of demand generation including brand, communication, media, insights and customer lifecycle management. He also manages private label, institutional business and property for Croma. In his career spanning over 25 years, Ghosal has played important roles in building businesses, re-inventing legacy brands and adapting global brands to Indian realities. He has previously worked with companies like Raymond Lifestyle, Coca Cola India and Tata Docomo, etc.
MARKETING TIP
Interrogate every piece of data, triangulate across multiple sources of data, synthesize and only then draw a conclusion