Earlier last month, on the occasion of Valentine's Day, Skinn, the fragrance brand from Titan, launched its digital campaign #BestSaidWithSkinn featuring actor Rajkummar Rao and his partner Patralekha. The campaign is built around the insight that often people struggle to express their feelings of love in words. A few weeks after the campaign was rolled out, we chat with Kanwalpreet Walia, Marketing Head, Fragrance and Accessories Division, Titan Company Limited, about the insights behind it, the brand's influencer-led approach, expansion plans and more…
Q] What made you pick Rajkummar Rao and Patralekha for your latest digital film and what kind of value do they add to the brand?
They are both individuals that people can relate to, and they represent an imagery of a modern, progressive Indian in a way. They have brilliant chemistry which is effervescent and natural. If you look at their equation, it was fitting right in with the values of the brand, and that was beautiful for us to put on screen. It was an effortless conversation, and they've expressed the whole idea of "unsaid, yet express" in a very nice way.
Q] What is the media mix for this campaign? Will it be largely digital-led?
This campaign is completely digital. More and more people are spending time on their screens given the environment, so we engaged with people digitally. Digital is very interactive. It's not one-day consumption, people participate in contests, and leave markers for us. They also give us improvement areas sometimes. Even without COVID, the medium was only growing. After we rolled out the campaign, we had people express how they would not use words and use gifts like fragrances. People shared about how ingredients in fragrances can help you better express your feelings.

Q] You launched Escapades last year, which caters to men exclusively. What was the response to it like? What is its contribution to the portfolio overall?
We got a brilliant response because it was the first line of men's-only perfume from Skinn. There are three versions in it: Country Road, Forest Rouge and Mediterranean Grove. It has been about five months and it's already contributing 10-11% in our portfolio, which is large as it's priced at Rs 2395. The price is not very low but because it is loved so much, it's able to attract the sales for itself.
Q] How does a brand like Skinn navigate through the pandemic? How challenging is it to sell perfumes digitally?
Ours is an indulgence category and the joy of perfume comes alive only when you smell it. We worked with master perfumers as perfumes are very difficult to express in words. We did a lot of lives on Instagram where we got them to talk about our perfumes and educate people on perfumes. Sampling is very big in our industry. For Escapades, we sent vials/samples to our users. We looked at partners who were shipping online, and we would send vials along with them for consumers to sample. However, in the last 3-4 months, the recovery at retail outlets has been very good. We have started sampling under retail outlets.
Q] You have recently spoken about the brand's omnichannel strategy that will drive its sales. What is the share of online channels in the distribution overall?
Digital as a medium is powerful and influential, and it will remain so. However, the purchase is led by the consumer. There are categories where consumers want to indulge, touch, feel, and hence I'm not sure if brick-and-mortar stores become redundant. Each will have an equal role to play. Under normal circumstances, people want to step out; shopping is not about buying and shopping, it is about the experience. People love it; retail stores are not going away anywhere.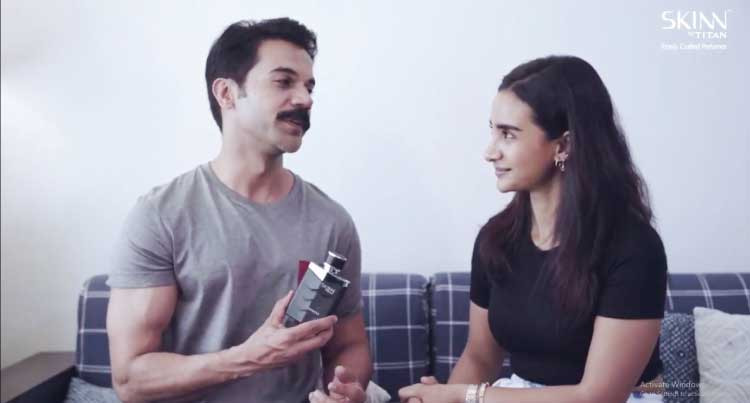 PROFILE
Kanwalpreet Walia has been associated with Titan for the last 10 years. In her tenure at Titan Company Limited, Walia has shouldered various responsibilities for the Titan brand, Xylys, and Nebula watches. Walia is an alumna of institutes such as Mount Carmel, Bangalore and Symbiosis Institute of Management Studies, and has a diverse experience in marketing for different sectors.
ABOUT THE BRAND
Skinn by Titan was launched in 2013 for urban, well-travelled Indian men and women. Designed by master perfumers, the brand's fragrances are crafted to suit Indian preferences and weather conditions. Skinn has a range of 17 perfumes, which are widely available across the country in World of Titan, and leading department stores, authorised dealers and several e-commerce portals.
FACTS
Creative agency: Ogilvy (South)
Digital Creative agency: Interactive Avenues
Social and digital media marketing agency: Ogilvy (South)
PR agency: Adfactors



Q] In the past, the brand has roped in influencers for several campaigns. How important is influencer marketing to Skinn?
Earlier, most brands would feature very pretty brand ambassadors and stars but today conversations have moved to people being real. Consumers are looking for people who are real, and for real experiences. Influencers are everyday people that consumers can relate to. It is about creating more personalised messaging, rather than luring a consumer to purchase something. Influencers are fresh blood; they talk and express in the language and manner that consumers understand.
Q] Are you looking at taking the brand beyond the metros, and are there any regions that you have identified specifically?
We service 220 towns through our network, which is the World of Titan and Fastrack stores. However, there is a large market where the penetration of fragrances is quite low. For example, we have a good distribution network in the top eight cities but we are also looking at next 20-25 cities as the top eight cities are most penetrated in terms of distribution and sale as fragrance is still a metro phenomenon. Firstly, we will improve focus by getting better distribution penetration there, and then we will begin to engage with consumers.