Q] Tell us the insight behind your recent campaign #ForTheLoveOf... What was the kind of consumer response you've received?
Listening to our consumers and understanding their life choices has helped us build the strong brand Sensodyne. The #ForTheLoveOf campaign was born with a simple idea of wanting people to enjoy their favourite food without the worry of tooth sensitivity. It is designed to connect with people who hold back from enjoying their favourite foods, and therefore compromise.

We wanted to help consumers truly understand what they were missing out by silently suffering from this easily treatable condition. It would be great to see them relate to Sensodyne as enabler of a richer, more fulfilling everyday life. It is focused on bringing in new users to the brand and category by using the triggers of much-loved hot and cold beverages. We selected foods that were considered as triggers to tooth sensitivity.

The association with hot and cold food and beverages was established through ASMR films that romanced the popular rasam, chai, nimbupaani and chuski in a unique and enthralling way that evoked the senses. The campaign was driven on digital platforms such as YouTube, Instagram, Facebook, Twitter, etc. In the second phase, authentic testimonials were created wherein the protagonists shared their stories of love for their favourite foods. The call to action encouraged people to share their stories of #ForTheLoveOf and we received many heart-warming stories from the audience.

Tell us about your partnership with Wunderman Thompson and Grey India for this digital-first campaign. Do you have any more campaign launches in the pipeline?
We have a long-standing partnership with Wunderman Thompson and Grey India for all our brand communication and they were our first choice for this digital-first campaign too. We will continue to build upon this platform of #ForTheLoveOf through executions which are relevant.
Q] You've come up with the concept of weather-targeting with the help of data in order to target your audience at the right time. How well has this feature worked for you?
With the help of right data, we have been able to target consumers location-wise and it has helped market our products more diligently. For any brand to be successful, it is important to be able to speak to the right audience and at the right time.

We are locationally targeting our consumer because a person sitting in Chennai will look for his rasam while another in the West will be looking for a chilled kokum sherbet and a person in the East will be looking for phuchka. All of them are triggers for tooth sensitivity and that is why we have seamlessly integrated the messaging of Sensodyne through localised targeting. Besides
this, data is also enabling us to talk to the consumer at the right time, using weather targeting to display specific ads to the consumers.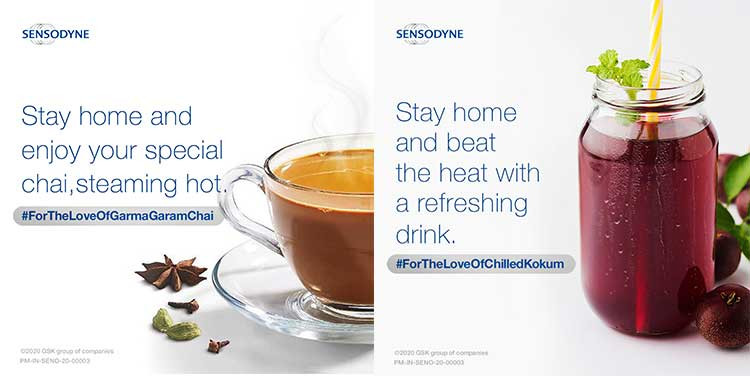 ABOUT THE BRAND
Sensodyne is a toothpaste created for sensitive teeth and sees a two-pronged task for itself. The first is to continue educating people about tooth sensitivity as a condition: its causes, symptoms and solution. The second is to make people who are aware of the condition shift to desensitizing toothpastes and live a life of no compromise.

FACTS
Media agency: Publicis
Digital Agency: Wunderman Thompson
Creative agency: Grey India
PR agency: Genesis BCW



Q] Please highlight some of the marketing initiatives the brand has undertaken since its launch in 2011...
Sensodyne challenged the norms of the category where people only thought about white teeth and absence of cavities. It decided to spread awareness about the condition of tooth sensitivity and coined the term 'jhanjhanahat' to make Indian consumers understand the sensation in their local language. Over the years, we have engaged with dentists to create awareness about the condition through various innovative formats. We pioneered the concept of 'chill test' with the aim to educate and identify tooth sensitivity.

The unique activation programme, conducted in several malls across the country, engaged consumers directly, helping them identify the problem and then providing a solution. We also created tent pole events, such as World Oral Health Day, where we engaged with thousands of dentists and consumers on a single day. One of our breakthrough partnerships was with Google last year when we launched, 'Hello Sensodyne', a Google assistant interactive platform where people can interact and diagnose if they have sensitivity and then it directs you to a dentist.
Q] Toothpaste qualifies under essential products. However, not everyone goes for a product which specifically strikes off sensitivity. What have you been doing to build on the USP of your product?
We studied our consumers and came across startling facts that showed that as many as one in three Indians suffer from tooth sensitivity but only one in five take any action. Thus, began the brand's mission to create awareness about the condition of tooth sensitivity across India.

We also expanded into adjacent need spaces through offerings which delivered on sensitivity plus benefits such as Sensodyne Whitening, Sensodyne Deep Clean and Sensodyne MultiCare. Sensodyne is a science and R&D-backed brand and our core promise is to offer long term and effective protection to sensitivity suffers. We continue to bring innovation to the range, helping to meet the needs of consumers who suffer from sensitive teeth with products based on cutting-edge science.
Q] Which are your strongest growth markets as of today and what is your target market-share in the Oral hygiene category?
The toothpaste market in India stands at Rs 10,400 crore and is a highly penetrated category growing at a steady rate. However, in the last few years, there has been a fresh momentum in the category due to a shift to specialized toothpastes. The sensitivity category stands at a size of Rs 1100 crore, with Sensodyne as the market leader.

There is an immense opportunity to expand the category and the growth is very inclusive and across all markets. We have been able to grow much faster than the category across all the States.
Q] What are the challenges that your brand faced during the ongoing pandemic, and what is the marketing approach you have adopted?
We saw some initial hiccups when the lockdown was announced as we couldn't make our products reach the retailers due to a completely restriction on logistics. However, as soon as the lockdown was eased, we bounced back as we come under the essential goods category. As a brand that works very closely with experts, we did face a challenge of not being able to communicate with them effectively, so we innovated and launched a virtual Expert First initiative.

Our expert field force leveraged technology by connecting with the experts and doctors through a multi-channel approach including remote calling using Skype or WhatsApp, animated GIFs shared via email or WhatsApp and webinars, Facebook Live sessions on our product offerings and their benefits. This has been well appreciated by the dental fraternity. Even in these trying times, we have continued to grow and have seen great uptake for our product, which is taken as a case study at GSK globally.
Q] Do you plan to launch any more products as part of the GSK Oral Healthcare segment?
At GSK, we continue to bring innovations to our product portfolio by introducing products in line with our consumers' needs. There are big plans starting from the end of 2020 and you will hear from us very soon.


PROFILE
Anurita Chopra has been driving the growth of India's leading specialised toothpaste, Sensodyne, since May, 2016. With over 18 years of experience, she has been instrumental in some of the largest campaigns and launches including the launch of Sensodyne Whitening. Prior to GSK, she was business head for the personal care category at Philips India. Over the course of her career, she has worked with leading brands such as Nokia, KurKure (PepsiCo) and Bru (HUL).

MARKETING TIP
This is the right time for marketers to experiment. Stay relevant, stay innovative and take chances!