Q] This is the second time you launched the India Ki Doosri Diwali campaign for the festive season. What kind of response have you seen this time?
The central premise that fuelled this campaign was to provide offers and gifts on the purchase of small commercial vehicles and pickups even after Diwali, thus continuing the festive spirit in the market. Overcoming the post-Diwali slump was imperative, and this campaign permitted us with a great opportunity to revive consumer sentiment by providing exciting offers. After its commendable performance last year, we decided to continue the 'India ki Doosri Diwali' campaign this year too.
This offer entitles customers of the Small Commercial Vehicles and Pickup (SCVPU) range, which includes brands like the Tata Ace, Tata Yodha and Tata Intra, to an assured gift through a lucky draw, ranging from gold vouchers up to Rs 5 lakh to LED TVs, washing machines, mobile phones and fuel vouchers. In addition to these gifts, customers will also receive a variety of other attractive deals and discounts.
The campaign was launched on November 16 this year, and the consumer feedback we have received so far has been encouraging and positive. Our campaigns and promotions through social media and other digital mediums have generated tangible traction, as reflected in the increase in the footfalls in our dealerships.
Q] What are the kind of spends and media mix you've devoted to the campaign?
In order to ensure maximum coverage, we are decisively promoting the campaign across three main mediums – Digital, Print and on-ground activations. We have dedicated mixed spends on these platforms. While the return on investment is still growing back to FY20 levels, our priority remains in consistently observing and monitoring it. Accordingly, we also seek to make educated and informed decisions in identifying the spending mix in accordance to varying geographies.
Q] 2020 has been a tough year for almost every sector, how has been the last seven-eight months for Tata Motors? To what extent have you recovered?
The commercial vehicle (CV) sector was already undergoing an economic slowdown at the beginning of the year and tackling multiple challenges such as the BS6 transition and the introduction of axle load norms. The onset of the pandemic did exacerbate this problem, and the first half of this year has not been easy. However, as authorities and the public slowly resume life at a normal pace, the situation already looks favourable and we are hopeful for much better results. Improving consumption and e-commerce activity has shown marked improvement in the demand for small commercial vehicles and intermediate and light commercial vehicles, while the resumption and announcement of infrastructural projects has improved the demand for medium and heavy commercial vehicles. While there has been an uptick in the other cargo segments, the demand for passenger commercial vehicles still remains subdued, as people are avoiding travel by public transport and corporate offices and schools are operating from home. The whole of the CV industry is definitively coming back up on its feet, including Tata Motors, which is taking concrete steps to push for recovery and growth. Tata Motors has made the transition to BS6 emission norms successfully for its entire range of vehicles, using this opportunity to improve overall revenue potentials, productivity, and customer safety and comfort, while lowering the cost of operations.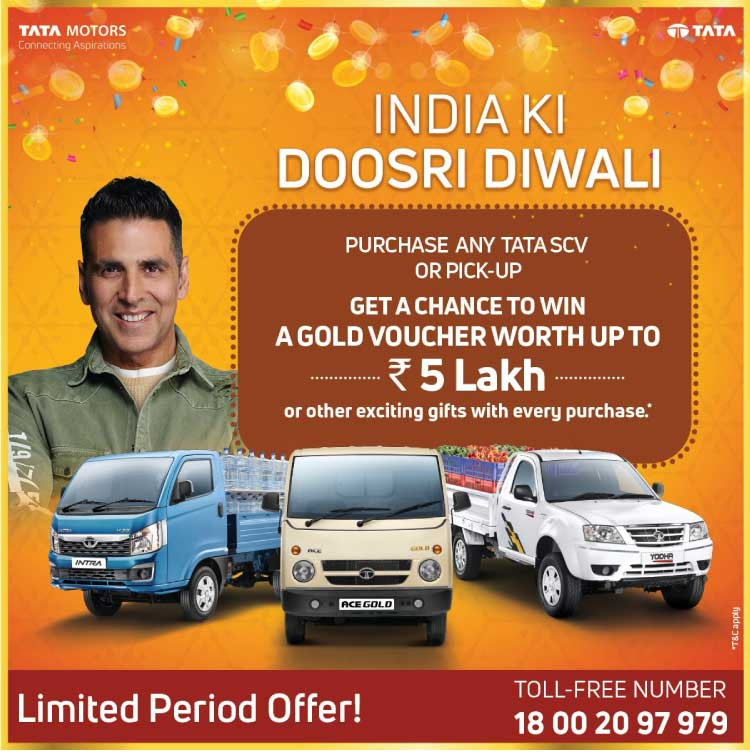 ABOUT THE BRAND
Tata Motors Limited, a USD 35 billion organisation, is a global automobile manufacturer of cars, utility vehicles, pick-ups, trucks and buses. Part of the USD 113 billion Tata group, Tata Motors offers an extensive range of integrated, smart and e-mobility solutions. It has operations in India, the UK, South Korea, Thailand, South Africa, and Indonesia through a strong global network of 103 subsidiaries, 10 associate companies, three JVs and two joint operations.
FACTS
Media agency: Havas Media
Creative Agency: Rediffusion Brand Solutions & Ad Syndicate
Digital Agency: Rage Communications + Havas Media
PR Agency: Weber Shandwick
MARKETING TIP
Using a prudent mix of mediums to reach out to a variety of consumers from different demographics, and a well-constructed, clear brand image and transparent values backing unique campaigns are central to an
excellent marketing strategy.



Q] You recently launched a digital campaign for the Indian truckers. Tell us about that, and any other initiatives you're taking on Digital.
We have been using digital tools and social media actively, from the time of lockdown when print platforms were temporarily halted and outdoor advertising did not see much ROI. We launched a digital-only campaign #ThankYouIndianTruckers, thanking the efforts of the truck drivers who were out on the roads to deliver essentials to the citizens. In addition to that, we have covered topics like safety tips at dealerships, tips for truck drivers, tips during loading and unloading of goods, tips related to safe delivery etc.
Q] What is your marketing strategy going forward?
We believe that our marketing strategy should be one that reaches out to our customers and stakeholders at large, spanning all across the geography of the country – in urban, semi-urban and even the most rural regions of the country. We strive to communicate to the transporters and truck drivers alike that Tata Motors stands strong behind them, while they move goods and people and help build a stronger nation.