Snacking brand Too Yumm! has a new campaign that has puts the focus on its varied flavours customised for the Indian palate. Anupam Bokey, CMO, RP Sanjiv Goenka Group-FMCG, takes us through the insight behind the campaign which is aimed at busting the myth that healthy food is not tasty
Q] Tell us about the latest campaign you've rolled out for Too Yumm!, which puts the focus on the brand's varied flavours. What was the objective behind the campaign?
Some of the insights are from within the category. Snacking as a category is driven by taste and while we are a healthy snacking brand, we have always made sure that we don't compromise on taste. In the past, several healthy snacking initiatives did not go down well because they only focused on the health element and not so much on the taste aspect. So there is this predominant misconception among consumers who assume that healthy snacks are not tasty. That is why we were clear that while we promote the health dimension of the brand, we wanted to ensure the taste was not compromised. If you look at the Indian taste palate, stuff like achar, instant noodles and chaat flavours are always the sort of things we crave. That is why it is no coincidence that these flavours within our portfolio are also selling the most. The insight we used when creating our new campaign was that cravings can strike at any time, and when that happens there will always be a Too Yumm! flavour to satisfy that craving. Therefore, the core message of the campaign is 'har craving ka jawab'. And with the communication tagline of 'fried not, fikar not', we are assuring the consumer that there will always be a Too Yumm!, and it allows you to enjoy an indulgent snack without feeling guilty about it.
Q] The brand has continued to stick with Virat Kohli for this campaign. How has the decision to keep him as the face of Too Yumm! paid off?
It has worked very well. Ours was an FMCG startup brand from the RPSG Group. A lot of large companies had previously experimented with healthy snacking and failed. Today though, consumers are buying healthy stuff a lot more and are becoming more conscious of what they eat and are exercising regularly. We explored a lot of other celebrities for the brand, but Virat was the perfect fit! When you look at health, fitness and discipline, there is no one who symbolizes all these qualities better than he does. We have seen a dramatic turnaround for the brand before Virat and after Virat. He is someone who has openly talked about his departure from anything unhealthy, and he lends credibility because everyone knows he walks the talk.
Q] What are the spends that you've devoted to this campaign, and what is the media mix you're looking at?
We haven't really put anything beyond what it takes to create a good media burst for a month or two. The numbers are very straight. It's still a small brand relatively, and our distribution is still building. So, we don't go all out and use media that reaches deep into the upcountry markets or rural. Our focus is SEC A, B and C to a certain extent. Our TVC is about 20-25 seconds, because that is enough to tell the story. So, our media plan is just aligned to that. TV is still the primary medium for us. We do use Digital selectively, particularly in mainstream metros where the young audience has started to move away from TV towards OTT content. However we are clear that we use Digital actively to drive strong engagement for the brand.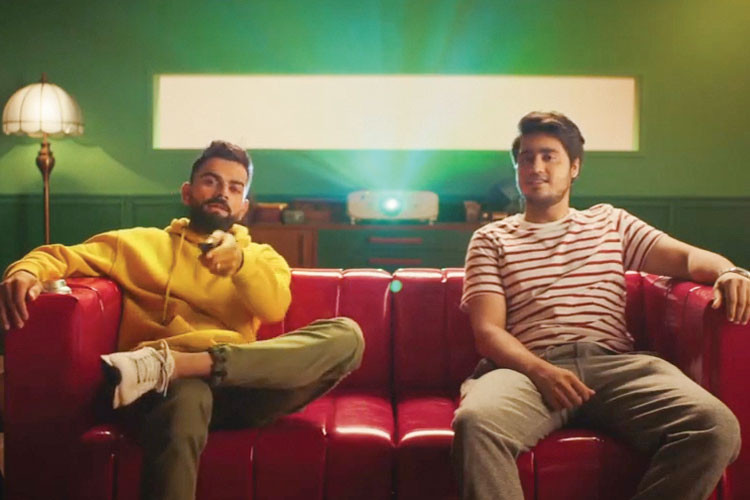 ABOUT THE BRAND
Too Yumm! represents RP Sanjiv Goenka Group's premier venture into the FMCG industry. Introduced under Guiltfree Industries, the brand entered the market to disrupt the current snacking industry in India. The brand offers a range of snacking options – Fox Nuts, Veggie Sticks, Quinoa Puffs, Multigrain Chips and Karare.
FACTS
MEDIA AGENCY: INITIATIVE
CREATIVE AGENCY: MULLEN LINTAS
PR AGENCY: GOLINOPINION
DIGITAL AGENCY: INTERACTIVE AVENUES
Q] Since Too Yumm! has been kind of a relatively newer entrant into the category and that too with a differential, health focused positioning, what were some of the challenges you identified for the brand's growth?
So the positive thing is the health trend. The challenge however is as I said earlier, the perception that healthy cannot be tasty. That's why we have the flavour-focused campaign to change that perception. These are still early days in the brand's life but Too Yumm! has taken off really well since our launch around two years ago. We hit the Rs 200 crore run rate in a year and a half, which is the fastest for any brand in this country across categories. We ourselves were surprised by the growth we saw – what really worked for us was the taste element. Early on, we started with premium pricing and modern trade distribution but we soon realised that this is mass play. So then we went with specific price points which drove trials and helped us grow. We now have the Rs 10 pack and then introduced a Rs 5 pack. The 5 rupee pack was launched along with the introduction of 'Karare', and that helped in building our distribution downstream.
Q] A little over a year ago, you had announced a clear projected Rs 500 crore target. Would you say you are anywhere near that target right now?
No, we aren't. Consumption is a real challenge across the board, and across categories. And I keep talking to my previous colleagues and friends across the industry, and they have a similar feeling. Snacking has been the fastest growing FMCG category for the last five years. And hence, if you have that kind of tailwind in the category, then your differentiation through your brand helps you gain competitively in the market. But, if the tailwind is absent, then smaller brands actually have a bigger challenge. In the current economic climate with the ongoing slowdown, we certainly need a bit of help from the industry and the category to drive that growth. The slowdown has affected us, much like it has other players, but we hope to see some revival in the industry soon this year.
Q] What is your market share in the snacking category at the moment?
So, the market share has moved up and down a bit, but it has mostly been up. At one point in time in Kolkata, we were the number two brand right after Lay's. So we have reached various notable landmarks in our journey. Today we are at about a 5% share in the metros, and about 2% share nationally.
Q] As per a report from the Centre for Science and Environment, most packaged foods and even the healthier variants have excessive quantities of sugar and salt. How is Too Yumm! ensuring it ticks off all the right boxes in terms of being a healthy snacking option?
Salt is to taste. And for us, it is pretty much within the requirements of the Indian regulatory system. I don't think any of the brands in the snacking category have excessive quantities of salt or sugar – they are all within the regulation limit.
Q] Too Yumm! also has an international presence in regions like Singapore, Nepal and Dubai. Do you have plans to enter into any other markets now?
It hasn't been a very concerted effort. We entered those markets because there was a lot of demand coming from exporters there. The Indian diaspora is well spread out across several countries and there is demand for the product. For now, we are in a few markets like Oman, Dubai, Singapore and we have just sent our first shipment to Australia. The plan was to just test the waters and see how our products are received, and the response has been very good. So there is scope for growth but we are still shaping up our export strategy.
PROFILE
Anupam Bokey is a seasoned and passionate marketer with over 24 years of experience across FMCG giants such as Unilever and Danone. He has launched and led over a dozen brands including some iconic ones like Dove, Clinic Plus, Lifebuoy, Pepsodent, Clear, Tiger Biscuits, Huggies, Sunlight, Vim, Pureit and Too Yumm! in over 25 different countries. Bokey's current role at Guiltfree Industries (RPSG) is focused on overall strategy and marketing leadership for the company.
MARKETING TIP
It is very important to have a purpose, and to follow that purpose with passion. That tip applies not just to marketing but to everything in life.