Homegrown beer brand, Bira 91 recently rolled out its first 360 degree campaign to strengthen its positioning after the brand expanded its portfolio of flavours. Deepak Sinha, VP, Marketing at Bira 91 discusses the newly launched campaign, the brand's varied new flavours and its expanding market share that has grown to reach 3X the pre-COVID numbers
Q] Looking back at the year, how has 2021 been for Bira 91 so far? What marketing and communication strategies have worked best for your brand?
So the last nine months have been very interesting for us. In FY21, the industry saw a decline of about 40% and for FY 22 year to date, we're seeing a decline of about 20%. But business for us, fortunately, has been pretty strong. We have launched two new brands this year, Bira 91 Gold and Bira 91 Light. We've expanded our market share to triple, which is 3X pre-COVID and also doubled our volume. And we're now in 30 markets, more than we've ever been before. In terms of marketing, we are now in the thick of the most exciting marketing campaign the company has ever launched in history called 'Make Play with Flavors'. So it's an exciting time for us.
Q] What was the prime objective behind your latest campaign, and what response have you seen so far?
It's been extremely well received. The whole premise behind 'Make Play with Flavors' really breaks down to making and playing. It's our value proposition to the consumer, to be more creative, experimental and to explore flavours in everything they do. And today's consumer is already doing that. And for us how we internalise 'Make Play with Flavors', we literally make play with flavours. We innovate quite a bit and it's another growth driver for us. In fact we've expanded our portfolio from two brands, when we first launched, to seven different products now. We kicked off seven ad films which communicate the kind of unique proposition around each of our products. This gives consumers a wide range of different moods and occasions, which mostly address what they are looking for when they pick up a beer.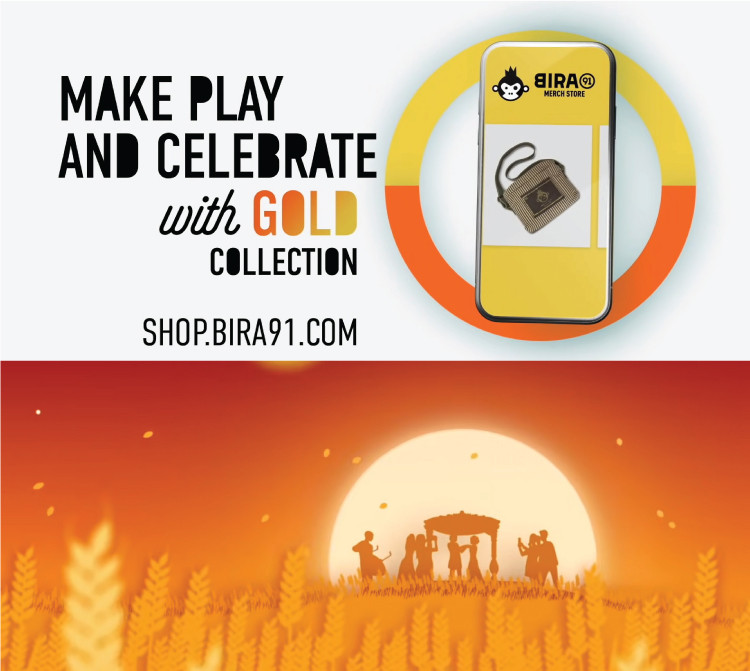 ABOUT THE BRAND
A modern beer brand crafted in India, Bira 91 has built a diverse portfolio of award-winning beers. The brand is available in over 500 towns and cities spread across 15 countries and brews its beers across four breweries in the country. Bira 91 also offers branded merchandise across categories such as glassware, apparel and gifts. Established in 2015, Bira 91 is driven by a team of over 550 passionate beer lovers.
FACTS
Media Agency: Havas Media
Creative Agency: Mayday
Digital Agency: Havas Media
PR Agency: Edelman
PROFILE
As the Vice President of Marketing, Deepak Sinha leads the marketing function at Bira 91. With over 15 years of experience in the alco-bev space, he has previously led brand development, marketing and sales for companies like Pernod Ricard, MillerCoors and other alco-bev start-ups.



Q] What marketing mix and budget have you allocated for the overall campaign?
Up until this point, we've been 100% digital first, which made a lot of sense for us because our consumer is digital first. But it was important this year to change the mix up and go offline as well for a couple of reasons. We're in more markets and our business has expanded. We also have a much larger consumer base today. So it was important for us to increase the consumer touch points. And we have partnered up with Hotstar to advertise throughout the ICC T20 World Cup, and we're the official sponsor of the ICC. We have also made our debut in OOH with campaigns throughout Karnataka, a very important market for us. Also, we've taken over the Delhi airport – over 141 screens are live today and throughout the entire quarter playing our ad films. And we've also partnered up with Radio Mirchi, specifically in Bangalore to drive people to our taproom. So our media mix is definitely a lot more diverse today.
Q] Bira 91 is usually viewed as a brand for millennials. With the new campaign and sports collaborations, who would you say are your target consumers?
The whole idea around innovation for us is to be able to brew beer for everyone. And we feel pretty good about the offerings from the company today. We have a beer for everyone and for every occasion. So with that growth in our portfolio, we are appealing to a much larger audience. The millennial audience, of course, are the ones that have gotten the brand to where we are today, but for us to truly become the beer of choice for every consumer, it was important for us to innovate and expand that consumer segment in every market and every consumer type and every occasion.
Q] How is your company addressing the need for brand premiumisation?
All of our products are premium, be it in terms of taste, quality, ingredients or marketing, our packaging and the identity. You look at our product compared to some of the incumbents, it's a very refreshing take on branding. And that was, of course, done intentionally to be creative and playful. We wanted to appeal to all types of consumers. We have one taproom, where we offer 20 products. We launch a new beer every single week. And we then have the consumers vote on what products they like the best. So that gives us great R&D, we're able to rapidly innovate, see what consumers are excited about when it comes to different styles and ingredients, and then be able to scale up from there.
Q] Bira has also forayed into non-alcoholic products; tell us a bit about that.
Building a relationship with the consumer beyond our products is important today. So the merch store and the taproom are brand extensions for us. The merch store was launched in 2016 with a humble ambition of offering cool t-shirts and hats and some other accessories to our consumers, but since then it's grown to be a significant part of our business. And today it helps us really connect with our digital-first consumers and also positions our products very uniquely.