Artificial Intelligence found a way to the Palais des Festivals this year at the 70th Cannes Lions International Festival of Creativity. With more and more brands embracing Generative AI, it was the hot topic of discussion at the creative festival.
The Awards
There has been a surge in overall entries for the awards this year, even as India saw a dip of 12% from 2022; agencies sent a total of 809 entries to Cannes this year. The Indian contingent managed to bring home 25 Lions, close to half of last year's 47 Metals. Our haul last year comprised 3 Grand Prix, 2 Titaniun Lions, an Agency of the Year, and much more; making 2022 India's best ever year at Cannes.

Ogilvy which had scored 5 Lions last year for the Shahrukh Khan -My Ad campaign for Cadbury was able to top it off with a Silver and a coveted Grand Prix this year for the same campaign under the Creative Effectiveness category, India's only big winner in 2023.

Leo Burnett was the top scoring agency and bagged 11 metals this year, in what can be called the agency's best ever performance at Cannes so far, they also took home a Gold. FCB is the only other agency to win a Gold this year (in addition to 2 Silver and 1 Bronze).

Talented made a strong debut at Cannes Lions by winning one Silver and two Bronze. Dentsu, the best performing agency of last year, got 3 Bronze Lions, two of them for 'Suraksha ka Teeka' campaign. DDB Mudra took India's first Entertainment Gaming Lion - a Bronze. While EssenceMediacom and Mindshare took one Bronze Lion each, the first one in association with Leo Burnett.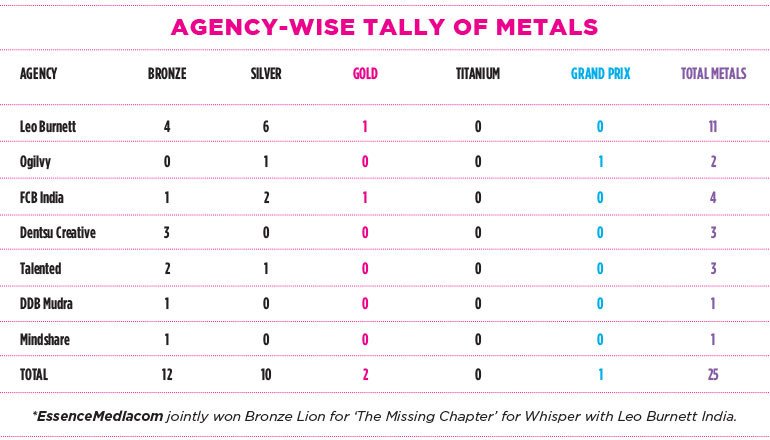 India follows the old trend
Previously India's highest score at Cannes Lions was 40 metals won in 2017, which was followed by three years where we could achieve only half of that glory, until 2022 when we surpassed that with not just the highest number of metals i.e., 47, but also the highest tally of Grand Prix wins, and to top it all, an Agency of the Year title. Similarly, prior to that, the year 2013 gave India its then best metal tally with 34 Lions that also took us three years to outclass. So there is clearly a trend there and this year too we have achieved only about half of what the team brought home in 2022.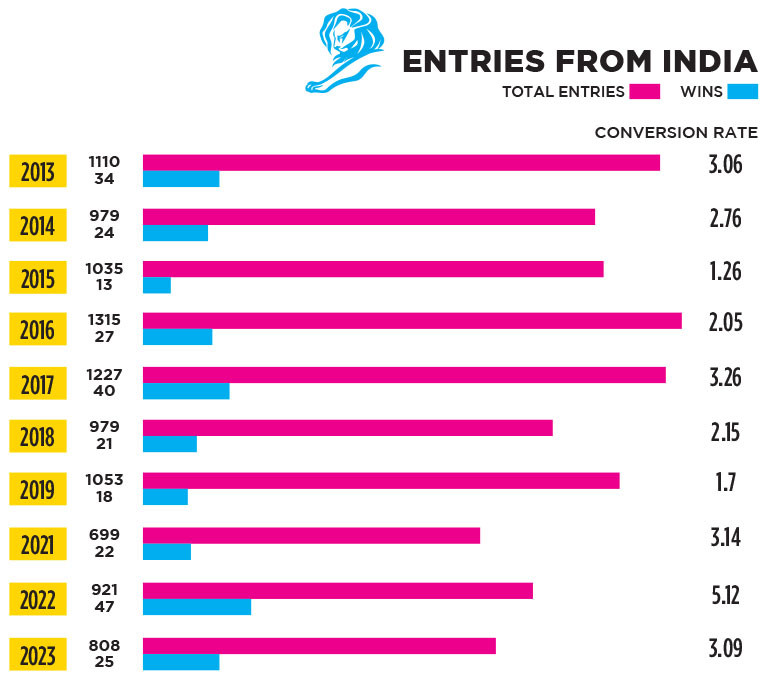 However, leaders from India who were at the awards this year admitted that we have benefitted to a great extent because of the spectacular wins last year. There is a remarkable change in the perception about the work entered by India. In fact, there was a very high representation of Indian jurors this year at Cannes - 13 to be precise, and 7 more on the shortlisting jury.

There were also inspiring sessions and panel discussions with Indian advertising leaders such as RajDeepak Das, Dheeraj Sinha, PG Aditiya, Gautam Reghunath, to name a few.
Talking about the jury process this year, Josy Paul, Chairman of BBDO India who was on the Creative Strategy jury told Impact how the judging criteria is no more focussed centrally on creativity, it is all about business impact and it is one of the biggest changes that Cannes Lions has witnessed.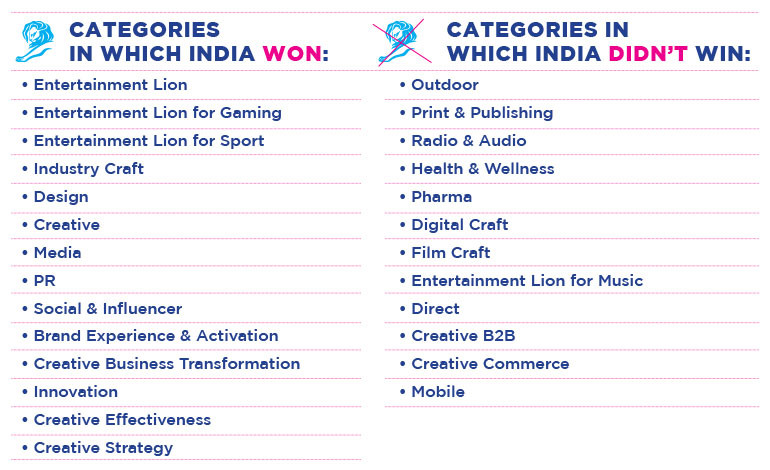 The show of tech strength
The tech companies had come in full strength, be it Meta, Google, Accenture Song, Spotify, Samsung Ads, etc with their yachts and beach houses in prominent spots. However Malcolm Poynton, CCO Global, Cheil says, "Cannes Lions truly can't be called a global festival until it has a presence of a considerable number of local tech companies from markets like India and China. On the other hand there are areas like Sustainability which are getting more attention, but while Cannes is a starting point, it needs to become a bigger conversation."

They say brands have more power than governments, which consumers don't interact with every day, unlike brands that bring about those tangible and intangible changes in consumers' lives. It automatically gives them a bigger responsibility to bring about a change. The case studies and entries at Cannes are clearly holding a torch to the future of Creativity and mankind.

---


Donna Murphy
Global CEO, Havas Creative Group & Havas Health & You
What is the one thing that the Cannes Lion International Festival of Creativity should do in order to be relevant, and what should it do away with?
In order to be relevant, Cannes Lions festival should be wrapped around talent and the recognition of talent. We celebrate creativity as we should, but we must also celebrate talent. One example of that is when at the Havas Cafe last week we celebrated about 20-25 students from all over the world, embracing our talent, bringing them into the industry, and nurturing them. I think this is missing in the current scheme of things, and it is something we should focus on in addition to creativity.

Marty O' Halloran
CEO, DDB Worldwide
DDB Mudra, your agency in India, has been a consistent performer at Cannes. Every year it manages to bring home some metals, but why is that it has never managed to steal the thunder at the festival with a big win/ Grand Prix?
DDB Mudra is one of our strongest agencies. It has been a consistent performer in the Indian market, but the challenge for creative folks in India is how to truly be world-class in terms of what we do. Look at the standard of creativity at Cannes Lions, some of the countries are performing well. I love to see that process, where an agency really focuses on the quality of the work, and as a result they get rewarded for it. I know Aditya and Rahul are very focused on being world-class, and they consistently do work that gets recognized around the world. It won't be long before they are on the main stage and the whole of India will be proud of them.

Kate Stanners
Global Chairperson & CCO, Saatchi and Saatchi
The last time L&K Saatchi & Saatchi had won at Cannes Lions was in 2017. How important are awards for you as an agency and do you really want the team to be aggressive about it?
I do not believe anyone should pursue awards, they should pursue great work for clients. That's why we are so proud of the work that they have done, despite it not being shortlisted at Cannes because it is amongst the best work I've seen out of the agency. Awards are not everything. They often award innovative work, which is great as it recognizes what the future of our business will be. But sometimes work that is hitting the bulls eye in the real world, can get overlooked a little bit because of the way things are judged. It's quite a brutal process that it goes through. Some of that work will probably do better in a local award. But for talent, it's really nice to be recognised globally. As a business, we understand that to get recognised for the work means that we are attractive to new talent.

Kristen Cavallo
Global CEO, MullenLowe Group
What are the biggest risks that you've taken at MullenLowe, and what has really paid off at Cannes Lion?
For me one of the biggest risks is deciding that I could lead an agency. I'm a strategist by trade, and normally CEOs come from the account side. It's rare for a strategist to be a CEO, but I would say that most client problems are inherently strategic. What have I learned at Cannes? Well, it's just a constant reminder of the broad definition of the word creativity. You can see the way different people across the world have solved problems, the same problems that you might have in your market, but they solve them in very unique and different ways.

Cheuk Chiang
CEO, Dentsu Creative, APAC
You have done away with the international CEO designation, while Fred Levron, your Global CCO and Ajay Gahlaut, your India CCO have both moved on from Dentsu. Is it healthy for an agency to have such key top positions vacant for long durations?
Having a CCO to provide leadership and guidance is very important for any organisation. But having said that, something that is equally important is ensuring that you have a strong creative culture, and you have a very clear way of working that helps you get great work, and we've got that. We have a very strong proposition around modern creativity. What that means for us is that we evaluate our work based on a creative scale. So, it's work that either creates culture, changes society or events of the future. We've got a very clear proposition, a very clear set of guidelines that helps us determine what great work is. We use those guidelines to help elevate the quality of the work with or without a CCO, and the entire team is focused on that. Also, the other thing I want to say is that having a great leader there is crucial, someone who can guide the team, particularly through the iteration process. But great creativity can come from anyone. It can even come from a junior team member as long as you've got the right approach and the right vision.

Tina Allan
FCB Global Partner, Data Science and Connections
FCB is celebrating its 150th birthday. What is the best and the worst part of being a legacy agency?
It's hard to believe that FCB is celebrating 150 years. So many companies go out of business before they even reach a hundred. I feel like as we reach 150th, we are at the top of our game, and we are truly leading the industry. I'm quite excited and proud of everyone who's here, and the work we're delivering, that's the best part. It is exciting to see it all come to fruition at camp. I think the hardest part is re-educating everyone about FCB, the innovation and the things that we are driving in this space right now. I would like to say our data teams are the biggest start-ups and the most creative agency in the world, and I do believe India is leading in a lot of that as well.

Malcolm Poynton
Global CCO, Cheil
We've noticed over the years that a lot of Samsung's work entered at Cannes have been focused on improving the lives of people with developmental disabilities. Was that a very strategic plan?
I think it stems from a couple of factors. One is that the Galaxy part of Samsung really centres itself on openness, and of course, openness brings with it fantastic opportunities to all people in the world. There are dimensions of it that are to do with the product in terms of an open ecosystem. But there are other parts that are to do with making opportunities for people through what the technology can enable. Openness comes to life in many ways, and one of the most powerful ways we recognise is technology with purpose that can make a big difference in this world. What really separates Galaxy and Samsung from its competitors is this commitment, which has been ongoing for more than 10 years to really enable people in the world through technology. So it is about the use of technology with purpose behind it in order to create a more open world.

TJ Lightwala
Marketing Services Lead for Growth Markets, Accenture Song
We've seen how Accenture Song has overtaken the revenue of network agencies like BBDO, Ogilvy, McCann, etc. It is the largest digital agency today. What are you doing differently from the others in the market today?
First of all, from a revenue perspective, we have been growing phenomenally year-over-year from 12.5 to 16 billion dollars this year. So, that's certainly a healthy commitment to our shareholders from a perspective of how we're doing things differently compared to other agencies. It's really important to realize that we are a tech-forward creative agency and the fact that individually we have several competitors, but we are coming together from a go-to-market perspective as one Accenture. One Accenture that is backed by the industry knowledge of Accenture, which is very deep. Typically, agencies will not bring industry craft to their clients, but we do because we solve business problems. Secondly, it's really interesting because our stakeholders typically tend to be a CEO or a CMO or even more recently, the chief Corporate Development Officer of organizations. So, we actually start with the decision-making right at the top of the funnel rather than move up the funnel from a brand manager, media manager, or a creative manager. I think those two are key differentiators in the way we operate.

Jack Smail
Head of Brand Partnerships, by The Network
You have a very interesting model. You bring together independent agencies, making a network out of them. At the same time, the agencies don't lose their independence. How do you actually operate on ground?
I think we have 30 agencies in 34 different markets across the world, so we have real scale at the moment. They have different cultures and independent ways of attacking different problems. Some of them aren't even creative agencies, they're specialists in digital or planning. We even have an agency in Australia that just does planning. So, it's like a Swiss army knife that you can put together. But the most important thing is – the culture and family environment that brings us together, which enables us to unlock amazing collaborations that we can see between the agencies.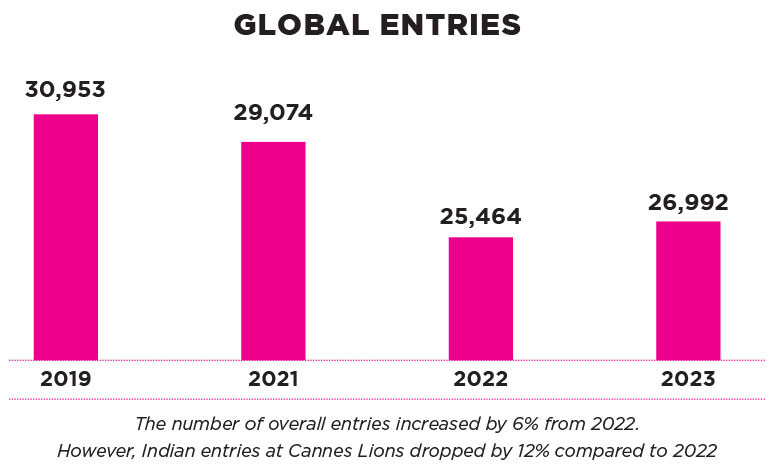 ---


Rajdeepak Das
CCO, Leo Burnett
"The best thing is when you win gold, silver, bronze for multiple categories and multiple clients. It is fantastic. It has been a very good run. Every time we get a brief, we want to do the best piece of work and that is always our aim. But for us, Cannes is always the by-product, not the main product that we start with. Those are the six good pieces of work that we were happy with. We are very tough on ourselves."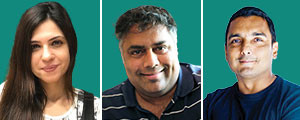 Kainaz Karmakar
Harshad Rajadhyaksha
Sukesh Nayak
Chief Creative Officers
Ogilvy India
"We are overjoyed and humbled to be given the Grand Prix for Creative Effectiveness for 'SRK-My-Ad'. This is a result of the dedication and effort of our fabulous teams at Ogilvy and Mondelez. We also thank Rephrase and Wavemaker for their valuable role in making our idea a reality. This Lion is the biggest acknowledgment of how this campaign has helped over 200,000 small stores across India through a tough time. This is personalisation at scale, and more importantly, generosity at scale."

Rohit Ohri
Chairman & CEO, FCB India
"For the last six years, we have been consistently winning big every year at Cannes. We now have a pride of 35 Lions back in our office in India. An unwavering focus on creative excellence has helped us deliver this incredible performance."

Aalap Desai
Chief Creative Officer, Dentsu Creative
"What I love about our wins this year is that every piece that we submitted was acknowledged in some way. That is encouraging because it indicates that we are on the right path. Last year was a dream run, but this year our focus was on consistency, and I am delighted that we have achieved it. Next year, we will strive to do even better."

Navin Khemka
CEO, EssenceMediacom - South Asia
"Winning the Cannes Lions is an extraordinary achievement that fills our hearts with immense pride and joy. This accolade is a testament to the exceptional talent, creativity, and relentless passion of our remarkable team at EssenceMediacom. We have dared to dream big, pushed boundaries, and crafted campaigns that resonate deeply with audiences. This recognition reaffirms our commitment to excellence, innovation, and making a lasting impact in the world of media and communication. Together, we will continue to set new benchmarks, ignite inspiration, and shape the future of our industry, leaving an indelible mark on the global stage."

Amin Lakhani
CEO, Mindshare South Asia
"We are immensely proud and honored with this win. This achievement serves as a testament to our relentless pursuit of creativity, innovation, and unwavering dedication to excellence. It is a reflection of our shared passion for pushing boundaries, embracing bold ideas, and crafting remarkable experiences. I extend my heartfelt gratitude to every individual who contributed to this remarkable success. Together, we will continue to raise the bar, break barriers, and shape the future of our industry."

Rahul Mathew
CCO, DDB Mudra
"The new categories at Cannes are a nudge in the direction that the industry should be moving towards. It makes us immensely happy to be one of the first to win in a category like gaming."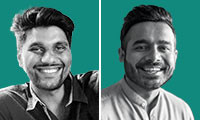 PG Aditiya and Gautam Reghunath
Co-founders, Talented
"We're not going to lie, last year was amazing. This one kind of feels even better and means so much to all of us. We've just celebrated our first year anniversary at Talented and three metals at Cannes Lions were certainly not part of the agenda for the first year. Both the Swiggy & Cleartrip work that have been awarded are an excellent representation of the brand of creativity we want to champion. Stuff that transcends mediums. We hate to go into cliched territory, but there is no way some of the directions that both these campaigns took would ever see the light of day without great clients, technology, and film partners, like the ones we were lucky to partner with. They were equal co-creators through it all."