The Digital Publishers vs Google fight reaches a crescendo after CCI orders probe against the tech giant accused by the DNPA of unfairly using its dominant position in the digital ad ecosystem, IMPACT brings you a detailed report.
In a major legal tussle between Digital News Publishers Association and Google Inc, the Competition Commission of India in its order dated 7 January, 2022 directed a probe against Google. In its order, CCI stated that prima facie Google has violated the provisions of Section 4(2)(a) (directly or indirectly, imposes unfair or discriminatory) of the Competition Act by using its dominant position in the market which led to further investigations.
Remember the Digital News Publishers Association (DNPA) was formed over two years ago with the aim to work collaboratively on defining, creating, and fostering the digital news ecosystem in the country. The members of DNPA are Dainik Bhaskar Corp, India Today Group, NDTV Convergence, HT Digital Streams, Indian Express,Times Internet, Amar Ujala, Jagran Prakashan, Eenadu, Malayala Manorama, ABP Network, Express Network, Lokmat Media etc
Digital News Publishers vs Google
IMPACT accessed the complaint copy of Digital News Publishers Association filed with the Competition Commission of India. The complaint raises serious concerns over Google's working module with the top digital news media agencies in the country. DNPA has accused Google on various violations of the Competition Act, 2002 and largely on not sharing the data pertaining to ad revenue. The members of the association claim that Google is arm-twisting them by using its dominant position in the market and that the news publishers who depend on digital advertising revenues are facing the brunt due to Google's 'unilaterally and arbitrarily' decided revenue sharing model.
The digital publishers have blamed Google for denying them market access while claiming that the impact of concentration of power in the hands of the technological Companies like Google will hinder the innovation and technical development of the news providers and in the absence of 'fair' value of its content the democracy in turn will suffer.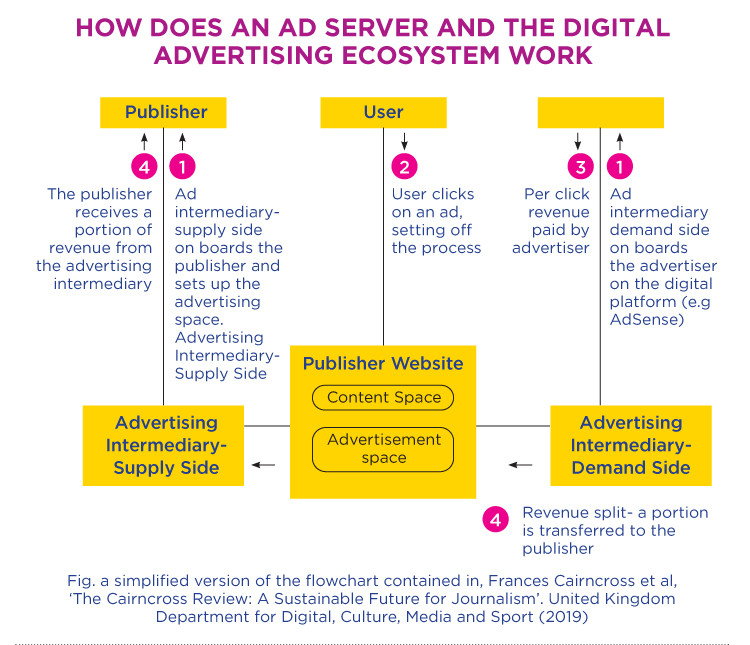 Talking about how the business model of traditional news media has been rendered unviable today, with the estimated revenues for the print media declining in absolute terms for the first time in FY 2019-20, and the fall expected to be sharper, i.e., approximately 38% in FY 2020-21, DNPA says has forced publishers to depend more on the revenue generated through dissemination of news digitally and digital advertising. But despite significant investment in digital presence, they claim the returns have been dismal, even as the revenues of companies involved in digital advertising have shown a steady and significant rise over the past few years, with the largest beneficiary appearing to be Google.
DNPA in the complaint to CCI accessed by IMPACT elaborates, "Although, it is the content produced by news media companies that create the context for the audience to

interface with the advertiser, the online search engines end up leveraging the revenue/returns much more than the publishers,"
Girish Agarwal, Promoter and Director of Dainik Bhaskar Newspaper Group, whose publication is a member of the DNPA says, "Ideally Google should have found an amicable solution with the publishers but since they wanted to misuse their dominant position, they deliberately didn't do that and exploited the publishers and pushed them to seek justice through legal route. We are confident that justice will prevail."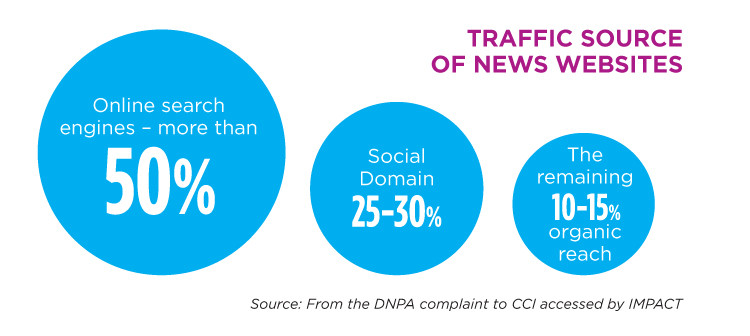 As per the complaint, Online search engines provide more than 50% of the traffic on news websites, followed by the social domain (25-30%). The remaining 10-15% comes directly. "Google is the most dominant search engine. Thus, it is safe to infer that more than 50% of the total traffic on the news websites is routed through Google. Being the dominant player in this field, Google, by way of its algorithms, determines which news website gets discovered via search. In view of the above, news websites get only 10-15% of the share of digital advertising, which too has to be shared between digital assets of traditional media and the digital natives news publications, says DNPA in its complaint to CCI.
It also says that Google controls a big part of the Digital advertising demand and supply chain and the publisher ends up getting only 51% of what the advertiser truly spends and Google and its associate companies get the balance. It infers that Google not only has a monopolistic position in Search in India, but it also has a very strong position in advertising intermediation and controls & retains the major share at each level. And also, because they are the major stakeholders in the digital advertising space, Google unilaterally decides the amount to be paid to the publishers for the content created by them as also the terms on which the aforesaid amounts have to be paid. For example, Google has unilaterally decided to not pay the publishers of news for the snippets used by them in Search.
A Google spokesperson while responding to IMPACT's queries said, "Our products are built to provide relevant and useful information, ensuring that people around the world are able to find quality news. We've worked closely with the news industry in India for years, helping publishers grow their businesses through ads and subscription services and increase audiences by driving valuable traffic to their sites. We are reviewing the details of this order and look forward to explaining how we work with publishers, businesses and consumers."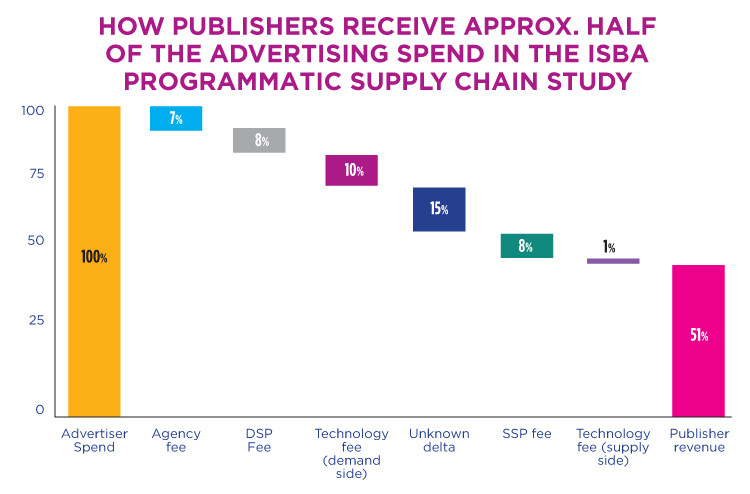 Source: ISBA/PwC supply chain transparency study, 2020
This move by the DNPA comes a year after Australia passed a world-first law aimed at making Google and Facebook pay for news content on their platforms, by encouraging tech giants and news organisations to negotiate payment deals, which many have hailed as a triumph for journalism. Interestingly it also comes around a time when Google in US is facing an anti-trust law suit along with Facebook, which has made serious allegations against Big Tech giants long accused of holding monopolies. In fact, the Google and Facebook duopoly has strengthened its hold on the Indian advertising market with the combined gross ad revenue of Google India and Facebook India Online Services growing to Rs 23,212.5 crore in FY21 from Rs 18,054.9 crore in the previous fiscal which is higher than the combined ad revenue of the top 9-10 media firms in India.


However not everyone within the body is in agreement on taking the legal recourse. DNPA member Bharat Gupta, CEO, Jagran New Media says, "As far as the DNPA/CCI case on Google is concerned, while we are a part of DNPA, as a company we don't believe in this approach and logic. In today's age and time for a growing country like India, partners such as Google add huge value towards scaling up the ecosystem. We need to ideate and collaborate on sustainability solutions rather than legal re-course. There is a great relationship between Jagran New Media & Google, powered by ideation, innovation & collaboration towards many industry initiatives and we see the same to continue."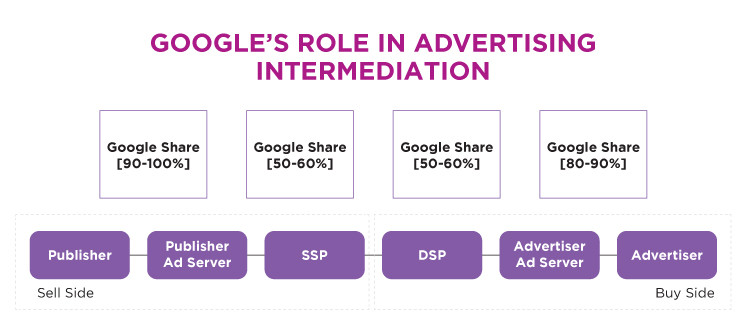 Source: From the DNPA complaint to CCI accessed by IMPACT
How does the digital ecosystem work?
As per the report of statscounter, Google Chrome browser has 98.71% market share in India and is widely used on Android, Apple, Windows, iOS, Linus, etc. Also, as per a study report by 'Digital Advertising in India 2020', by Dentsu Aegis Network, 73.33% Indians use Google Chrome on Android devices while 18.54% people use it on

Windows. IMPACT contacted the digital agencies to take a closer look on the dynamics of the news media publishers and Google's business relationship.
Ahmed Aftab Naqvi, Global CEO & Co-founder, GOZOOP Group says, "Initially, there was a piece of code that existed on all websites called the Google AdSense that was used to sell inventory. Now it happens programmatically where publishers sell all their inventory on the supply side of programmatic platforms and advertisers, marketers, and agencies use it on the demand side and bid for them. The highest bidder gets access to inventory. It is transparent, clean, and effective."
On the revenue sharing model between publishers and Google, Naqvi says, "When a buyer through DSP purchases ad impressions, major publishers give 5-20% to Google.

While small, emerging publishers will give anything as 25%+ as revenue to Google."
Rahul Vengalil, Managing Partner, Isobar says, "To explain in a layman's language, in the past couple of years Google's DV360 programmatic platform doesn't specify the revenue share like it did in earlier times. Publishers are asked to submit their rates. They do not get to know what the final rate of inventory sale is. Publishers can get blind-sided by the actual rate of their ad inventory being sold to end advertisers and do not know the real revenue splits."
Vengalil further says, "Google has the ability and technology to gain leverage over publishers with the algorithms. Do they take undue advantage is a question that only publishers can answer."


When asked if there is any mechanism to ascertain the revenue share of Google through Search, Shailendra Mehta, Head of Paid Media, Adlift marketing private limited says, "There is no mechanism to know how much revenue is earned by Google. Publisher gets paid for the advertising revenue which Google gains by using news stories, but it only happens when the user clicks on the story, lands on the site and ads get triggered. However, Publishers can leverage Supply Side Platforms (SSP) and create direct deals with advertisers to generate higher percent of revenue on their end."
Meanwhile The Competition Commission of India on 7 January, 2022 directed a probe against Google after forming a prima facie view that Google has violated a section of Competition Act, 2002. CCI has asked its Director General to probe the matter and submit the investigation report within a period of 60 days.
Is Google leap frogging?


Advocate Prashant Mali, Cyber Crime and Privacy Lawyer says, "A company like Google is leap frogging by taking advantage of the fact that there is no law which stops them from doing what they are doing in India. Google being a private search engine can't be stopped if at one point it decides to not show search results of news articles belonging to certain publishers. There is no law which can stop them from doing so. It is a private entity. Also, there are no straight laws which would make Google share the revenue or the data with publishers through a uniformed manner though they have AdSense."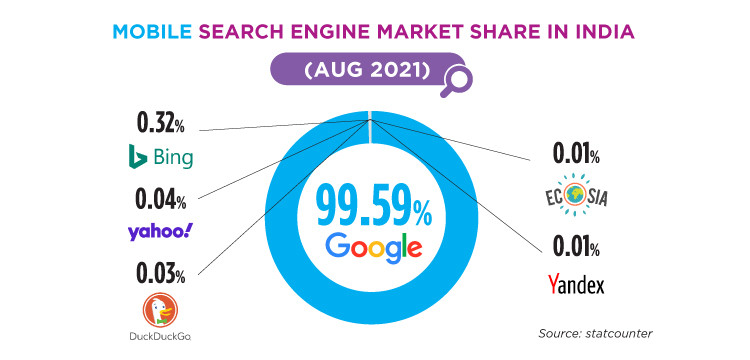 Throwing light on the penalty, Mali adds, "Google being in a dominant position, the punishment if proven guilty can be meted out on two factors, one which is heavily dependent on the CCI Bench and the other on the basis of the losses faced by the DNPA members. Google cannot manipulate the original news item but it extracts the gist of the news in form of snippets from the publisher's website. There should be a mechanism in which Google should let the user allow which news content they want to

consume and which content they do not want to. There should be an opt-in and opt-out feature."
Briefly describing how data manipulation can take place, Vaishali Bhagwat, Advocate (Information Technology and Privacy Law) says, "Another angle to this discussion is about the intermediary's ability to manipulate search results and content dissemination." Talking about the penalties which could be imposed on Google if proven guilty, Bhagwat says, "In case the Competition Commission of India finds Google guilty of violation on any of the aforesaid provisions and that Google has misused its dominant position, the CCI can as per Section 25 of the Competition Act direct Google to discontinue such abuse of dominant position and impose a penalty which may be up to ten percent of the average of its turnover for the last three preceding financial years."


Big Tech companies can not only manipulate search results but can also suppress visibility of a publisher's website, say cyber experts. Ritesh Bhatia, Cybercrime Investigator and Cybersecurity and Data Privacy consultant says, "Google has its own proprietary algorithms and that is how it controls the search results. In simple terms, Google can largely decide and feature any content it wants on their web pages. Google can not only tweak the results but can also make a publisher look bad, by not showing results of certain publishers. Being proprietary algorithms, no one can actually prove it technically or legally until such tech giants are investigated by government authorities. There should be a universal cyber law which is not only global but also comes under the regulations of India. The digital news media publishers instead of getting into good books of Google should seek legal option to make Google adopt the policy formed in Australia."
CCI orders probe, wants report in 60 days
The CCI order, based on the information available (a copy of which is with IMPACT) states
It appears that the instant information highlights the alleged bargaining power imbalance that flows from the alleged position enjoyed by Google as a necessary trading partner for digital news publishers in accessing online audience as well as in generating digital ad revenue. The case also brings forth the issue of alleged lack of transparency and information asymmetry in the ad tech services provided by Google, which does not allow publishers to optimize the yield on their ad inventory.
Based on the above, the Commission is of prima facie view that Google has violated the provisions of Section 4(2)(a) of the Competition Act, which merits investigation. Further, the Informant has also alleged that abovementioned conduct of Google results in violation of the provisions of Section 4(2)(b)(ii) as well as Section 4(2)(c) of the Act. The Director General can appropriately examine these allegations as well during investigation.
Further, it appears that Google is using its dominant position in the relevant markets to enter/protect its position in the market for news aggregation services in violation of Section 4(2)(e) of the Act, which again merits detailed investigation.


WHAT DOES THE DNPA WANT?
In a detailed interaction with IMPACT Magazine, Sujata Gupta. Secretary General, DNPA reveals what is the basis of this complaint against tech giant, Google and what are they seeking from CCI
Q] Recently, the Competition Commission of India has cracked a whip on Google, ordering a probe against it. This comes after Digital News Publishers Association (DNPA) filed a complaint against the tech major for sharing unfair advertising revenue and for unjustly using its monopoly in search and advertising. Do you consider this as a victory?
We have made our submissions to the honourable governing body, on the basis of merit of our case they have asked for further investigations. We have full faith that justice will be served as it will progress further.
Q] What is the current revenue arrangement, how does Google gain by using news stories worked on by publisher platforms?
Since Google is the majority stakeholder in the digital advertising space, they unilaterally decide the amount to be paid to the publishers for the content created by them as also the terms on which the amount has to be paid. The publisher does not even get paid for the snippets Google uses from their platform.
Q] In the Digital publishers vs. Big tech fight, what is your demand which will create a fair game for both sides, what is your expectation from CCI here and what is the possible solution to overcome the problem?
The basic grievance is the use of dominant position by Google in producing search results and sharing the revenue generated by monetization in the event of 'clicks' by a user on the Google page. These 'clicks' determine the traffic and digital footprints of the end users on a news website. This should be further elaborated in the evidence being submitted to CCI by way of screenshots of how the search engine (Google) functions in a prejudiced manner against certain digital news publishers. The information/evidence submitted to CCI should incorporate the manner in which revenue is shared and the basis thereof (revenue is generated on CPC mode). It should be highlighted that there is no policy or standardized terms for such arrangements of revenue sharing. The policy of sharing the revenue is opaque.
Further, Google may not have sufficient licensing rights to use the content generated by news publishers to showcase their content on its search page. Also, Google is assuming the role of publisher too in some category. The essence of the evidence should be that Google (owing to the dominant position) is dictating terms to the digital news publishers. It should be pointed out that the consequence of such an action on the relevant market is drastic for the market structure. The primary focus of the information/evidence being submitted to CCI should be the disruption of market structure being caused by the unfair trade practices of Google which inadvertently also has influence on the end user.