While grappling with the most complex dual challenge of a pandemic and a slowing economy, marketers today are faced with the basic task of how to sell their products in the market. During the first phase of the lockdown, markets were largely shut, so most of the brands used the time to come up with budgeted video ads thanking our health workers, spreading positivity, helping their customers through an array of free services, etc.

But with most companies' profits tanking over three months of inactivity, the primary challenge has become that of creating revenue through sales. But how does one do that when the customer is still not back to his old shopping behaviour and thinks 10 times before walking up to a store for a purchase or doing a host of otherwise 'normal' things? At this point, 'how' I sell has become just as important as 'what' I sell.

For example, Zomato wasted no time in introducing contactless delivery; weeks later they also announced contactless dining which lets you book the table, order food, and pay via app. Similarly, apart from delivering food and essentials, Swiggy also launched Swiggy genie, which acted as personal courier boys picking up and delivering goods for people who were still apprehensive about going to each other's homes or run errands. The question is, to what level are creative agencies helping brands like these ideate and innovate in these testing times?



NEW PROPOSITIONS

Amit Syngle, CEO & MD, Asian Paints says, "Advertising agencies will be strong partners in this business as we go ahead, aligning with the kind of work we want the agencies to do, like working with the brand in terms of developing new propositions which will suit the customer in this challenging environment.

Advertising agencies would not just come in at a stage where they are sitting and making creatives with us, but will actively look at new propositions, and partner the brand in terms of really saying what are the strategies which we can unleash in the market to get the brand going in these tough times."

In fact, some creative agencies such as like Leo Burnett and VMLY&R have taken the lead in providing concrete solutions to their clients as compared to just providing video ads in a rather restrictive market.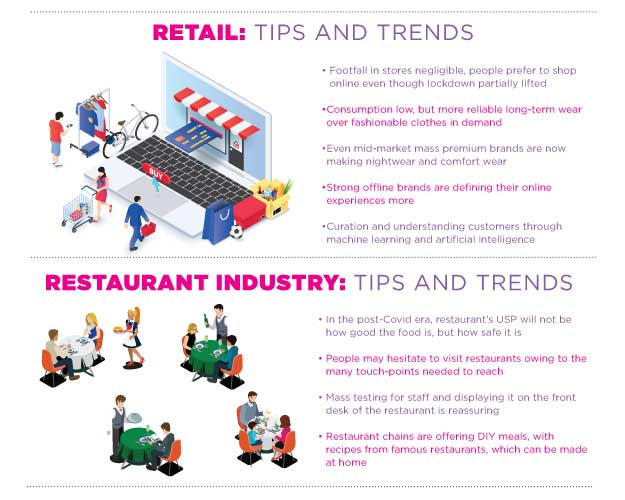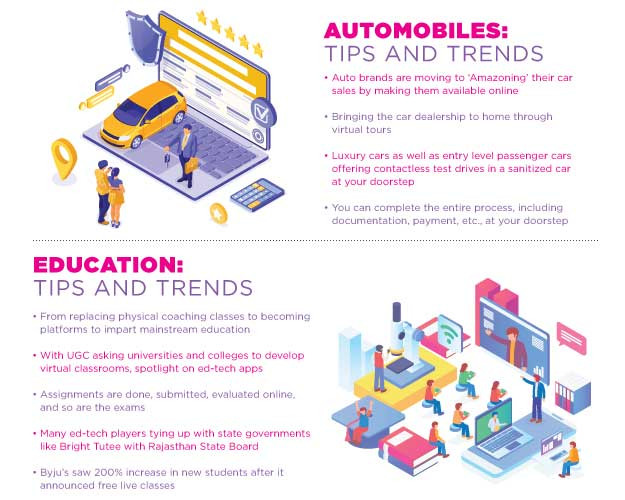 Talking about the solutions that they are providing, Dheeraj Sinha, MD, India and Chief Strategy Officer, South Asia, Leo Burnett says, "For our client shaadi.com, we realized that in India weddings revolve around mahurat - you don't get the right date for months and years, which is a loss for not just people who decide to get married, but also for businesses in the wedding space.

Additionally, no one in India wants a vanilla wedding, you can't simply come on a Zoom call and sign a paper. It was about creating the same memorable moments and extravaganza online.

So for the first wedding we organized, our teams went looking for a pundit, make-up artiste who virtually gave make-up tutorials to the bride real time, arranged choreography for sangeet, etc. Everyone was organizing and trying to deliver the same experience as the great Indian wedding, sitting in different corners of the country."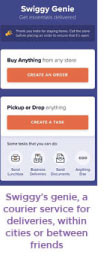 Anil Nair, CEO- VMLY&R India speaks about another simple yet powerful innovation that came from his agency which helped Big Bazaar cater to many elderly customers.

Nair says, "Big Bazaar is in essence an offline store where people walk in to buy products but with social distancing, people were afraid to step into a retail store. Honestly speaking, this innovation happened by accident wherein people started calling Big Bazaar to say they want to buy this or that.

The customers of Big Bazaar are not all tech-savvy, especially the older lot, so it was troublesome for them to shop for essentials online. So, we turned the salesmen at Big Bazaar into distant shopping assistants.

The 8,000 strong staff went beyond their call of duty to evolve into this Shopping Avatar and help shoppers on a telephone call. They would personally add every item into the physical carts, based on availability, and keep it ready for either delivery or for someone to come and collect."
MAN AND MACHINE
Creative heads we spoke to said the changes are going to be many. For example, as people are still apprehensive about letting anyone enter their homes, the domestic help's work will be replaced to some extent by appliances such as dish-washers, which can take care of household chores, though Indians had never warmed up to this appliance earlier. Insurance for blue collar workers will become big as even they will wake up to prioritizing health.



Kawal Shoor, Founding Partner, The Womb says, "Clients in different categories will need different kinds of recommendations. Like those in the daily use categories like soaps and oils, etc., the solution may not be in the products but in the pricing strategy that you adopt, the kind of outlets you sell from, etc.

Large SKUs and large pack sizes will become important – the regular SKU is 500 gms for tea which will go up to 1 kg just because people don't want to run out of essentials. Those stocking 100 gms will go for 500gms now, especially in colonies where there is no home delivery option, and the clusters where domestic help, drivers, etc., live. They outnumber the white collared professionals 20 to 1 in India."



Another ingenious idea came from Axis Bank that literally took ATMs to people's doorsteps. Asha Kharga, EVP & Group CMO, Axis Bank Limited explains, "Most of us seldom think of banks when it comes to innovation.

Banking at its heart is a service and one such service innovation is with respect to mobile ATMs. Despite the strict lockdown, most banks ensured ATM machines were filled with cash. However, the real issue we spotted was that customers found it challenging to access even neighbourhood ATMs due to the lockdown.

We therefore introduced mobile ATM vans covering 10 cities - Bhubaneshwar, Kolkata, Chennai, Mumbai and Navi Mumbai, Bhopal, Lucknow, Cuttack, Bhadrak, Balasore and Jajpur. In the true spirit of openness, we collaborated with the police and municipal authorities to obtain permission and provide customer support even during strict lockdown."
If brands become responsible and agencies provide innovative solutions in reviving the retail sector, the conscious consumer will definitely get his or her confidence back and walk into those deserted isles sooner than expected.

Explaining how Indian marketers can introduce contactless shopping in their stores, Prachi Sharma, CTO, Krypmedia says, "Krypmedia has launched a solution which not only allows you to have a 360-degree walk through the store but also enables you to try on the latest apparel collection in an Augmented Reality environment.

Retailers can now have a one-stop solution which gives the technological edge, helps in gaining customer confidence, ensure safety, decrease the marketing budget, reduce manpower costs, and track inventory, resulting in increase in customer acquisition, customer retention and multi-fold increase in the profit margins. Customers now can scan, pay and move out of the store without waiting in long queues for a tedious billing process.

We are thrilled to have clients like Pantaloons show interest in such technologies, and looking forward to pilot it soon if economies and synergies are in line. We have constantly tried to bridge the gap between brand communication and customers, and now we are breaking all thresholds by integrating technology in stimulating the buyer's experience."

FIGHTING TO BE FIT
The lockdown has been a tough phase for the fitness industry which overnight had to lock up their gyms, aerobics and dance centres, owing to the growing fear of their customers contracting the virus. While working professionals woefully stared at their growing bellies, fitness chains like Cult, Gold's Gym, etc., came up with an innovative solution, to provide fitness videos online for consumption at homes through their apps - and not just to their existing customers. This was started as a service and soon became a way to monetize.



Gold's Gym went a step further. Shraddha Sheth, VP Marketing, Gold's Gym says, "In eight days after COVID-19 struck India in a big way, we launched a Gold's Gym India app which gives access to both members and non-members to more than 10 new fitness videos we uploaded each week." Gold's Gym had more than two lakh members across the country before the lockdown and within a few weeks of launching the app, they managed to get 50,000 users on their app, 30% of which were not associated with the brand earlier.

But while these services are free at this point, the brand is also introducing a host of new ones, with a view to monetize on the growing interest of people in online fitness activity. Sheth explains, "We have a personalized fitness trainer on Zoom for people who cannot work out without their personal trainer and Gold's Gym Anywhere at Home Solution where a personal trainer can visit your home. These services are chargeable, of course."

As consumers find more and more ways to go Digital, another big trend that has caught on is brands that are going direct to consumer like Whirlpool, which started its own e-commerce platform during the lockdown, as opposed to just being available on other sites like Flipkart and Amazon. Consumer electronics manufacturer Samsung,

which always had a dedicated site selling Samsung products, was in a dilemma because the warehouses weren't able to deliver the products ordered on the website owing to the lockdown.

So, it devised an interesting solution by which people could book their Samsung products online on Samsung Shop for which express deliveries could be done from the Samsung Authorised Retailer nearest to where the consumer lives.



Raju Pullan, Senior Vice President, Consumer Electronics Business, Samsung India says, "During the lockdown months, Samsung introduced its O2O (offline to online) initiative to make our retail partners online-enabled via our Samsung e-store platform, and it has been truly successful.

We have empowered offline retailers by enabling them through Samsung.com to reinvent their traditional business model, even at a time when consumers were either unable to buy products as stores were closed, or were unwilling to move out of their homes to buy Samsung products."


SOME HIGHS AND LOWS

A category that has greatly benefited from the lockdown is edtech apps. They got an opportunity to enter mainstream education like never before, even as teachers from mainstream coaching classes protested by selling fruits as physical coaching centres are not allowed to open.

Karan Shroff, Vice-President, Marketing, Unacademy says, "Students as well as parents are looking for alternatives to physical classrooms as health and safety remain primary concerns. Some of the initiatives have been to provide over 20,000 free live classes on the Unacademy platform with top educators from across the country.

We opened up the platform to schools and colleges to conduct live classes for their students without any interruption, called Unacademy Classroom. Thanks to these efforts, Unacademy has recorded a 100% increase in its paid subscriber base to 200K, since March 2020. The daily average watch time per subscriber has witnessed a steep increase of 100% to over 90 mins. The monthly watch time minutes has also reached an all-time high of over 1 billion."



On the contrary, a category which has had a pretty bad run in the past year-and-a-half is automobiles. When asked if like China, the scare of infection will help shoot up demand for owning a personal vehicle in India, Rahul Gautam, VP, Marketing, Ford India replied that there is indeed an increase in the queries for entry level vehicles.

On helping consumers overcome the apprehension to visit the car showroom, Gautam said, "Pre-COVID we didn't have an online booking facility. We first focused on the customer's need to get existing issues with their vehicle resolved, considering no one must have used their cars in a long gap.

We introduced Dial- A-Ford which is going back to basics, getting the consumer to pick up a phone and talk which is more intuitive than chatting over Internet. So we had a toll free number for that with a sales plug in it, covering both sides of the initiative, so we have the contact-less service, and the roadside assistance which is on 24 hours and in addition to that on the sales side, the ability to provide test drives at the customer's doorstep.

It took time for the sales to kickstart, but now we are almost fully operational."
The process is pretty simple - one calls the number, selects sales or service and then depending on the pin code, is patched to the nearest showroom to talk to the dealer on phone and resolve concerns or schedule a test drive.

A perfectly sanitized vehicle comes to your home and effectively, you can complete the entire process, including documentation, payment, etc., at your doorstep. Even in the luxury segment, many automobile brands like BMW have come up with contactless test drive. In fact, in markets abroad, automobile brands are using technology to literally bring the car dealership to homes through virtual tours.



Sukesh Nayak, CCO, Ogilvy, the agency which handles several two-wheeler brands, says there is no one-size-fits-all approach: "These contactless test drives may work for high end cars but imagine the case of two-wheelers where the profit margins are like Rs 1,000-2,000 per unit.

It may not be possible there." Surmising that the people's response will be different for different categories, Nayak says, "Look at FMCG goods - brands like Tata Sampann, Parle-G, etc., are having the best year of their lives. With the restaurant business down, people are cooking more, munching at home more, benefiting these brands.

But the grooming category and clothing brands will suffer, with people hiding their faces with masks and venturing out less. But in the end, brands that help provide solutions to customers to adapt to the new way of life will do better than those who are just creating ads. For that, the creative agency needs to be given a seat at the table as a real partner to brands and not just brought in at the communication stage."
THE RIGHT PARTNER

Talking about one such partnership, Adhish Zaveri, Director of Marketing, Shaadi.com says, "What's fantastic about Leo Burnett is that there's a sense of ownership for the brand from their side, which I've rarely seen in ad agencies.

They feel like they are a part of this brand journey and take actions accordingly. In the case of weddings from home, they've been the creators of this property, yet it's not like they just pitched the idea to us and then left it to us to execute. I'd go to the extent of saying that our role in weddings from home has largely been to allow them the space they needed to make it the kind of initiative that it was."

Clearly, some brands have been quick to adapt to the changing consumer behaviour by making changes to their business models with the help of their creative agencies, while others are still stuck in the communication sphere as far as working with their ad agencies is concerned.

Overall, COVID-19 has clearly demarcated marketing into two eras – pre and post COVID-19 – and the latter calls for a sea of change in the way marketers and ad agencies sell a brand. There was a time when creating goodwill for a brand was very important, but today brands across most categories are struggling to sell their products or services, and when business and revenue streams are so challenged, creating a 'good impression' via a hard-hitting video ad is hardly adequate.

That is why brands have to reinvent their sales strategies because it's all about survival by innovation. May the smartest and most adaptive of them all win!

CONTACTLESS SHOPPING EXPERIENCE POST COVID-19
There was a time when clothing stores wanted consumers to spend maximum time at their outlets to increase the scope for impulse purchases. Now, with the COVID-19 onslaught, many apparel stores are not letting people come in en masse into their showrooms, because of social distancing norms and to avoid queues during check-out.

Additionally, chains like Decathlon and Arvind Fashions are not allowing access to trial rooms as they are believed to be high risk areas at stores.

If retail brands as well as shopping centres are to bounce back after the lockdown lifts completely, it will only be through establishing experiential premises wherein the consumers can trust the safety and precautionary measures.




The task before the creative professional is to actually bring the consumer face to face with the product in an era of social distancing and get him/her to buy it offline or online
For years, there have been conversations on the exact role of creative agencies, and whether it is to find just communication solutions or go deeper and find business problems and offer a way out to the marketer. With COVID-19 threatening business revenues like never before,

the cause of concern is not how to make the advertiser's product seem meaningful to the consumer, but how to actually bring the consumer face to face with the product in an era of social distancing and get him/her to buy it offline or online.



Agnello Dias, Creative Chairman, Dentsu Aegis Network, India & Co-founder, Taproot Dentsu dissects it for us: "Traditionally, creativity in advertising was built on two founding evaluative parameters of affinity and behavior, where behaviour was loosely translated as sales. Over the last few years, the focus on affinity had grown far too large and was driven by a lot of visible demonstration of it on the Internet through 'likes'.

But with the pandemic resulting in things not moving off the shelves in the marketplace, marketers will now look at actual delivery, unlike the immediate pre-COVID phase, when it was largely about publicity. Right now, if they don't look at actual delivery, there will be no money to pay for affinity building creative later.

So, the advertising agency's role now will in a way switch back to maybe a few years back when there was enough intellectual knowledge within the agency to actually provide solutions for clients' sales problem rather than their popularity problems."



There are agencies that feel the need to make their client's business successful, do spectacular work from a creativity perspective, and yet do it in a way which is enhancing the advertiser's business.

Dheeraj Sinha, MD, India and CSO, South Asia, Leo Burnett explains, "Creativity can also be applied to business solutions. When the crisis struck, we were all dumbfounded because no business school had taught us how to deal with a pandemic like this. I think everybody's reaction was 'We don't know what to do'.

That's when, as an agency, we said that the only way to survive through this is to think business solutions rather than advertising. Within two-three days, we launched the '0-3-6' workshops - a 'short term thinking' model for our clients.

We started engaging clients through these workshops and when we started developing solutions, they realized that yes, we can be partners and some of those workshops have also led to product ideas."



However, Sinha says, "Honestly if you were to ask a client that typically when you're in a crisis like this, would you go to an agency, the answer would be no."
But there are marketers who say they would have respected the agency more if they had pro-actively come with a real solution as opposed to waiting for their clients to spell it out for them.

Mayank Shah, Senior Category Head, Parle Products says, "Normally we talk to the agencies about our objectives, the need to advertise, and they come up with a plan, but these are different times and each brand today needs a different kind of solution to survive or do well. The unfortunate part is that agencies are not really looking at it that way.

Even now, whenever we speak to agencies, most of them come back saying we should do some kind of brand-building, how we can make a film without really going out, put out some other content, etc.

Yes, you can continue to do brand-building, but what is more important, which is a golden nugget for agencies to really understand, is that they need to provide business
solutions right now and cannot restrict themselves to just being a communication provider."


Agencies, on the other hand, say that brands really can't complain as they are only paying for deliverables – one film, 10 digital assets, 15 posts - and that is not how big ideas happen; so they get exactly what they paid for.



Sharing his view, Ashish Khazanchi, Managing Partner, Enormous says, "We need to make our brands more famous and more relevant. Advertising is the product of that thinking and we must continue doing that well, and making the world wish for more. Business ideas are a part of the same journey, but it's not the destination that one starts off with.

We are a specialist business and we shouldn't change tracks just because we aren't interested in doing this part well. Advertising shouldn't make it its primary business to be consulting, else we'll ruin it for the McKinseys and Banes of the world as well. If we need business thinking, we need to do it for advertising as a business first.

We need to create brand narratives that create bigger businesses. Not the other way round."

Taking a different stand, Adhish Zaveri, Director of Marketing, Shaadi.com says, "I wouldn't go as far as saying that ad agencies should provide workable business solutions, but I wouldn't reduce it to making videos either.

I'd say the advisory role of the agency is incredibly important right now. I'd like to see agencies owning the outcome, and not so much output.

The difference being that agencies can make a fantastic campaign which we can all celebrate but if it's not driving the right value in terms of the brand, in terms of growth in business, then there's little to celebrate, right? So, agency ownership on outcome is paramount.

And it's not so much of saying this was right, this was wrong. It's more to do with the fact that how can you continuously improve and deliver right value for the business and the brand."



Anil Nair, CEO, VMLY&R says, "So, a lot of the conversations with our clients in the past many weeks have been about the business implications and many of the ideas that we've shared went beyond advertising, for instance, Colgate - Dentists for Me, a new teledentistry service.

The first part of it was a sharing of knowledge on what similar categories are doing around the world, from within the WPP system and the VMLY&R global system. In fact, some of the things we have executed are ideas such as these.

That doesn't mean that we haven't done our business as usual, like social media posts, video content, etc., but the ones where we have given them business solutions are the ones which we feel gave the clients more relief because their issues today are slightly different."

COVID-19 will mark a whole new way in which we consume, connect and communicate about our brands. Advertising agencies need to understand what are those big changes, what are those big triggers that will actually spark off each category or brand to talk about their benefits in a way that is relevant at this time.

As soon as the lockdown is completely lifted, people won't rush to the streets to buy products, social distancing will still be an important consideration while buying products, so brands and agencies will actively need to work around that till a vaccine reaches our doorstep.

WHAT ADVERTISERS WOULD LIKE AGENCIES TO DO
Focus on business solutions just as much as communications solutions
Be a real partner to the brand by resolving sales-related issues in an era of social distancing
Find out the unique ways, platforms to sell the existing products of the clients

WHAT AGENCY LEADERS SAY
Marketers can't complain, because they are not paying for providing business solutions, they are only paying for deliverables
Advertising shouldn't make its primary business to be consulting
While stretching new muscles is important, classic advertising becomes more important with more video content consumption on
OTT & TV