Indian parents tend to use height as a marker for kids' growth, causing a lot of anxiety. As a progressive brand, Bournvita Lil Champs wanted to introduce parents to Motor Skills, which is the true measure of growth in toddlers. Through a film that is educative and endearing, we are sure parents will embrace the real definition of growth and thus, the brand.
AKSHAY SETH
Group Creative Director, Ogilvy Mumbai

Bournvita Lil Champs has always focused on a child's mental growth since its launch. With the new narrative, we aim to highlight the importance of motor skills which is all about strength to grow and learn. Parents often teach motor skills to their kids unconsciously, and this is our effort to infuse the concept as a conscious exercise.
INDERPREET SINGH
Associate Director – Marketing (Gum, Candy and Powdered Beverages), Mondelez India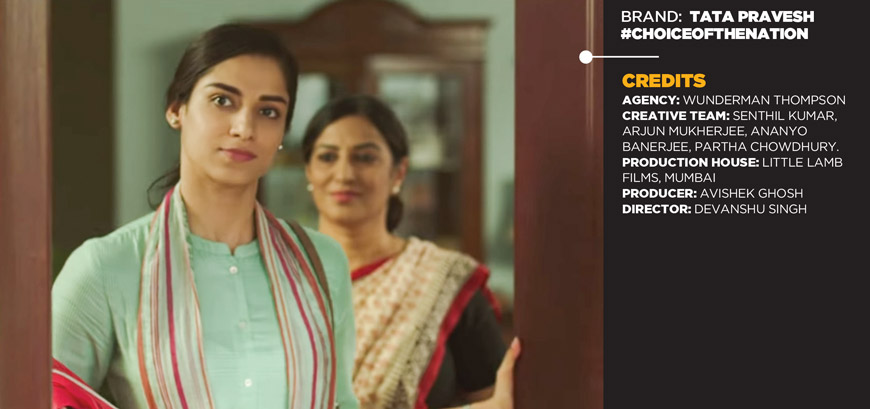 The individual whom people elect as their representative should work for the people, honouring the faith that they have reposed in him/her. This perfectly timed film aims to remind every elected representative how they should do justice to the mandate they have been given, where their responsibility lies and how they should address every challenge - with steely resolve, what else?
ARJUN MUKHERJEE
Executive Creative Director & VP, Wunderman Thompson, Kolkata

True to its name, Tata Pravesh has always ushered in new ideas and encouraged people to look at things differently. Through all our films so far - Mother's Day, Independence Day and World AIDS Day - we have attempted to make people pause for a while and think. The Pehla Din film is another milestone in this ongoing brand journey.
P. ANAND
Chief - Services & Solutions Business, Tata Steel Ltd.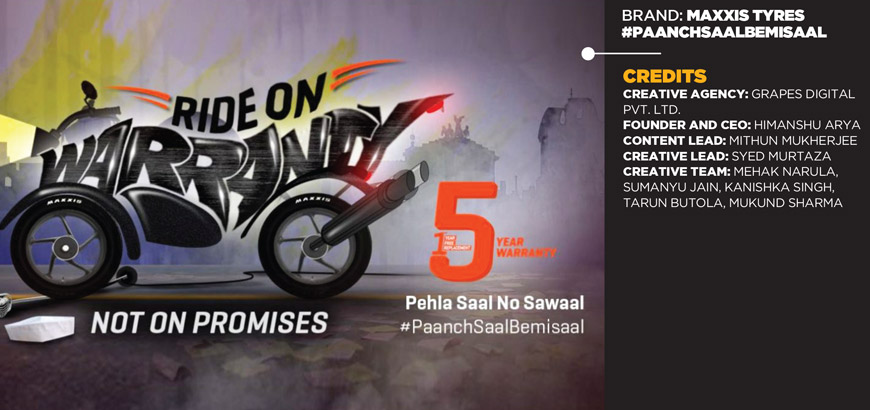 #PaanchSaalBemisaal was the perfect hack to tap into the conversations around the general elections. It was action-oriented, well rooted in the product proposition and highly topical as well. With all the right boxes ticked we had just one question to answer- if not now, then when?" And addressing that concern the campaign was launched with a minute-long digital video.
HIMANSHU ARYA
CEO Grapes Digital

As India's growing two-wheeler tyre company, we wanted our customers to know more about our industry-first 5-year unconditional warranty with 1st year free replacement. General elections gave us just the right opportunity to talk about warranty, in a contextually interesting way. We are confident that this campaign will appeal to a wide range of customers.
BING LIN WU
Marketing Head, Maxxis Tyres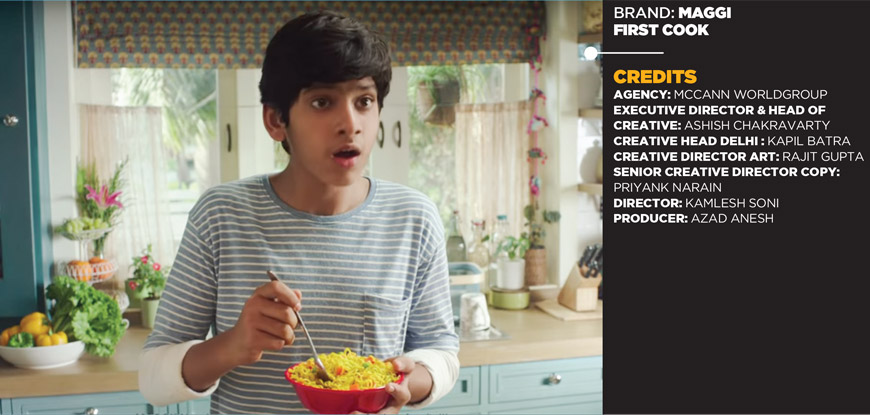 This time we have shown how there is magic in those moments when a person learns how to cook MAGGI for the first time. In our previous ads we have spoken about the high quality of our product and world class manufacturing, iron fortification and shown transparently how MAGGI is made. This time we chose to talk about a magical and emotional moment in our consumers' lives.
JITENDER DABAS
Chief Strategy Officer, McCann Worldgroup

Indians love MAGGI noodles and most of us have our favourite MAGGI recipes and memories. From countless consumer conversations, we learnt that cooking MAGGI noodles is often the first culinary moment for many people. For 36 years moms have cooked MAGGI noodles for their loved ones. This time, we found magic in a teenager trying to cook MAGGI for the first time that makes this film beautiful.
NIKHIL CHAND
Director - Foods and Confectionery, Nestlé India