Q] Elaborate on the insight behind your new campaign, 'Karodon Ka Loan Chutkiyon Mein…'
Post COVID-19, businesses have had a growing need for credit to re-establish themselves or get back on track. Our new campaign, 'Karodon Ka Loan Chutkiyon Mein' is an effort to help businesses by availing large sums of credit from us through easy and hassle-free gold loans disbursed in no time! The core idea is to pitch to small, medium and large sized business owners and help them look at gold loans as a readily available means to meet all their business needs and grow their existing business.
Another objective is to help business owners avail gold loans unhesitatingly by making the most of an idle-lying asset. Since many business owners are already availing big-ticket gold loans from us, the communication adopts a testimonial route where big businessmen in three different storylines speak about how Muthoot Finance Gold Loans have helped them in meeting their business needs and growing their business manifold.
Q] How has Muthoot's marketing strategy evolved in the recent past?
Our marketing strategy over the last three years has witnessed a sea of transformation paving the way for a recalibrated and reinvigorated marketing journey for the brand. Trust is the bedrock of all relationships and since household gold jewellery is also an emotional asset, trust is the cornerstone of our relationship with our customers furthermore. We engaged with actor Amitabh Bachchan as our brand ambassador. We also partnered with one of IPL's most successful franchisees, Chennai Super Kings (CSK) led by MS Dhoni. Our associations with these brands and brand ambassadors provided us the much needed impetus to move to higher echelons of brand visibility and business impact. Simultaneously, in the last two to three years, as a category leader, our communication has focused towards making the pie bigger and growing the gold loan market as a whole. All our recent marketing communications have been aimed at growing the gold loan industry as a whole. As per a recent World Gold Council report, there is over 25,000 tons of gold held by Indian households. Less than 10% of this is actually monetised by way of gold loans, hence the opportunity and potential to grow this market is huge.
Q] How did you leverage your association with IPL 2020? How has the association paid off for your brand?
The pandemic limited the extent of leveraging our association with CSK during IPL 2020. We did miss the ground level impact and buzz that is usually created with a number of stadium-led activations, reward programs, staff and customer gratifications, player appearances and real meet and greets. Having said that, we do acknowledge that these were unprecedented times and hence not much could have been done. Nevertheless, we did our best to leverage our association through a digital engagement strategy titled #SpiritofGold and #TrustTheLeader. We created excitement across all our social media assets through contests, polls, celebrating winning moments, quizzes and much more and gratified winners with CSK merchandise signed by players. We also promoted our video assets with the players and leveraged our association across select Print and BTL mediums.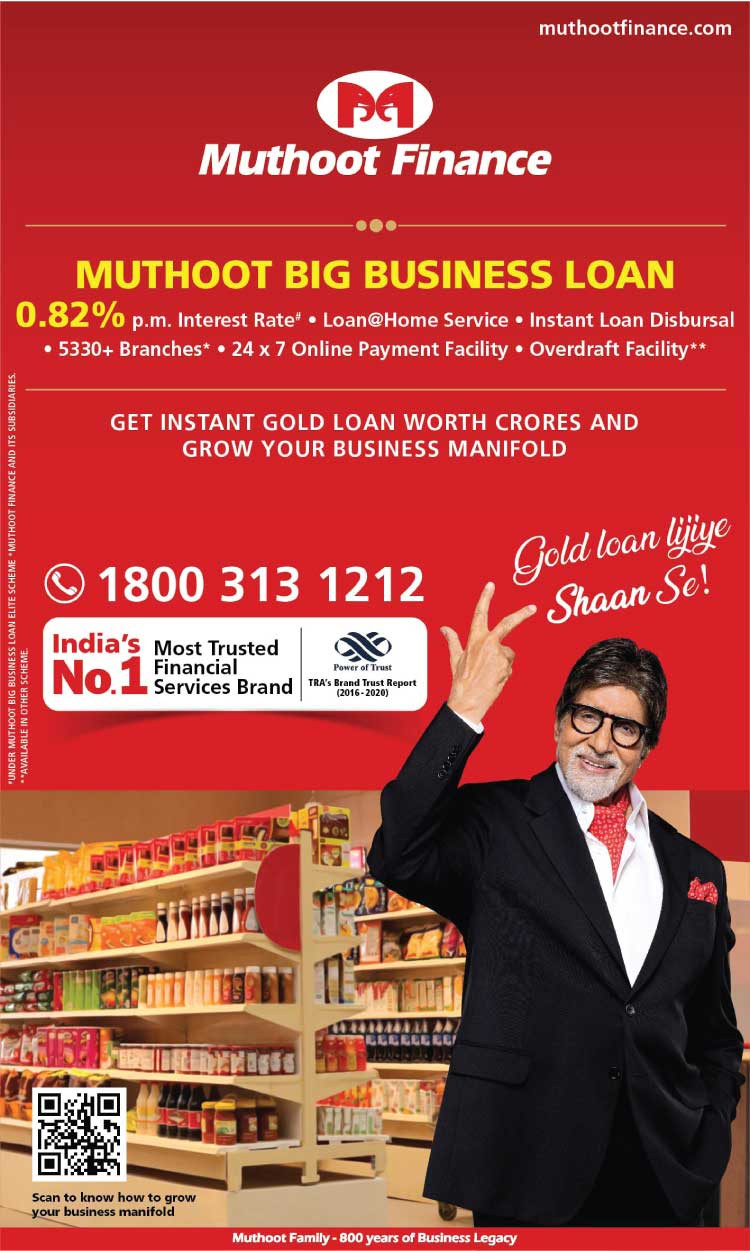 Q] You continued to advertise during the pandemic and upped spends. Compared to the previous year, by what percentage did you increase your spends? Are you looking at increasing your marketing spends in 2021?
FY19-20 was a very successful year for us at Muthoot Finance. We grew our consolidated Assets Under Management (AUM) by 22% and consolidated Net Profit by 51% from Rs 2,103 crore to Rs 3,169 crore. Buoyed by this performance, we increased our marketing budget for FY20-21 by more than 10%. Overall, we are expecting to grow our gold loan AUM by at least 15% this financial year and we will be taking a call on our marketing budget for the next financial year towards the end of Q4.
Q] In your last interaction, you mentioned that gold loans face a perception issue. What are your efforts in correcting this perception?
I was referring to attitude actually. Adoption of gold loans is a measure of the extent of attitudinal transformation that all gold loan players can bring about. First time loan seekers are hesitant or reluctant to avail gold loans –because they look at gold loans as a last resort. However, many other gold loan customers consider gold loans as a smarter option to access quick and hassle free loans and with interest rates at low as 0.82% per month, they find gold loans a much wiser credit alternative.
All our communications primarily aim at eliminating these inhibitions and misplaced notions of first time gold loan seekers. Our marketing campaigns have also created greater awareness about various Muthoot Finance Gold Loan benefits that have greatly helped in adoption of gold loans. We even encourage online interest payment by giving handsome cashbacks and now, powered by video KYC, customers can even avail our recently launched Gold Loan @Home service where our executives visit the customer's home to disburse gold loans in a highly safe and secure environment.
All these communication efforts and product launches have been aimed at bringing about this attitudinal transformation in the minds of our existing and prospective loan takers.
Q] Looking ahead, what can we expect from Muthoot?
Every year, we add nearly 150-200 branches to our network. More than 70% of our branches are present in the semi-urban and rural areas where 2/3rds of India's population resides and which contribute to 2/3rds of India's total gold demand. We strongly believe we are here to stay and grow in a big way.