Tanishq has always been one of the most active brands around the festive season. This year, the brand has used the narrative around the COVID-19 pandemic to ask its customers #WhoIsYourVighnaharta through its latest campaign.
Ranjani Krishnaswamy, General Manager, Marketing, Tanishq, Titan Company Limited tells us how the company has been celebrating humanity this festive season

Q] You have launched a special Ganesha pendant. What was the brief given to your agency, Lowe Lintas to promote it?
The narrative from Tanishq this year, has been about celebrating humanity, celebrating the innate compassion in human relationships, showcasing the many selfless acts that have emerged as the silver lining from the edifice of this pandemic. Our first consumer outreach was DuaKaSona2.0 that showcased the humble efforts at Tanishq during the pandemic and invited people to share their stories of #SunheriDua. The Rakhsha Bandhan campaign spoke of #CelebrateEverySister, a tribute to nurses who have been our fearless frontline warriors. It was but natural therefore for us to take forward the symbolism of Ganesha, the remover of obstacles, at this hour when humanity faces its greatest obstacle.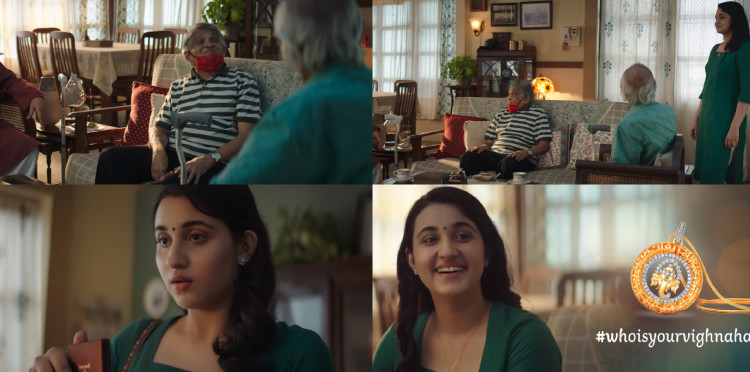 Q] Was the campaign the result of a personal insight?
This Ganesh Chaturthi we choose to focus on the Vighnahartas in our lives. They say god comes in many forms and more often in the form of man. This catastrophe has seen the resurgence of humanity as a force. People came together to fight the multitude of challenges in this pandemic and lockdown. New relationships of care and concern were forged, in small yet significant ways as people reached out to help within their community, neighborhood and country at large. This film is a tribute to all those Vighnahartas in our lives.
Q] What was the most challenging aspect while putting out the campaign?
The most challenging aspect was to give a slice of life feel to this campaign while delivering a very soulful message. We wanted the message to deliver many smiles without taking away the gravitas of what Vighnaharta meant this year. We were keen to capture the optimistic, upbeat sentiment without sounding dismissive of the reality.
Q] What will be the marketing mix for it and which medium will be the focus of your ad spends?
Our marketing mix for this campaign is a combination of Digital, Print and PR. We have realised that consumers are actively engaged on Digital as a medium, and VTR and engagement rates on our campaign have been very healthy. Print has always performed for us well as a response driven medium. We have also used PR strategically to talk about our design inspiration story. This campaign presents a new collection called 'Wear your prayer' a specially designed collection of Ganesha pendants with prayer engravings.
Q] Would you be spending more than usual or much lesser than what you spend each year on advertising, in this festive period?
Festive is a critical period for us every year, more so this year since Q1 didn't go too well for all of us due to COVID-19. The critical piece is to decide the right mix aligned to consumer sentiment and medium effectiveness. The media plans will need to take into account the media consumption changes that this pandemic has forced and special media opportunities that have surfaced as a consequence.
Q] For the first time this year, the festive season has coincided with IPL…will you be rolling out some IPL specific campaigns this year?
We are finalising our communication for the festive season. We are evaluating all the options, it is a little premature to comment on anything specific. We will decide this basis the pros and cons of each approach given our campaign objectives, budgets and prevailing media consumption.