From his home in Goa, Piyush Pandey, Ogilvy's Chief Creative Officer Worldwide and Executive Chairman, India is not only managing his team across continents and conversations with clients, but prolifically working on campaigns himself in the lockdown period.
Pandey, known for iconic public service campaigns such as the successful polio eradication drive, has now partnered the Government of India in the war against COVID-19. The first campaign made by Ogilvy for the Government, titled 'Mask Force', involves celebrated cricketers, who urge people to make their own masks at home and wear them while stepping out. According to Pandey, he named the series 'Mask Force' as it "would be a likeable term that could be used to galvanise the whole country". He has followed up with two more films in the COVID-19 campaign – one titled 'Setu Mera Bodyguard' with Ajay Devgan talking about the Arogya Setu app and the second with cricketer Harbhajan Singh and his wife Geeta Basra, an extension of the Mask Force series, teaching the public to make masks. Pandey has also lent his voice to the latest ad in the 'Har Ghar Chup Chaap Se Kehta Hai' #StayHomeStaySafe series for Asian Paints made by Ogilvy, recording his voice, of all places, in a walk-in closet! "I went to one side of the house, they were talking. I went to the other side of the house and there was something happening there too. So then I went to what was the most silent place – a walk-in closet! So, you improvise. It's like, it won't be your preferred thing, but if you got to do it, you got to do it," Pandey recalls with amusement.
Here are excerpts from our conversation with the veteran adman:
Q] Tell us about your work with the Government of India in the war against COVID-19. What next after the campaigns that are already out?
Now we are working on issues like stigma against COVID-19 warriors and looking after your elders. The messaging is in line with all the efforts being made to help people, help ourselves, help humanity. And I'm sitting here and doing that with the Government of India. Our first campaign was the cricketers urging people to wear masks, make their own masks. Then they say 'SetuMera Bodyguard.' And now we are taking up stigma and looking after elders and many more, addressing them in every way we can.
Q] How has been your experience of work from home now in times of lockdown?
My right arm is hurting a lot because I'm on the phone with somebody or the other most of the time. Otherwise, it's the reality and you got to find ways around it. If you ask me, my first desire would be to meet people, but given the scenario, let's not… instead, you meet people on your computer or phone screens, but you have to meet them. That way, I'm in touch with everybody. I used to work from my home in Mumbai quite a lot too, but there I met people. They would come home… It's different now, but contact is contact. Sometimes it cannot be in a physical form, but contact has to be maintained, things have to be discussed. So, yes, it's a different way and the only possible way, and we have to make the most of it.
Q] Do you think human contact can be replaced by virtual contact?
No, I don't think so. I think human contact is most necessary, we are making the most of what is possible. But, meeting someone in person is definitely a preferred option, but not an option right now.
Q] What have you observed about the work from home scenario in your company, in India and in other countries? What struck you as interesting?
It's an adaptation. People have adapted very well. See, in an agency culture you would meet together, you chat together, have a drink together, you share ideas together. So, you don't reach out to each other through technology as much. But because you don't have that option, people are talking a lot more to each other, as that's the only way.
Q] Is there any predominant cultural factor that you have seen coming to the fore during this lockdown period?
I always believe that we have a very different kind of culture. There is a lot of resilience and a lot of people reaching out to one another, and we have seen this in our homes. There is a strong culture and in any tough scenario like this, the culture comes out a lot more, teams get closer. It could be a sporting team, it could be any kind of team… people get so much closer when they're pitching together. So, you see more effect now. It's fairly common thing… neighbours reaching out, helping each other. So I would say that by and large that's what our society is. And stray problems, stray people not getting together. That is common to the world. We shouldn't worry about it.
Q] Is there a particular person or entity that has become your inspiration these days?
My inspiration is the people of India who are fighting like crazy to overcome this problem. I ignore the bad stories because there are so many good stories of people reaching out to help each other, being nice to each other. There is a lot of humanity that we are experiencing and seeing, and lot of it has been covered. I don't think humanity did not exist earlier… but in times like these, you get to see it, you get to read about it and hear about it more. For example, you see the cops looking out for a person staying alone… You see medical professionals inspiring people… there is so much everyday.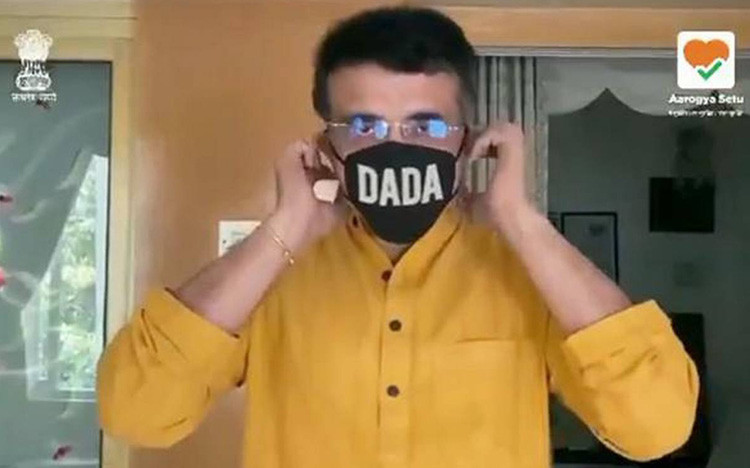 Sourav Ganguly in the Mask Force ad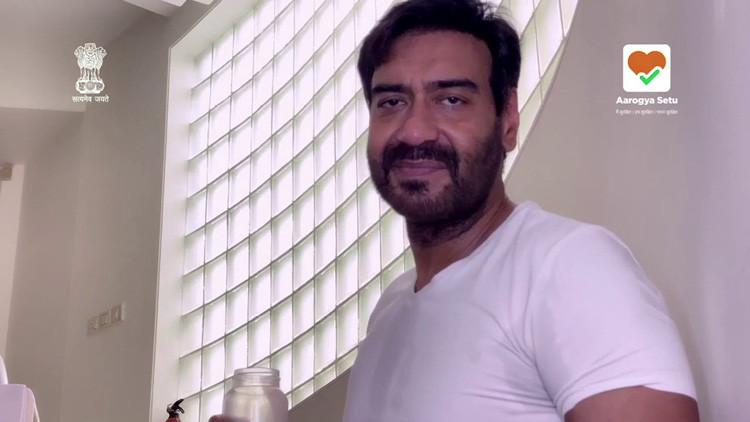 Ajay Devgan in the #SetuMeraBodyguard ad
Q] Have you seen any shift in the overall client-agency relationship in the past few days?
I think it stands as strong as ever. We bank on each other, and reach out to each other a little more often because things change every day. So, some relationships will always get stronger; not-so-strong relationships can get better and a few relationships are tested.
Q] How long does your day stretch?
My day has got extended now, because we interact with international clients too and their timings are not our timings. So they have been considerate. Sometimes they wake up early in the morning and sometimes I do. My day gets longer because international interaction has increased a lot.
Q] In the past few weeks, has there been anything new that you learnt – something you didn't do earlier and are doing now?
For the technology of managing things, I harass my wife Neeta... I'm still not good at it. I manage a few Zoom calls on my own, but otherwise I need help. I am also finding time to do some workouts, which I was lazy about. Apart from that, the domestic help of a lot of people have been locked out. In my case, they have been locked in so there's not very much for me to do. I think about them, that they can't go home, but on the other hand, unlike many people who are learning to cook and do a lot of things, I haven't had the need. I wish there was one person short; maybe I would have learnt something!
Q] If you were to sum up the current situation in one line, what would that be?
Learn to face a rainy day.