After a four year gap, Snapdeal is back with the 'Brand Waali Quality, Bazaar waali deal' campaign. In conversation with Soumyadip Chatterjee, Director, Brand Marketing, Snapdeal about the brand's new value proposition and why he believes the value segment will lead the e-commerce growth in India
Q] Why did you feel that this was the right time to come back with a proper marketing campaign?
Over the past four years, there has been tremendous building of capabilities internally, with respect to surveys, quality of products, supply chain management, delivery, and in terms of making sure that 100% of all the product offerings are actually value for money, all this was happening at the backend. And finally, now we are absolutely confident that when we go out and promise Brand waali quality and bazaar waali deal to the customer, it's not just an empty promise because we're already delivering that to our customers. So, that's why we felt confident that we are ready now. We have currently launched it as a digital campaign with focus on social media platforms and Youtube, depending on the results we are also open to mainline media campaigns.
Q] Why did you pick Genelia and Riteish for this campaign?
Genelia and Riteish are very active and extremely popular on social media. A majority of our customers are online today, especially over the past three-four years as the e-commerce cohort shifted from primarily urban, English educated audiences to people from the hinterland with data prices getting slashed, mobile getting cheaper. Also because of the pandemic they are spending more and more time online. Also, Riteish and Genelia are a perfect balance between the traditional and modern, they are parents and are fun. We wanted a positive, traditional, yet modern and trustworthy brand tonality, and these are common qualities between the couple and Snapdeal.
Q] Your premise is Brand waali quality and bazaar waali deal. Isn't that the proposition of all e-commerce companies i.e. getting best deals and bigger discounts from brands. What is different on offer here?
Majority of the e-commerce companies that are present currently are focusing on established brands and discounting those brands. We are bringing into focus newer brand names which provide quality goods at lesser rates. We reach out to sellers or manufacturers who are willing to make or already make goods of a certain quality. If they do well, they get great rankings, if not they get bumped off because they are not meeting customer expectations. India anyway has a very strong value manufacturing base, whether it is exporters out of Tirupur or bed-linen out of Panipat. These people have traditionally been very good at manufacturing, but they haven't really 'branded' themselves as they were selling to other retail channels. But many of these manufacturers have gone ahead with us and are now selling directly which helps them offer better prices. As of today, there is no other e-commerce player like Snapdeal, and we are leaders of the value e-commerce space. That is the huge differentiating factor. I don't think any other player is currently focusing on that.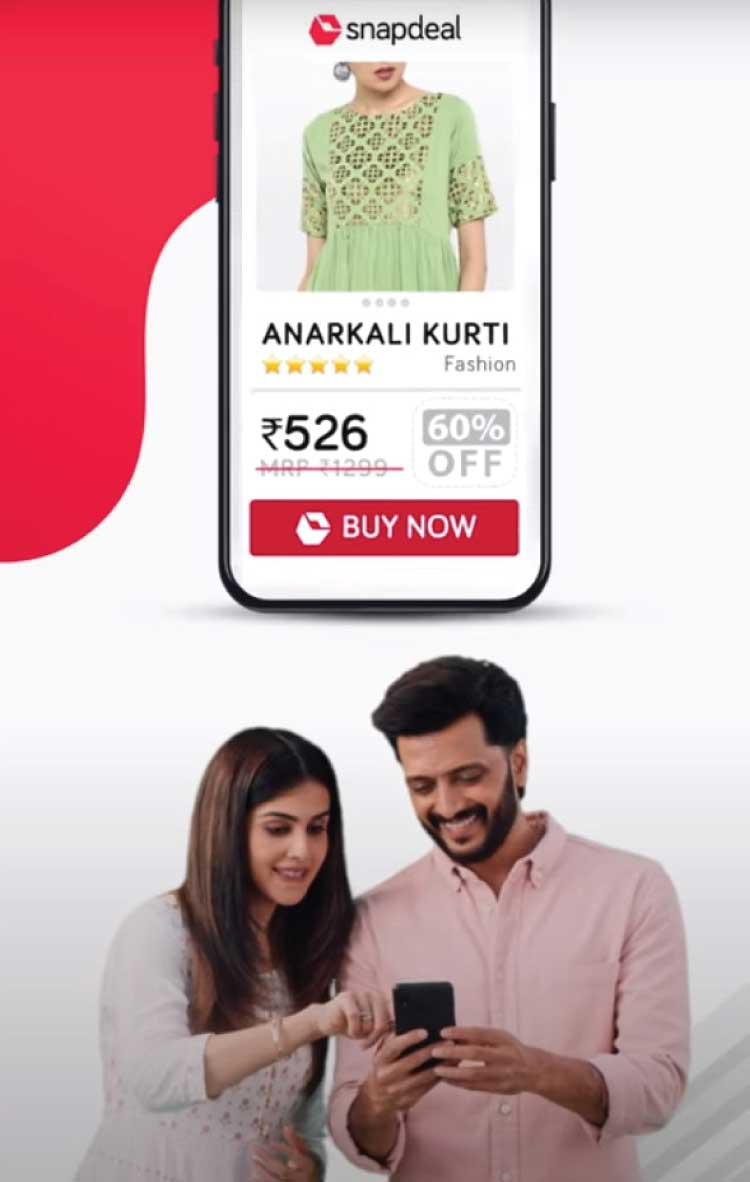 Q] What is the size of the value market across India versus the branded products market?
It's a great question, because most people tend to think that branded goods form a very large part of the market just because of higher visibility. But the fact is that the value market or the unbranded market is actually three times the size of the branded segment. Branded segment stands at $70 billion and the value segment around $210. Not only is it much bigger in size, but also the online penetration is very different. For instance, 45%-50% of mobile phones, 25%-30% of fashion and 15-20% of other goods are sold online. 15-40% of branded goods have reached online. On the other hand, the percentage of unbranded goods or the value segment is between 2- 3%. So it's really very early days. Our current traffic is skewed towards non metros, and we believe a lot of higher growth will come from there because a lot of our first time users are coming from the smaller cities. Of course, e-commerce in India always starts with brands, because with higher brand awareness, people know what to buy. And the moment you get a great deal, you and I would just buy it. But for unbranded goods it takes time to convey the promise and the premise. That's a lag that happened in China and we are following exactly the same trajectory in India where the value segment is building up. We're happy to be on the leading side of India's journey.
Q] Has staying away from advertising for four years affected your market share in a big way?
Currently, we serve around 5% of the of India's connected world, so about 30 million users have bought from us last year. The way we look at market share is-- who are we serving. We are serving the value segment as 100% of my assortment is based on value price and value quality and within this segment, we are the leaders. We are not competing in a high-discount, leading brands space because the only way there to grab market share is to burn more money in discounts and promotions. We believe there's a far more robust business model to be built that we have built, which is not only scalable, but also profitable. Value e-commerce will drive the growth of e-commerce in India and will also be the most profitable, economically viable sector going forward.
Q] Are you also looking at launching new verticals in the delivery space like your competitors?
We delivered groceries last year in response to the pandemic but that was more about serving people's needs at that point in time. But groceries are not a target segment for us. You need a very different set of deep capabilities for it which many players have built already, so we will not do groceries, or even a large segment like pharma for that matter which requires a different set of backend. The segment we want to focus on is fashion home, personal gadgets, accessories, it's a very large market, lots of people are still to graduate to this level of consumption. And serving them well is a huge opportunity that we would like to get better in.