Q] Whose brainchild was the ad campaign, did the idea come from the agency or the production house delivered it end to end?
The idea came up in an internal discussion. The brain storming session was around how we can disrupt the cluttered marketing in IPL and create a high impact campaign.
We had seen that to associate with IPL, multiple brands try to pick up logo placements in different team jerseys in the IPL. The costs tend to be high and the ROI may not be in line, and also it is done to death already.
The discussion was to do something that is unheard of, so we can stand out & make a big impact. Cricket was a good bet as it is a great unifier and connects across our diverse cultures.

Q] How difficult was it to link India's largest merchant payment network to IPL...and to ensure the connect doesn't look forced?
For Indians in any part of the country, Bollywood & Cricket are the biggest unifiers. Our target group is small merchants, and cricket finds great resonance with them.
Hence, building a connect with our target audience was not even an issue. The idea of signing up 11 cricketers was unique and unheard of.
We decided to sign up 11 cricketers as we believed this will help communicate our team of offerings to the merchants in a high impact manner.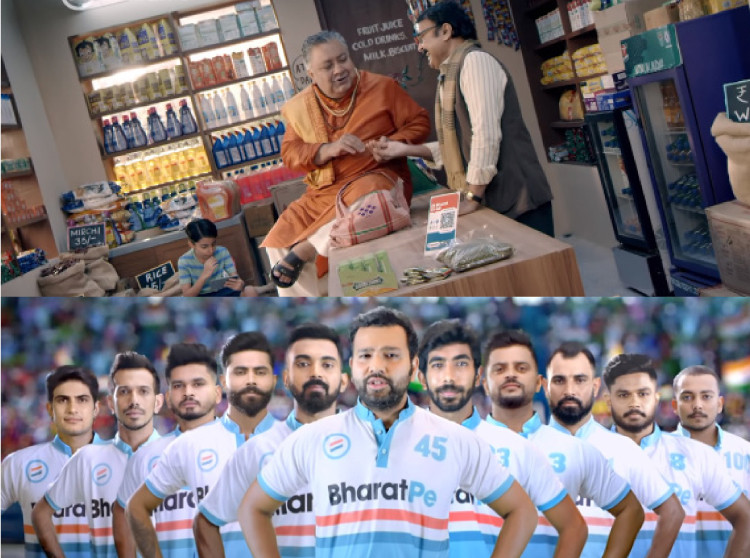 Bharatpe has signed up Rohit Sharma, Jasprit Bumrah, KL Rahul, Mohammed Shami, Ravindra Jadeja, Suresh Raina, Shreyas Iyer, Prithvi Shaw, Sanju Samson, Yuzvendra Chahal, and Shubhman Gill as brand ambassadors
With this flagship campaign Bharatpe will go full throttle across TV, Radio, and Digital media
The brand is spending around
INR 15-20 crores on this campaign over the next few months



Q] Why was it important to take 11 brand ambassadors for the ads and is that even cost effective?
The campaign was devised around the concept of #TeamBharatPe that supports small shop-owners in growing their business.
We decided to go ahead with a team of 11 cricketers as we wanted to drive home the message that our team of financial products can help SMEs scale their business and make more profits. I believe our idea is disruptive and it will enable us to carve a niche for ourselves in this cluttered market.
When majority of other brands were following the trend of getting their logos on the jerseys of IPL teams, we decided to think differently and build our own Playing XI that can power us to promote our suite of products. I am confident that this cost effective idea will create ripples in advertising.
Q] What is the marketing mix for the campaign and how much are you spending on the campaign overall?
This is our flagship campaign of 2020 with 11 top stars of Indian Cricket, we will go full throttle across TV, Radio, and Digital media to create a 360 degree impact across small retailers in India. We will be spending around INR 15-20 crores on this campaign over the next few months.
Q] Tell us about the behind the scenes action during the ad shoot?
It was really fun shooting with Rohit Sharma. He was really funny on the sets. Jadeja and Raina were really professional and actually better than a lot of actors that I have worked with before. Also, the other actors in the TV films were very spirited and accepted our last minute requests without any fuss.
Q] Were there any challenges considering that the shoot happened post the lockdown?
The TVCs were shot post the lockdown and yes the challenges were there. Keeping in mind that there were multiple shoots at six different locations including one international spot, and safety needed to be given highest importance, this was a challenging project to execute.
However, the entire project was managed well by the production team of ArtE MediaTech.