Indian Society of Advertisers has laid out some ground rules for better business practices, including the right to audit, a demand for Agency Volume Benefits (AVBs)and rebates to be passed back to the advertiser, and a host of dos and don'ts for digital media spends etc., leaving the media and digital agencies confounded and partly rattled. Some leaders from the media agencies say there were no consultations with them before releasing these guidelines which the advertisers may well consider as their holy bible in the months to come. Others say that a lot of what ISA has put forth is already being practiced in the country by the agencies, so fair practices are being followed, it is just a question of making all advertisers- big or small aware. Yet there are 'arbitrary' terms in the ISA charter which have gone on to ruffle feathers, with the agencies crying foul.

Debraj Tripathy former MD, Mediacom South Asia, now a Brand Consultant says, "While the advisory is directionally correct. It seems to be absolutely one sided. I'm not sure whether they have considered the maturity of clients and agencies. For e.g., to execute their guidelines for digital media to the T, the agencies will have to deploy tools which won't come cheap and will exponentially increase the cost of advertising, so for the smaller clients it will still be a challenge. It should have been explicitly mentioned in the charter. If you give advertisers a blanket advisory, every client will go and ask for A, B, and C simply because ISA has given them this advisory, and failure to carry it out by agencies will make the client feel cheated, creating tensions between the two parties. An audit heavy and data heavy advisory like this will need a lot of resources to implement, which most clients may not be able to."

Talking about the challenges of Digital media, the charter asks advertisers to ensure that the operating framework covers ad verification, with ad fraud, viewability and measurement, and brand safety included in it. On programmatic media buying, the charter wants advertisers to demand 4th party invoices used to buy media inventory on their behalf; agency trading desk systems; side platforms and other reporting interfaces, including ad verification platforms.

Exercising a word of caution on the implementation of the advisory, Janani Kandaswamy, Senior Category lead - Brand Marketing, ITC Ltd says, "Agencies, especially digital ones are meant to be agile in their planning and execution in line with the consumer's online behaviour. So, the regulations should continue to support agility and provide leeway to all measurement systems having some margin of error. Aiming for 100% perfection in tracking media campaigns causes frustration at best and paralysis at worst."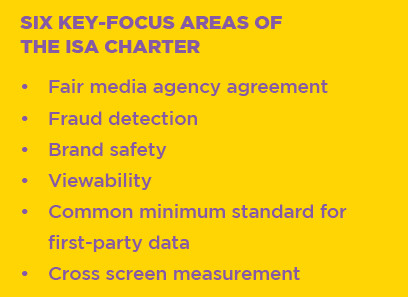 Another bone of contention here is of course the benefits, or what is known as AVBs. This is not a local Indian advertising problem, it is a global issue. In fact, The Mexican Chamber of Senators and Deputies passed a law on April 30, 2021 that allows agencies to receive compensation only when it has been agreed to by an advertiser in a contract. The law also states that clients will receive entire rebates received by agencies from media houses.

The ISA has emphatically suggested the need for a clear-cut contract to define AVBs. It says, 'Make sure the contract is clear about what is defined as a rebate as it relates to income or benefits received by the agency group because of client billings. Ensure that your definition captures all types of rebates including fair share, fixed or minimum, cash, offsets and free space. If it is your spend that results in rebates being received within the agency group, ensure they are all passed to you, no matter which agency entity or the country receives them.'

An agency leader on the condition of anonymity says, "Rebates are a product of large volumes, a brand contributing very little cannot expect us to pass on the benefit." Largely media agencies buy media in two ways - one by negotiating specifically for the client, and second when they pre-buy in bulk and sell that inventory media to clients, where the agency is taking a risk at their end by using its own funds. By the virtue of buying media for many small clients or hitting a big number with a few clients they get rebates from the media owner.

The ISA charter also informs advertisers that they should not be 'financially penalized by loss of rebate if late payment by the agency or another client caused a loss or reduction of rebate.' The charter is also suggesting that advertisers should be allowed to audit the 'whole of agency turnover', also bringing vendor contracts under scanner.

Sunil Kataria, Chairman of ISA and CEO-Lifestyle Business, Raymond Ltd., said in a statement, "The ISA Media Charter is a ground-breaking milestone in the organization's ongoing efforts to shape an efficient and effective advertising landscape in India. As India's advertising media spending continues to surge, it becomes essential to have a clear and equitable framework that protects the interests of brands, and fosters healthy relationships between advertisers and media agencies."

"The launch of the ISA Media Charter is a testament to our dedication to creating a transparent and mutually beneficial ecosystem for advertisers, media agencies and media partners. We believe this initiative will pave the way for collaborative partnerships that drive innovation, efficiency, and growth," says Ankit Desai, Head - Media, Digital Marketing and Brand PR (India and Global Centre of Excellence), Marico, and ISA Media Forum Co-chair.
As expected, agencies are not happy with the suggestions, especially Digital ones that are starting to grow. In the face of entrepreneurial challenges, such small agencies now have to accommodate a whole roster of demands in order to stay relevant in the advertising world. The common sentiment is that marketers should raise the fee instead of looking to saving costs, and focusing more on efficiency. The fact that agency commissions have gone down significantly, the handing out of AVBs is seemingly harsh. In the meantime, ISA has already constituted an internal committee which will develop unified measurement standards for both TV and Digital platforms.
Here, the question of reformation and transparency is coming into view. Advertisers have the sinking feeling that they are losing out on the benefits, even though such benefits are received by agencies on the back of client billings.