Since the pandemic struck, Indian dairy brand Keventers, known for its milkshakes has changed its business approach, focussing heavily on delivery and also expanding its menu by adding categories such as ice-creams, smoothies, and other dessert options. Aman Arora, Co-founder & CMO, Keventers tells us how the brand navigated through both waves of the pandemic, while detailing its media and communication strategy during these challenging times
Q] How have the last 14 months been for Keventers? How has the pandemic affected your business?
The last 13-14 months have been a roller coaster, full of ups and downs. Our business is highly dependent on the people who walk into our store. And due to the lockdown our sales have been affected. Historically, our business has always been 60% towards takeaway and 40% towards delivery and it has only grown in the last few years. There was a time just before the second wave, which is exactly one year after the first lockdown, around the months of February and March where our growth was 20% and it was a really an encouraging sign for us. And when we look at performance, we look at the sale of February last year versus February this year. And we saw a good increase in sales in the month of February 2021. Then, of course the second lockdown happened and the sales dropped again. But now the lockdown has been lifted for the past two weeks. Things are back on track, and we're doing the same numbers again.
But of course, from a takeaway perspective, our business has been directly impacted by the lockdowns that we've had. Sometimes we have to shut early in some areas due to the lockdown rules and business becomes zero for that area during that time. However, to sum it up, if I compare the sales of 2020, which is pre pandemic versus February 2021, we saw a growth of almost 15% to 20%, which is great.

Q] How important is Gen Z to your brand, and what is your marketing strategy for this demographic?
As a brand, our motto is always to be two steps ahead of competition and to stay connected with the generation. As we move along, the culture and people's habits will also change over time. So, we've always kept the Gen Z in mind, and when the next generation will come in, our focus will also move to that generation. We manage both very well, because it's a legacy brand after all. We've got a lot of customers who are old, and consuming our products for generations and we also have a new set of consumers that is becoming independent. So we're targeting everyone, through our new line of ice creams and our packaging. We have a new range of products also, and are innovating to keep delighting our customers.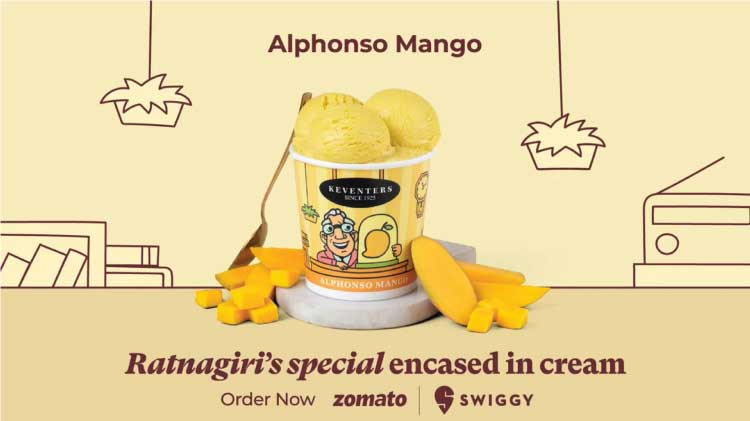 Q] Since online shopping and digital first products have seen tremendous growth, how much traction is generated for your products from e-commerce?
Our online business is essentially a delivery business. Initially, it only started with maybe about 5% to 7%. We've seen the platforms of Zomato and Swiggy grow year on year. Pre pandemic, they've reached a level of 40% towards delivery, which is online and 60% towards takeaway. As we speak today, we're looking at 60% towards delivery and 40% towards takeaway. However, I'm not sure if this is going to be the trend – we may see a 50-50 split as more places open up. We have to wait and see how the trend evolves but my estimate is that it would be 50-50 for both online and offline.
Q] How has your media mix changed since the pandemic struck?
On the media mix, we've moved a lot towards Digital, simply because we can't do local store marketing, so there's no point in investing on those collaterals. So our media mix has been primarily Digital, about 95%. We also do a good deal of influencer marketing and have roped in a lot of micro and nano influencers for our communication. Earlier, we used to invite people to our stores but now we have to reach them at their doorstep. So through effective packaging, we are now sending our products to influencers at their doorstep. Then there is also aggregator investment on Zomato and Swiggy, which are an important channel for us. So I would say we divide our budgets, allocating 40-50% towards aggregators and maybe 30% towards performance marketing. The rest is allocated to influencer marketing campaigns or CRM.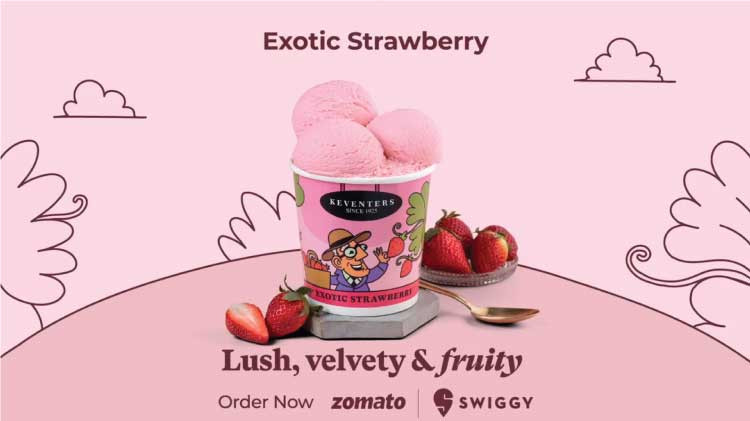 Q] What are your plans for expansion? How important are tier 2 and 3 markets for the brand?
We've not seen growth in terms of outlets because we were not able to construct outlets during the pandemic. Now, the construction has started and majority of the demand is coming from tier 2 and 3 cities, where we will also look at a slightly different format. People usually tend to open the best outlets in the bigger cities but we are doing the opposite. We believe that non-metro stores need to be developed as a destination point where one can spend more time and that's what we are moving towards. We will give consumers a more experiential feel in the new stores. And in tier one markets, we are also focusing on cloud kitchens.
Q] What will some of your key focus areas be, going forward? How will your marketing strategy evolve in the future based on the learnings from the pandemic?
Our marketing has been evolving. Last year was more about telling customers that we are following all safety protocols. Then we moved towards inoculation and currently we're talking about how everyone is vaccinated. Now in the post vaccine world, there's going to be a slight change from how marketing was done previously. But definitely hygiene has become extremely important for people. Also, Digital has become probably the best way to reach out to a customer. Your costs and spending have become far more optimised and you get to know the consumer better too. Today, our focus is on targeting the consumer better and understanding them better.