Observing that luxury housing has in fact grown in importance than ever before, Mansi Saxena, Head of Marketing at Lodha Luxury discusses the insights behind the brand's latest campaign that urges consumers to chase their dreams and turn them into reality
At a time when luxury brands are confronted with new challenges on account of the pandemic, realty brand Lodha Luxury has rolled out a new campaign urging consumers to make the most of the time that is 'now'. With the hashtag #WhatAreYouWaitingFor the campaign reminds consumers that they should continue to chase their dreams 'now' before life can pass them by. "The campaign pulls at the heartstrings of the viewer. It is in the differentiated, fleeting memorable moments of life, where dreams are built, and what better time than now to turn them into reality," the brand said in a statement.
Campaign Insight
Speaking about the insight behind the campaign, Mansi Saxena, Head of Marketing at Lodha Luxury says, "All of us tend to wait for some milestones to make our dreams a reality. This campaign is driven by the insight that the time is now, to live your best life. The campaign captures several beautiful moments unfolding at Lodha Luxury's many spaces, aptly signifying the very essence of an enriching life. With this very thought, we conceptualised the campaign urge the viewer to be a part of the beautiful, indulgent experiences that Lodha Luxury has to offer, without further ado". She further remarks that the campaign is a reflection of the celebration of life, as told through the Lodha Luxury filter.
The campaign, which has been conceptualised in partnership with ANC, will be amplified with a media mix that includes both traditional and targeted digital media. "The target audience for Lodha Luxury is absolute UHNIs (Ultra High Net Worth Individuals) and luxury connoisseurs. It's a 360 degree campaign that comprises of hyper local traditional media, which is Out Of Home and Print. We will also have a targeted digital media plan – covering connected TV, Social, Spotify, programmatic and display advertising," adds Saxena.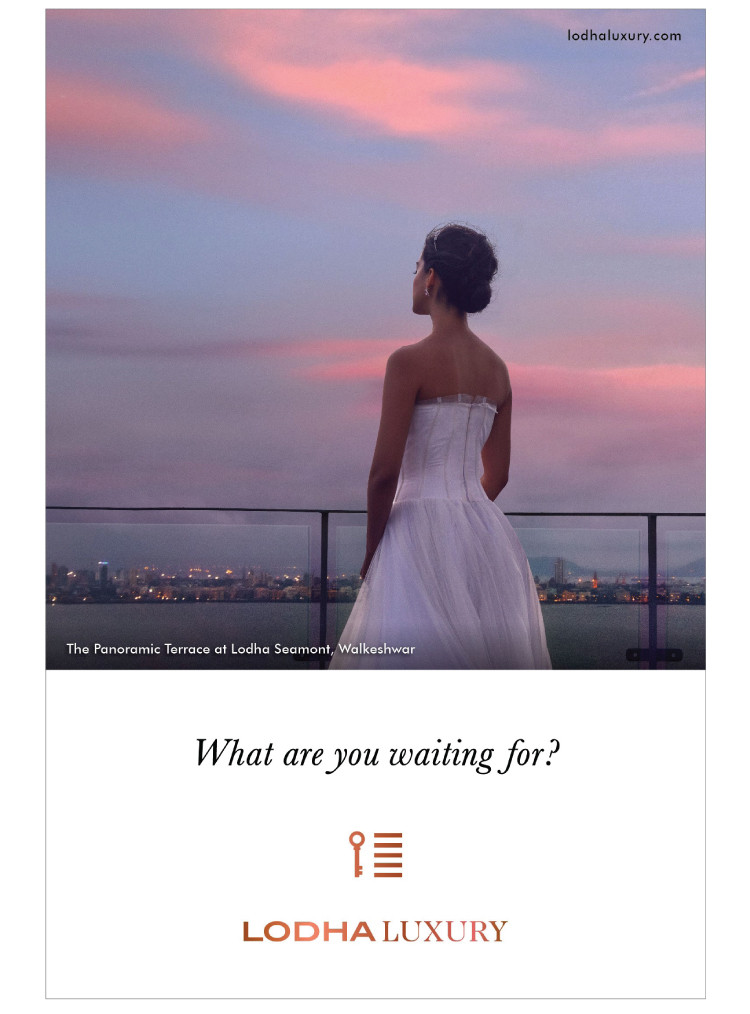 Luxury housing in the pandemic
Despite the pandemic and subsequent slowdown of the economy, the markets for luxury goods and housing are growing at a good pace in the country. Saxena points out that luxury housing has in fact grown in importance than ever before. "The luxury sector in India has come a long way. Consumers are looking beyond the mere price tag and focusing on experiences that enrich their lives. It's the experience economy and the luxury connoisseurs are constantly on a look out for authentic, high-quality, meaningful experiences. Luxury housing, especially since the pandemic has become more important than ever before; with consumers realising the importance of a home, beyond the residence," she notes.
The importance of low-density living, with seven star lifestyle amenities, privacy, security and personalised service has become more relevant than ever before, which is where Lodha Luxury comes in. Saxena further adds, "Lodha Luxury's properties have been designed keeping in mind the preferences of these consumers, with deep attention to detail and a dedication to provide the true blue standards of luxury living in the country. It's like the campaign unveils – a home is where life unfolds, and a Lodha Luxury home is where one can live their best life. For consumers looking to make no compromises when it comes to wanting the absolute best in class, a brand which is crafted keeping in mind the needs of this consumer set, will always be the top choice."