Q] You founded Vserv in 2011. How did it all get started – can you take us through Vserv's journey? And, what would you say was your first big milestone?
Vserv's journey can be split into two phases. The first phase was from 2011 to 2015-2016, and the second phase commenced after 2017, which continues to the present day. During phase one, we were focused on the feature phone market, and we had a flagship product called AppWrapper. We built a large advertising business on the back of AppWrapper solution. It used to smartly integrate ads on the launch and exit of apps with zero code effort. This was when smartphones were yet to really hit the market. But the whole concept of app stores and the way content used to get consumed, started from 2015-16. So, obviously smartphones and apps are what changed the market for everyone, and not only smartphones, but also the growth of app stores.

In the second phase of our journey, which we are presently scaling up, our flagship product is AudiencePro – a customer intelligence and activation platform. It allows marketers to access quality customer intelligence so that they can make Digital marketing more efficient. It helps them to leverage this alternate intelligence on consumers for achieving their growth goals as well as for retention. They can leverage this intelligence on Facebook, Google, programmatic platforms, or any OTT app, making both brand and performance marketing more efficient. Any of these platforms can be configured on AudiencePro, and marketers can use it for retention marketing, and personalization.
Q] As a consumer intelligence platform that collects consumer data, how do you deal with the current concerns around data privacy and the shift towards cookieless environments to ensure continued success?
The platform is built with privacy design at its core. Our platform allows marketers to borrow second party segments, so intelligence can be borrowed from other enterprises to make Digital marketing efficient. At the core, our underlying technology is a 'zero-storage' platform. So we are seamlessly able to pull intelligence from enterprises and leverage that intelligence for growth or retention pool, and none of this intelligence is stored by us. Think of it this way – we fetch intelligence, we activate intelligence, and then the intelligence is deleted, and there is no user data stored.

So an advertiser can deploy first party data on the tool, can generate a lot of insights, run campaigns in an unduplicated manner, and measure outcomes. There are multiple features that a marketer requires, and the tool offers all these feature techs. Similarly, the platform offers a lot of feature tech to enterprises from where we borrow this intelligence in an anonymous manner. Both parties require a platform that helps them to connect with each other where the intelligence is leveraged. So, for us, whether it is the consumer, the enterprise from which we are seeking the intelligence, or the enterprise that is borrowing the intelligence, the platform meets all requirements for all these stakeholders. At the same time, there is no consumer intelligence that is ever stored on the platform.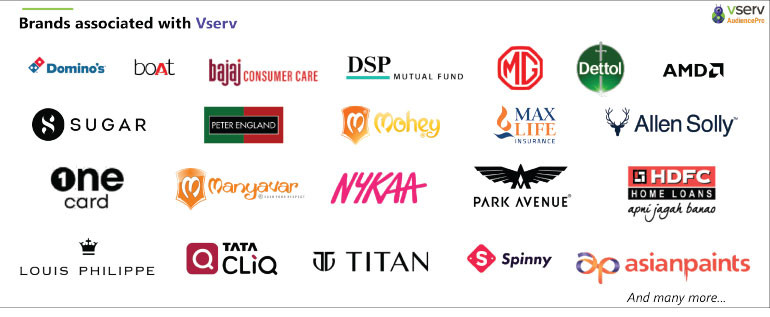 Q] Please tell us about the type of clients and the category of brands that utilize your platform services.
Vserv AudiencePro works with brands across categories, i.e FMCG, Auto, E-commerce, BFSI, Retail, Consumer Tech, Real Money Gaming, D2C, etc. There are different kinds of meaningful KPIs that we deliver. Under the BFSI sector, we have various verticals, whether it is a mutual fund vertical, or insurance verticals. Under the e-commerce category, we work with all types of brands, additionally, there is auto, and OEM. We have customers across every main vertical and sub vertical, and we cater to both large and mid-sized enterprises.

As a consumer intelligence platform, today we have access to over 550 million profiles on our platform. There are over 700 attributes that are valuable, deterministic consumer behaviour attributes. So, with the scale of user profiles which we have access to, the platform picks up the intelligence and then connects it to the marketers, AdTech and MarTech platforms. The core technology of the platform is a zero-storage platform.
Q] I read in an earlier interview of yours that you're focusing more on the India market, trying to penetrate deeper pockets of the country.
That is absolutely right, the India market has so much potential. We are multi categorised, catering to both sides of the marketing mix, whether it is retention marketing or growth marketing. Today Google or Facebook don't cater to retention marketing, they only cater to growth marketing. WebEngage or a MarTech platform caters to the retention market. So, given the fact that we work on both sides of the value chain and across verticals, our strategy is to just focus on India. We are constantly thinking how to go deeper into India, while working with large enterprises, or mid-sized enterprises, or even the SMEs, so that they can conveniently use our self-serve tool and leverage their platforms.
Q] How have you grown in the past few years, talking about AdTech in particular?
I won't be able to share the revenue numbers, but yes, in the last two years we've grown 300%. So, if the market has grown by about 35% in the last two years, cumulatively, we've grown 3x times more.