Bausch + Lomb is one of the top players in the optical lenses market and one of the few brands to have completely changed its marketing strategy to do away with the Television medium. Sanjay Bhutani, MD, Bausch + Lomb India tells us why
Q] What was the insight behind the Holi campaign where you asked your consumers to not wear contact lenses?
Regrettably, some of the Holi colours sold may contain harmful chemicals that can be detrimental to the eyes. We at Bausch + Lomb are committed to helping our consumers see better, live better and as part of that commitment, we prioritize vision care and safety. Hence it was important for us to inform our consumers to not wear contact lenses while playing Holi. The campaign successfully achieved that purpose and helped us in reinforcing our commitment as a brand that cares for consumers.
Q] What is the marketing mix for it and which medium is the focus of your ad spends?
Most of our marketing strategies are Digital first, focused at today's digital-savvy consumer base, and our Holi campaign was no different.
Q] Until a few years ago, we saw several Bausch + Lomb ads on TV, but of late, you haven't advertised on TV; why?
We have moved away from TV to more of Digital because if you look at the TG, it's the young people who start with contact lenses and they are more available on the Digital medium than mainstream; they hardly watch TV. So we felt that is the right way forward for the brand. Even the 40-45 age group can be specifically targeted on Digital. It's much more cost-effective. We don't end up burning our money as fast as we do on TV. The same campaign that runs on TV for a short duration can run all year round on Digital.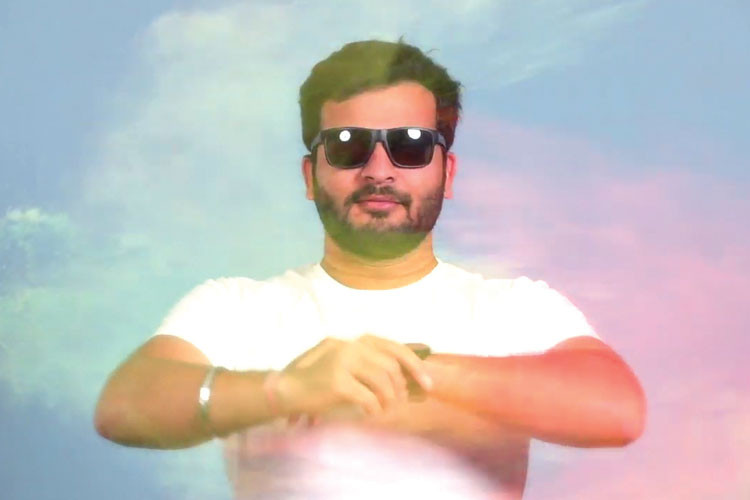 ABOUT THE BRAND
Bausch + Lomb is the market leader in contact lenses and lens care solutions in India. The company has a global history spanning more than 160 years. Their offerings span the entire spectrum of wearing modalities and include brand names such as Ultra, BiotruONEday, PureVision2, Soflens and Lacelle in the coloured contact lenses segment.
FACTS
DIGITAL AGENCY: DDB MUDRA (LACELLE CAMPAIGN), SOCIAL KINNECT (HOLI CAMPAIGN)
PR AGENCY: WEBER SHANDWICK
Q] How much do you end up spending on marketing now in a year?
It would be about 12%-13% of our overall revenue.
Q] For your #PartyEyessential campaign for Lacelle, you used influencers widely. How did that benefit the brand?
The insight was that the market for colour lenses is much wider because anyone, even with normal eyesight, can use the zero-powered colour lenses, and not just people who require vision correction. The target audience for this, young women, are on the digital platform and many of them rely heavily on influencers. In fact, we realized that for any new category, influencers play a role in getting consumers to try the products. Otherwise, lenses are not widely used products. In fact, only 6% of the people needing vision correction use contact lenses. So we needed to first make people aware of the product, how to use it, where to buy it, how to put those contact lenses. That's where you need the help of influencers.
Q] People are largely afraid of using any external product inside their eye. So what are the steps you are taking to expand your market and make people get over their apprehensions?
We did extensive research on this a couple of years ago. There are two things about contact lenses; one, people think they are expensive and two, what we call 'pokephobia'. People are worried about poking their eye. So that's where we are spending our money, talking about how the contact lenses are not expensive and also breaking myths about putting contact lenses in your eyes. Once you try the product, life is simpler.
Q] Do you have a lot of BTL activities?
Yes. Our Digital journey doesn't end with just talking about the product. We also ask people to take trials, for which we have tied up with many retail stores in the country where they can go and pick up the lenses and try them on. We carried out many interesting activities like 'Blame the frame.' We also made four short videos which essentially focus on the daily life of the people and how spectacles could be a hindrance in doing many important things, then we tied up with many fests like 'Comic Con', etc.
Q] What are the biggest changes in your marketing strategy?
We have been in India since 1992. We have had sweeping changes in our marketing strategy since then. When we first came here, it was more about educating the retailers about lenses. For a couple of years, we tried TV. At that time, we didn't have a big range of colour lenses. Now, colour lenses are also coming in. Since the last two years, we are more digitally-led and the attempt is to widen the market.
Q] What is the biggest challenge you face right now?
The biggest challenge is still the penetration rate, it is still 6%, 20% of which is in urban markets, in Tier II and Tier III cities, it would be much lower. How do we increase that? Like I mentioned, in India there are two big issues - cost and pokephobia. The third one is education. So, optometrists in the country don't have a formal course on contact lenses. We have been training optometrists on various kinds of contact lenses. Also the market is upgrading. Initially, we used to have yearly contact lenses, now we have monthly ones. The wearability also depends on your lifestyle. For example, if you are a person who spends 10-14 hours versus 8-10 hours with lenses on, then there's a different contact lens for you. Now we have so many brands, so many modalities, the challenge is to split our spends in such a way that we do justice to each.
Q] Which are the products you are betting on?
Our best-selling contact lens is also the Number 1 in the market, i.e., SL 59. Then we have iConnect which is cost-effective, it costs less than a cup of coffee, besides our colour lenses collection. The latest in technology that we have got is hypergel. So, the evolution of soft contact lenses started with hydrogel lenses. Then in the 90s, you had a new material called silicon hydrogel and then came 'hypergel' which matches the cornea's water content, at 78% water, to provide all-day comfort. As you increase the water content, the durability of the lens goes down. So monthly lens would have 55% to 60% water content, and yearly ones will have 38%.
Q] Which are the biggest competitors that you see in the market today?
We are the market leaders with over 60% market-share. The other big player in the market is Johnson & Johnson.
Q] Which are the big markets for you in India?
All markets are equally important. But in terms of revenues, South is the biggest.
Q] What are the emerging trends in the lenses market?
People are opening up to the use of colour lenses as a fashion accessory now, even those with no vision correction requirement.
Q] Can you share any interesting insight picked up while interacting with your consumers?
Last year, we had a tie-up with Avengers, it was a 3D movie and we realized that people with spectacles were finding it very difficult to put on 3D glasses. That was an opportunity for introducing them to contact lenses.

CMO FILE
Sanjay Bhutani is the Managing Director of Bausch + Lomb. He is responsible for managing overall operations with demanding commitment to results. Bhutani enjoys a client-facing role and the challenge to grow the business, values, mission, vision, short- and long-term goals. Creative and innovative, he has generated a robust pipeline of Business Development and M&A initiatives.
MARKETING TIP
Digital is the way to go. It's more targeted, cost-effective.