Q] What was the thought behind roping in Alia Bhatt as the brand ambassador for Blenders Pride?
We've had a very fruitful 12 year association with Priyanka Chopra where the brand has gone from strength to strength, and it has been a mutually rewarding partnership. But as a brand, we had reached a point where we realized that the younger consumers of India - 25 to 35 years old, are extremely different in their behaviours and aspirations. All our brands, irrespective of the category need to reinvent themselves to remain relevant and aspirational for these younger consumers, which meant that we had to start imbibing a lot of values that the consumers relate with. And when we looked around, there was no better person than Alia, who embodied all the values that we were looking for. She's a very talented, multifaceted actor, has done diverse roles and has been doing exceedingly well in her career. It's this value that sets Alia apart from the rest.
Q] Tell us about Blenders Pride's campaign - 'Made of Pride'. What kind of consumer reactions have you received so far?
After our extensive research, we realized that the youth of today do not necessarily need a trophy or an achievement as a metaphor for pride. They take a greater sense of pride in their own value, belief system and their multifaceted personality, they have a far greater sense of pride in who they are. And that's what we have tried to capture in our new campaign which is called 'Made of Pride,' which says that pride is actually within. We really wanted to manifest the newer codes of pride, which the younger cohort relates to.
It's still very early days, but we've only received fabulous feedback from all different corners. We want to take this for a massive 8 to 12 week campaign, burst multimedia approach on through the line as we go along. So, it's great because visually it's stunning. It's Alia in a never- seen- before avatar. A very different kind of visualization that she is being a part of from other brands.
Q] What was your brief to the creative agency for the film?
My team spent a lot of time brainstorming with the creative team at the agency. Again, the new value that the younger consumer related to pride was put out on the table. Its manifestation was discussed, debated, and brainstormed. The creative idea was born, the agency presented the whole campaign with scripts. It's a fairly long process, it took us two months to finalize everything and we waited for a long time. August and September was when we got one good window of opportunity, Alia was available luckily, and we went ahead and shot the film.
Q] How are you amplifying the campaign and what kind of budget have you devoted towards it?
A lot of this is going to be dependent on how the current pandemic and lockdown pans out. It might stagger it a bit more. But by and large, we're looking at a better part of about 15 crores to go after this in the short term via Digital, Television, Print and Outdoor as well.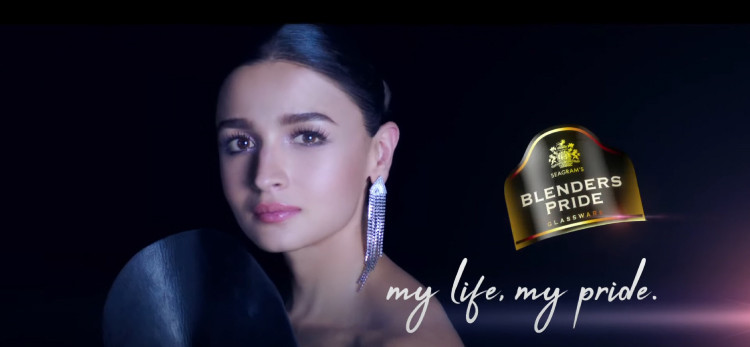 ABOUT THE BRAND
Pernod Ricard India is a fully owned subsidiary of Pernod Ricard SA and is a fast-growing multinational alcohol beverage company. With brands in each category, Pernod Ricard holds one of the most dynamic and premium portfolios in the industry led by Seagram's whiskies such as Royal Stag, Royal Stag Barrel Select, Blenders Pride, Blenders Pride Reserve Collection, Imperial Blue, 100 Pipers and a wide range of International premium brands that include Chivas Regal, Ballantine's, The Glenlivet, Royal Salute and Jameson Irish whiskey.
FACTS
Creative Agency: Lowe Lintas
PR Agency: Avian WE
MARKETING TIP
Respect the world around you, everything that happens has its impact on consumer behaviour, so keep your eyes and ears to the ground, adapt quickly and you'll emerge as the winner.
PROFILE
Kartik Mohindra is the Chief Marketing Officer at Pernod Ricard India. He is responsible for driving the brand's marketing functions in the Indian market. Mohindra brings with him over 18 years of experience in building organizations. Prior to joining Pernod Ricard India, he has worked with United Spirits.


Q] What are some of the other things the brand is doing to adapt products to millennial culture and their lifestyle changes?
In our category, the biggest change that has happened is a lot of consumption which used to be out of home has now become in home. So, traditional occasions have given way to younger occasions. As we've all been at home for two years, there's a lot more experimentation with the DIY culture that is happening. It has in its own way positively impacted the way people interact with this category. And we as marketers make sure that we are partnering or associating with each one of these emerging categories. Our entire marketing team is keeping a very close watch on these emerging trends and how to leverage them with our brand.
Q] How is the company addressing the need for brand premiumization, especially during the pandemic?
Luckily, we have the most enviable portfolio that exists and from a consumer landscape standpoint, it addresses virtually each and every step of the premiumization journey that we speak about. So, we have a fabulous and incredible repertoire of brands that the consumer is happy to choose from. And that already gives us a bit of a boost as compared to other competitors out there. But what has really happened is that the pandemic is already giving a lot of tailwind to consumers upgrading. Much of it is emerging from the fact that a lot of our disposable income as consumers, which perhaps used to go towards different parts of the expense sheet, are now finding newer avenues. Some people are obviously gravitating towards premiumization in our category, but then there are other categories that are also beginning to see this trend. From a marketing standpoint, we are there to participate in these changes plus we also have the portfolio to go with it.
Q] How has the brand performed in 2021 and how do you see 2022 amid the uncertainties posed by the pandemic?
Blenders Pride is the No.1 brand in the category with a market share of 62%. We expect the brand to grow strength to strength in the coming years. Being the leader, we will continue to stay ahead of the curve by meeting consumer's ever evolving needs. Our marketing investments will grow by about 10% YOY. And I actually expect 2022 to be a very strong business year with a lot of comebacks. But I also have my fingers crossed, hoping that we start moving towards the post pandemic period, rather than being stuck in that.